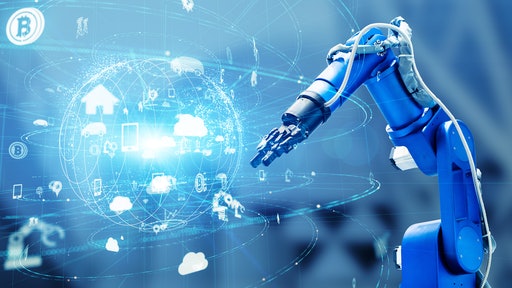 Getty Images
The Coronavirus disease (COVID-19) pandemic has changed every aspect of global supply chains. Once relegated to the back-office, supply chains have entered the public discourse and now have a seat at the table -- the corporate table, the federal table and that of the general public.
COVID-19 exposed cracks in global supply chains, shone a light on known structural issues and it became a household topic. Through grit and tenacity, our global supply chains have largely delivered against the unprecedented set of challenges that began at the start of last year, but now executives need to leverage their newfound influence and prepare for the future.
With the backdrop of needing to address structural issues in the supply chain, we are faced with a new paradigm where consumer demand is soaring (as are their expectations); whilst suppliers are still challenged by new "COVID waves" and a "COVID tail" of labor shortages, raw material availability restrictions and the impact of out-of-balance global supply flows. The result is escalating costs and end product shortages.
This situation is exacerbated by the increasing threat of the cyber security protagonist who has also seen the criticality of the global supply chain and the opportunity to drive ransom attacks on critical suppliers and infrastructure providers.
As we face these new near-term supply issues, we also have to address the now known structural challenges at corporate, industry and government levels. At a government and federal level, new trade deals are being negotiated around the world and June 4 marked the conclusion of the 100-day review of President Biden's executive order on America's Supply Chains, which makes it extremely clear that the United States is focused on strengthening the resilience of supply chains.
How do executives keep one foot in today and one foot in tomorrow? How do executives get the right balance of meeting current needs, whilst delivering on the longer-term structural priorities?
Large multi-year capex programs are being replaced by agile supply chain "garage" development projects and strategic partnerships. The Supply Chain Garage brings together cognitive diversity from technology, designers, developers, enterprise resource planning (ERP) experts and workflow leaders to address today's issues whilst aligning to a long-term strategic roadmap. It allows for organizations to deliver immediate benefits, whilst keeping one foot in tomorrow and accelerating longer term structural change.
Setting up for success today
This past year, there has been vast supply chain imbalance with choke points around critical suppliers created in response to several disruptions across virtually all sectors. The global supply chain was designed for largely stable and predictable supply and demand flows. Why would it not be? We have not seen such supply and demand shocks since the last world war. The current volatile supply and demand position is causing havoc with shortages in raw materials, containers, freight and finished goods.
In addition, new challenges such as the fallout from the Suez Canal and security concerns that reverberated across the industry from the Colonial pipeline disruptions have intensified the situation. These disruptions have caused dramatic impact to supply costs. Since November 2020, the cost to ship a 40-foot container from Asia to Europe has more than tripled and the cost to ship from North America to Asia has more than doubled.
There is significant momentum in markets and growing demand signals contributing to the urgency to facilitate the digital reinvention of supply chains and the move to what is called "intelligent workflows." The need to use artificial intelligence (AI) and machine learning to predict demand and supply needs and automate workflows.
Companies are also looking for immediate tactical solutions to support their pressurized teams and operations. To meet immediate demand and to manage their increasing cost bases.
Corporations that begun their digital supply chain journey before the crisis saw less disruption due to pandemic challenges and companies who have not, now realize this is something they need to do with urgency. Use this moment as an inflection point to learn from some of these successful supply chain leaders to help build smarter, more resilient global supply chains and create a paradigm shift between unimaginable to anticipated, so IT and business users have the insights needed to make faster and more informed decisions.
Leveraging a Supply Chain Garage, companies can bring together the best skills, capability and insights from the business and IT. They can leverage their ERP core, internal data and their external ecosystem and complement it with next generation technology like AI, machine learning (ML) and automation.
1. Immediate focus. The agile solutions and micro services resulting from the Supply Chain Garage can address current issues like optimizing container shipping, reducing inbound supplier calls, increasing collaboration, improving demand forecasting and labor management. The micro services and solutions can be containerized and aligned to a future technical architecture vision.
2. Accelerate the mid-term focus. The agile approach will also accelerate the journey to "management by exception." Intelligent workflows are built on a clear data strategy and combine AI-ML, embrace automation and are integrated into current and future IT architecture. They facilitate horizontal integration and adjustments across functions, providing 360-degree visibility of the supply chain and potential disruptions.
3. Strengthening the core. Digital platforms and control towers — essentially a personalized, connected command center of data, key business metrics and events across the supply chain to improve the user experience. Make the supply chain employees work more valuable by optimizing the human/tech partnership. With APIs and integration into ERPs, this approach will fuel hyper collaboration across the enterprise and its ecosystem of suppliers, partners and customers.
4. Focus on cloud solutions and increased security. For supply chain challenges, the ability to generate granular, real-time, security-rich data is a necessity. Security is now a key design aspect of supply chain process, data and architecture.
Transforming supply chain processes into intelligent workflows will enable an enterprise to reach new levels of transparency, flexibility, and responsiveness and to innovate to meet clients' evolving needs. Supply chains should be dynamic, responsive, secure and interconnected to an organization's ecosystem and processes. This requires end-to-end visibility, real-time insights and decisive actions—particularly in escalating situations.
Strategic shifts for long-term growth tomorrow
Traditionally, supply chains have been designed on the assumption that materials flow freely globally, enabling them to source, produce and distribute products at the lowest-cost locations around the world. In this new era, however, we must shift our thinking to put customer needs at the heart of everything we do and build supply chains that can operate in volatile environments and environmental impacts, be it a pandemic, a natural disaster, extreme weather events, human error or a cyberattack. The orthodoxies of the past must be challenges at a government, industry and corporate level. Key principles, ways of working, physical networks and partnerships must be looked at closely amid the volatility. And, all this whilst sustainability (in its broadest definition) is becoming increasingly important at shareholder, employee and customer level.
A recent study that surveyed successful supply chain leaders revealed that they are making long-term investments for smarter supply chain strategies:
o 70% of supply chains execs said they will use intelligent automation or AI to support demand management and forecasting in the next three years.
o 71% of supply chain executives surveyed say efficiency is one of the most important elements of their operating model.
o A majority of supply chain executives surveyed say they will develop agile and resilient workflows; improve end-to-end visibility across the organization; and integrate technologies to automate and optimize processes.
o Close to half plan to use AI and machine learning to leverage unstructured real-time data.
There are great risks to even the most highly functioning supply chains related to sustainability. Consumer supply chains account for more than 80% of greenhouse gas emissions and more than 90% of the impact on air, land, water, biodiversity and geological resources. Companies can significantly reduce their environmental impact through focusing on building a sustainable supply chain. Not only does this impact the greater good of society, but can also increase customer loyalty. Nearly six in 10 consumers surveyed are willing to change their shopping habits to reduce environmental impact.
As part of the study, organizations were also asked to compare their innovation capabilities with those of their competitors and the organizations that rated themselves as significantly more innovative also had higher percentages of intelligent automation implementation. The results revealed companies are infusing intelligent automation and AI into their demand management/forecasting and inventory management workflows. But, that's not all. They also expect major operating cost reductions and significant annual revenue growth in the next three years.
Smart supply chains will understand demand signals and its rapid changes based on a variety of factors such as current consumer behavior, imminent weather and seasonal surges. When companies have advance knowledge of where disruption will come from and which products will be impacted, they have led time to execute avoidance and mitigation strategies immediately — like shaping demand by offering discounts on substitutes, buying up inventory, controlling inventory allocations etc. They will be able understand patterns and changes in stock-keeping units (SKUs) to manage risks and prevent shortages and will have processes in place to detect and contain cyberattacks – before there is an opportunity to be further exploited and cause more damage.
It is not only the value chain of supply chains where strategic shifts are needed; company's talent strategy must be core to their transformation. The day to day of supply chain professionals has dramatically changed in the past year, with many shifting to remote work and upskilled to combat the staff shortages. Employee's expectations of their role have changed, they are looking to focus on value-add tasks such as pulling insights from data vs. the more transactional nature from business of the past. We owe it to our employees to "make work cool" through use of exponential technology throughout the supply chain.
Realizing supply chains of the future
The need for building smarter supply chains is inevitable and there are many critical steps that leaders can take now to set their supply chains up for long-term success. By taking an agile approach to supply chain transformation, leaders can set strategic goals and tackle the most impactful structural changes first and scale them through their enterprise.
The pace of disruption is rapid, supply chain leaders must all challenge the orthodoxies of the past to address tactical issues happening today and build resilient supply chains of the future.