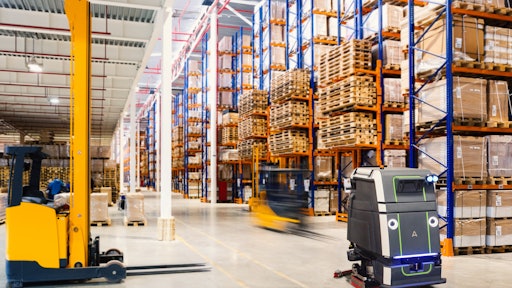 Avidbots
Warehouses are under record-setting pressure.
A Logistics Managers' Index released in April, which measures U.S. supply-chain pressures, rose to the highest in history; the index advanced for a third straight month in March, reaching 76.2 from 75.2 in February. The report notes continued inventory congestion has driven inventory costs, warehousing prices and overall aggregate logistics costs to all-time highs, putting even more pressure on already-strained capacity.
What's a warehouse to do? Inventory costs, inflation and supply chain delays are likely to continue, all strapping daily operations. To remain profitable and effective, warehouses must look for efficiencies elsewhere. Many are finding solutions through an unexpected team player: cleaning robots.
Supporting smart navigation, easy operation and a versatile range of cleaning features, autonomous mobile robots (AMRs) can increase productivity and improve efficiency compared to traditional cleaning methods, making them the future of how warehouses are cleaned.
Increases efficiency by working in harmony with dynamic warehouse schedules
Warehouses are intrinsically dynamic environments. Changing shifts, a parade of forklifts, inventory moving at all hours of the day and more can create a dizzying experience for any individual - human or machine. In fact, Avidbots research shows that 82 percent of facilities experience changes in layout significant enough to affect a robot's performance during a one-week period; a semi-autonomous solution instead of a fully-autonomous solution means employees are regularly babysitting a machine, having to regularly intervene so it'll continue cleaning.
Adaptability makes AMRs perfectly suited to work in busy warehouses, where the continual flow of goods means an ever-changing environment. For most floor-cleaning robots, such a dynamic environment would be difficult to navigate, necessitating continual manual re-mapping.
Alleviates labor shortages and struggles
Ongoing labor shortages combined with the surge of inventory demand in the U.S. have many warehouse and distribution center managers concerned. While many have embraced new technologies to increase efficiency, the demand to keep up has put a spotlight on the urgent need to implement automation.
The State of Warehouse Labor report from Instawork found 73 percent of businesses said they have problems attracting employees, up from 26 percent in the 2021 survey. A smaller labor pool combined with supply chain variability are causing headaches for maintaining a consistent workforce and operations. Likewise, custodial jobs are hard to fill – they are often the last to staff and the first to be open. In fact, employee turnover averaged around 200% pre-pandemic.
These labor challenges aren't likely to go away anytime soon. Therefore, businesses must look to an agile staffing strategy to best prepare for the future. AMRs provide the best solution; they require little training, don't take a day off and operate with precision and measurable efficiency.
Companies are not replacing jobs with robotics, but rather trying to keep pace with the growth. Some tasks are better performed by people – whether that means people can perform the tasks to a higher degree of accuracy or it is more time-efficient, safer and more practical to have a person perform the task in question. Some tasks can be automated, however, allowing the workforce to focus on those which require the skills only they possess.
Provides peace of mind and confidence when it comes to safety and cleanliness
Talk with a facility manager anywhere around the world and you'll likely hear the same thing: warehouse safety is a top priority. That shouldn't be a surprise – warehouses are high-density, high-risk environments around the clock. AMRs offer safe, reliable solutions to autonomously navigate and clean busy, industrial environments – reducing the risk of injury to workers.
Alongside protecting the welfare of employees, deploying autonomous robots makes sound financial sense. According to a 2017 National Safety Council and U.S. Bureau of Labor Statistics report, a workplace injury occurs every seven seconds in the USA. That's 4.6 million accidents per year resulting in the loss of 104 million days of production. Interestingly, the top three injuries in 2017 were overexertion, contact with objects or equipment and slips, trips and falls – risks easily mitigated through automation.
The bottom line? Investing in robots isn't just a new way to clean. It's the future of the industry, alleviating issues caused by staffing and supply chain shortages and making your warehouse more productive, cost-effective and easier to run.