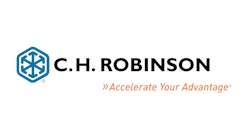 Ho Chi Minh City, Vietnam—April 20, 2015—Expanding operations in one of the fastest growing global economies, C.H. Robinson is now operating out of a fully owned global forwarding office in Ho Chi Minh City, the center and gateway of Southern Vietnam. As a key hub for transportation and logistics in Southeast Asia, Ho Chi Minh City handles about 70 percent of Vietnam's total cargo volume.
C.H. Robinson's increasing involvement in the Vietnam market is part of the company's aggressive plan to offer expertise on both a local and global scale in key markets across the world. As a country, Vietnam represents a growing economy with significant opportunity for experts in the field of transportation logistics.
"Vietnam is one of the fastest growing Asian economies," said Andy Wang, president of C.H. Robinson, Asia. "Adding an office in Vietnam gives our Asia network the opportunity to further enhance our growth in this part of the world."
In addition to offering traditional global forwarding services such as ocean, air and consolidation, C.H. Robinson will provide customers with domestic supply chain services including surface transportation, warehousing and customs clearance from the new Vietnam office.
"C.H. Robinson continues to expand and build its business in various parts of the world in order to meet the demands of its customers," said Tony Tan, regional manager for Southeast Asia at C.H. Robinson. "We are optimistic about future growth in Vietnam and increasing the breadth of services we are able to offer our customers in this region."
The new office will be managed by Roy Chau, who served as the sales and marketing manager for C.H. Robinson over the past six years.
Companies in this article
Request More Information
Fill out the form below to request more information about
C.H. Robinson Expands Asian Operations to Vietnam