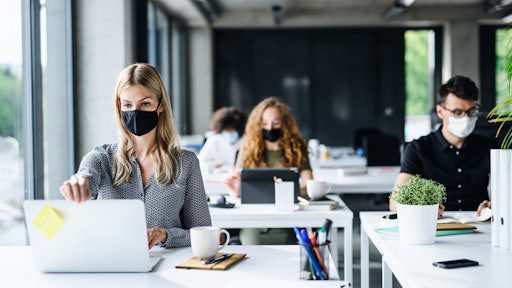 Halfpoint - stock.adobe.com
WorkStep released "COVID-19 and Flight Risk in the Industrial Workforce." The data finds that the majority of industrial workers (70 percent) feel their safety and their family's financial security are in conflict through the pandemic.
WorkStep surveyed more than 600 industrial workers across the country to gain insight on how those on the front lines view the industry, the impact of COVID-19, and their employers' response.
Finding and Addressing Workers' Frustrations:
COVID-19 Impact is Crushing: 56% of industrial workers report COVID-19 having a negative impact on their job; of those respondents, nearly 40 percent stated they did not feel like their work environment is safely protecting them from the virus and 37% do not feel their employer offers adequate flexibility to manage through the pandemic. This can put retention - and the resources poured into hiring, onboarding, and training - at extra risk.
Worse for Women, but Bad for All: Nearly 80% of women in the industrial workforce (78%) feel their safety and their family's financial security are in conflict, compared to 66% of men.
Workforce Flight Risk: 58% of workers have sought employment at another company and nearly half of respondents (48%) have not continued to work full time due to the pandemic.
Age Affects Impact: Respondents under the age of 38 are more likely to have consistently been employed than older workers. Perhaps connected, close to 60% feel the pandemic won't accelerate improvements for their work sector; this older cohort is twice as likely to agree with that sentiment than younger counterparts.
No Way to Air Frustrations: 94% of industrial workers stated they are more likely to stay at a company they feel listens to and encourages feedback, yet over a quarter (26%) do not feel they have an adequate avenue for providing feedback about their supervisor or the workplace in general.
"From the Industrial Revolution through the COVID-19 pandemic, the industrial workforce has been the backbone of the U.S. economy. These heroes make sure there is food on our plates, our packages arrive on time, and our buildings stand strong," says Dan Johnston, CEO and Co-founder of WorkStep. "Yet, while we call these workers essential, the industry has high and increasing turnover rates and ranks the lowest in overall workforce satisfaction. Ensuring that companies have the ability to find - and retain - skilled frontline workers is critical to the success and overall economic health and wealth of our country."
To help employers address this challenge, WorkStep, has launched RETAIN to provide real-time feedback, benchmark insights, and suggest actions to drive improvements in the workplace to measurably increase employee retention. In its beta-stage, RETAIN has shown promising results, with a projected annual turnover reduction of 18 percent and a labor cost decrease of 3%.
RETAIN uses a milestone-based check-in system to give frontline workers the opportunity to provide feedback via pre-populated and custom surveys sent directly to their mobile phones. Survey insights are aggregated then segmented by core attributes (like role, tenure and location) where they are plotted over time and benchmarked against peer data. Algorithms then determine how to weigh the different attributes, giving a quick and easy way to find what kind of feedback is most likely to cause someone to leave their job. This gives employers the opportunity to address the feedback and take actions to prevent future turnover.
"RETAIN provides valuable feedback at key length-of-service milestones to help us improve retention," said Kim Smith, Vice President of Human Resources at TransPak. "The insights RETAIN helps us uncover not only provide actionable steps we can take, but also demonstrate to frontline workers that their feedback is important and can make a difference."
Since its inception in 2017, WorkStep has helped more than 400,000 industrial workers earn over $126 million in jobs placed via the platform. Every month, more than 20,000 industrial job seekers turn to WorkStep to help facilitate job matches with over 100 top employers, including 16 of the Fortune 500.