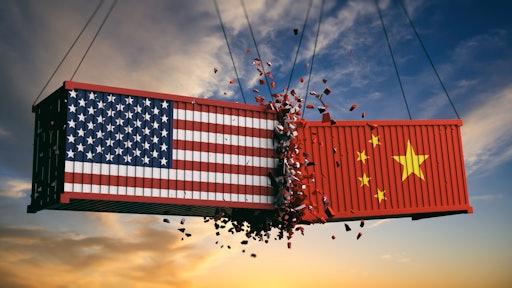 Getty Images
The tit-for-tat trade war between the United States and China is resulting in a hefty price tag for both sides.
According to Yahoo Finance, the tariffs has cost U.S. importers $6 billion in tariffs in June, a 74 increase since last year despite a slight decline in the value of imports. Meanwhile, $3.4 billion has come from the tariffs that the Trump administration put in place.
In a report by the business coalition "Tariffs Hurt the Heartland" in conjunction with the Trade Partnership found that the first full month's impact of the raising tariffs.
Yahoo Finance reports that American companies paid over $3 billion in tariffs on products subject to Section 301 remedies on China in June, compared to $411 million last year. However, the value of imports from China dropped 36 percent and Beijing quit purchasing bulk orders from the U.S.
Imposing tariffs is Trump's tactic to get China to negotiate faster. However, the country isn't budging, saying it won't "negotiate with a gun pointed to its head," Yahoo Finance reports. Soon, the prices will be passed down to the consumer if negotiations don't happen soon.
Since the trade war begun last year, American taxpayers have had to pay over $27 billion in extra import tariffs - and is only expected to increase as the 10 percent tariffs on the rest of the $300 billion worth of Chinese products starting September 1.
The next round of trade talks is scheduled to take place next month, though, Wall Street analysts are predicting that a deal won't be reached prior to the 2020 election.