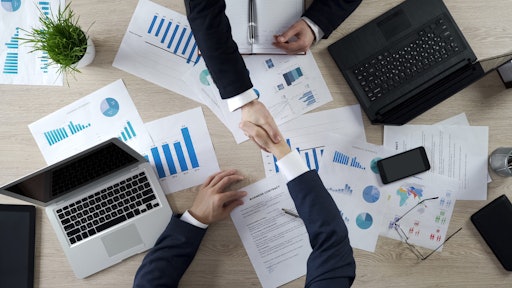 stock.adobe.com
E2open, a large and comprehensive supply chain operating network, announced that it acquired Orchestro, a provider of demand signal repositories and preemptive analytics for retail and omnichannel fulfillment. According to the company, the combination delivers the world's only demand-driven supply chain operating network.
Orchestro, founded in 1999, harmonizes retail point of sale (POS); syndicated, internal enterprise resource planning (ERP) and third-party data into a common view of demand for the world's leading brand owners. Today, over 210 global brands from multinational manufacturers, including Newell Brands, Del Monte and General Mills, and their omni-channel retail partners rely on Orchestro's analytics to improve on-shelf availability, promotional effectiveness, new product introductions and forecast accuracy.
Orchestro's data, visibility and analytics solutions strategically complement E2open's recent acquisition of Demand Sensing solutions from Terra Technology. By leveraging Orchestro's daily omnichannel data, Demand Sensing can provide 20 to 40 percent better forecast accuracy than traditional solutions for brand owners and their retail partners, according to the company. E2open now bundles prepackaged point-of-sale data from any retailer with Demand Sensing technologies, the foundation of the demand-driven supply chain.
"ERP systems were not designed to address the complexities of multi-enterprise supply chains. Manufacturers are accelerating their use of trading partners for manufacturing, distribution and transportation. E2open's solutions allow the best-run supply chains to thrive within today's vastly more complex operating environment. With the addition of Terra Technology and Orchestro, E2open is the only company that can provide true end-to-end planning, collaboration and execution, from raw materials to final delivery to the consumer," said E2open CEO Michael Farlekas. "Our recent acquisition of Terra Technology allowed us to help our clients sense demand across the network. With the addition of Orchestro, we will leverage daily, store-item data to create the world's only demand-driven supply chain operating network."
"Orchestro's vision was to leverage Big Data to make big decisions in the retail and consumer packaged goods supply chain," said Orchestro CEO PV Boccasam. "We can now combine one true demand signal with Demand Sensing technologies to enable manufacturers to become proactive in preventing out-of-stocks, provide actionable insight from source to shelf, and pre-empt expensive disruptions in the supply chain."
Sridhar Tayur, Orchestro board member, Ford Distinguished Research Chair Professor of operations management at Carnegie Mellon University, founder and CEO of OrganJet, and founder and former CEO of SmartOps, states, "The combination of E2open, Terra Technology and Orchestro becomes the foundation for transformative next-generation predictive analytics necessary for best-in-class 21st century omnichannel demand fulfillment."
E2open is backed by Insight Venture Partners, a global private equity and venture capital firm. Orchestro was advised by Avendus Capital Inc., which acted as its sole financial adviser.
Companies in this article