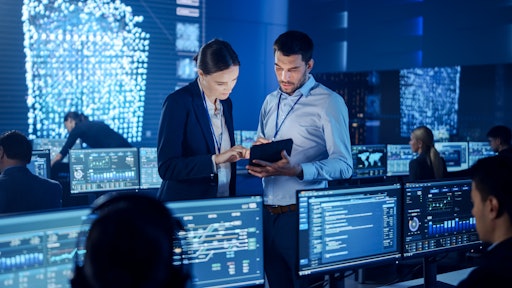 Gorodenkoff/stock.adobe.com
The Covid-19 pandemic has seriously exacerbated existing weaknesses of the global supply chain, significantly impacting a whole range of crucial components including steamship lines, the ports, trucking fleets, and of course the drivers themselves.
The American Trucking Association, for example, has estimated a shortage of some 80,000 drivers, a number that's only expected to grow as the workforce ages.
Staffing shortages at ports – partially due to dock workers being forced to quarantine – have further reduced the availability of people to unload goods, leading to the surreal situation where dozens of ships at harbors like Los Angeles and Oakland have been forced to anchor out in the ocean for days, exacerbating the slowdowns even more.
Slow if by land, idle if by sea – what will it take to alleviate these holdups, when the pandemic at their root continues to raise issues?
Trains as the solution
Even before COVID-19, the freight industry was responsible for shipping around 61 tons of goods per American annually in the United States, with demand continually growing, according to the Association of American Railroads (AAR). U.S. freight railroads move around 1.7 billion tons across nearly 140,000 miles.
Trains have increasingly been picking up the slack when truck drivers are in short supply, posing an attractive solution to the disruption.
AAR also notes that "freight railroads are working towards finding solutions to the current supply chain disruptions," in a number of ways.
First, they expanded network capacity by re-routing traffic, re-opening dormant terminals, and offering financial incentives to customers willing to work over the weekend. Increasing rail fluidity in busy hubs like Chicago (the most active in the U.S.) is also helping to alleviate slowdowns in places where bottlenecks are most likely to occur.
It's not surprising then, that during the first half of 2021, railroads handled the highest volume of intermodal traffic ever moved in a January-to-June period. Indeed, during late 2020 and the first half of 2021, U.S. railroads were handling more than 300,000 containers and trailers per week – "levels no one expected when the pandemic began," the AAR writes.
The cyber threat
What could derail this promising solution? Cyberattacks.
Malicious assaults on critical infrastructure – which includes trains – are on the rise, leading to a need for new approaches to cybersecurity that can keep the trains running and, by extension, help overcome supply chain disruption.
One prime example: In 2021, the Colonial Oil Pipeline – which carries 2.5 billion barrels a day (45% of the East Coast's supply of diesel, petrol and jet fuel) was hit by a ransomware attack which shut it down entirely. A week later, 11,000 gas stations were still without fuel.
Why are these attacks increasing? Infrastructure has become increasingly connected which has, in turn, led to a subsequent rise in potential attack surfaces and vulnerabilities.
What can be done?
In order to ensure that railroads are able to keep their engines running, the industry has been working assiduously to protect itself from the rising cyber-threat landscape. To combat the rise in vulnerabilities in the wake of increasing digitalization, rail companies can implement a number of measures to strengthen their security posture – if they aren't doing so already.
The first step is gaining greater visibility into their systems: rail companies should strive to maintain a real time inventory of all their assets and monitor them continuously in order to ensure that any malicious activity hasn't penetrated their networks. This can be accomplished by using machine learning and AI powered technologies tailor-made for the rail industry.
Due to increased connectivity, attacks have the potential to quickly impact their entire rail network. In practical terms, this means that rails should segment their networks so that a hacker that penetrates one zone cannot easily gain access to all of the other interconnected zones in the network.
Rail companies looking to protect their assets can start here and adjust accordingly to match the constantly evolving threat landscape.
The last stop
Economic superpowers require first-rate freight transportation. The good news is that the U.S. enjoys a freight rail network that is second to none.
Cyberattacks of any kind can be devastating. At a time when trains are picking up ongoing slack, an attack on rail systems has the potential to create an even greater setback to the supply chain. To keep the rail sector on track, railway companies and all invested parties are equipping themselves with the most up-to-date cybersecurity technologies tailored for the specific rail environment.