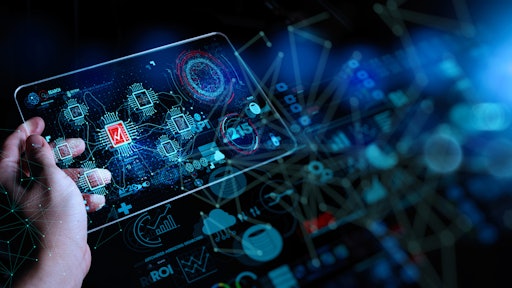 GEODIS
Prior to the Coronavirus disease (COVID-19) pandemic, new technology was beginning to make significant strides within the traditionally manual, paper-based freight forwarding sector. An area of the supply chain often associated with an intricate web of players, including ocean, air and land controlled by various international governments, it has historically proven difficult to move the needle on the widespread adoption of new freight technology to modernize established processes.
However, the pandemic and the ways in which it subsequently accelerated the e-commerce boom both reaffirmed and accelerated technology advances in the area of freight forwarding. With online demand now affecting brands of nearly every size and vertical, retailers are increasingly eager to streamline their freight forwarding processes with the latest technology to decrease transactional costs and ultimately better enable their e-commerce capabilities.
While the pandemic was filled with challenges, it did reinforce the vital need to infuse new freight technology trends into the supply chain to help minimize future disruptions and allow for smarter decision making to ensure products are in the right place, at the right time, at the right cost. In particular, predictive analytics, Internet of things (IoT) and machine learning are areas to watch.
Predictive analytics
According to a 2021 MHI report, the number of supply chain leaders currently using predictive analytics is 31%. That number is expected to increase to a staggering 79% within the next 3-5 years. While the incorporation of predictive analytics into the supply chain to properly forecast, identify efficiencies and allocate resources to meet demand is not a new concept, the scope and the degree of accuracy behind the technology are becoming more advanced.
Traditionally, predictive analytics have used algorithms to best anticipate future outcomes based on internal historical and transactional data across the supply chain (think real-time sensors monitoring modes of transportation, route schedules, inventory levels and associated equipment). However, today's trend is to increasingly incorporate external analytics into the algorithms to increase the level of predictive accuracy. In addition to factors such as weather, this includes accounting for unexpected geopolitical events such as a port strike, tariff barriers and more across the vast global economy. It is no longer enough to simply rely on internal data to inform business decisions. Today, enhancing predictive analytics capabilities through an increasing amount of external data will provide businesses a competitive edge by enhancing reliability, accurately forecasting delivery ETAs and reducing costs.
IoT
Simply stated, the IoT is a network of interconnected devices that monitor and transmit data over the internet. Within the freight forwarding sector, think of IoT as small physical devices that use sensors to provide real-time cargo tracking and monitoring updates automatically to the internet to allow for nimble adjustments. The increased use of IoT technology within the logistics sector is another area of watch, and it is expected to increase from $34 million in 2019 to $100 million by 2030.
In the past, IoT devices relied exclusively on GPS signals. In some situations, for example in the middle of the ocean, a GPS signal could be lost and disrupt the device's ability to collect and transmit data. To avoid this, today's trend is to take advantage of IoT devices that utilize multiple information sources. For instance, if a signal is lost via GPS over the Atlantic, shippers can use an airplane's collected data instead to continue tracking for uninterrupted visibility.
Today's IoT devices are not simply being used for monitoring and tracking, though. As technology advances, these devices are increasingly capturing, transmitting and recording imperative data points such as environmental factors like temperature, pressure and humidity that can impact sensitive cargo. For instance, IoT technology is vital to providing real-time visibility within the cold chain to ensure the integrity of the product and circumvent climate changes that could damage it, as seen recently with the COVID-19 vaccine efforts.
Machine learning
Finally, machine learning will increasingly make waves as a critical decision-making tool to optimize the supply chain process. Essentially, this is a branch of artificial intelligence (AI) focused on building machines that process data to learn on their own without supervision. Machine learning is characterized by a process of data analysis and pattern extraction to make decisions. Ultimately, this provides shippers key knowledge and insight that allow for real-time supply chain planning and execution while also exploring what-if scenarios.
Gartner cited AI and machine learning as Top 2020 trends, and this is expected to be an area of focus for supply chain leaders in order to transform business moving forward. For example, machine learning can recommend which transportation routes are most productive, identify problematic conditions and pinpoint other inefficiencies by analyzing data on thousands of trucking runs. In maritime, machine learning can help companies choose which routes to utilize to increase their bottom line.
Machine learning will continue to be important not just from a traditional importing perspective, but also to support the e-commerce boom. For example, companies can utilize machine learning to bolster e-commerce by accurately classifying products. This, in turn, reduces the cost of the transaction and ultimately benefits the consumer in the end with a lower or free shipping cost.
Looking ahead
We are heading to a future where incorporating the latest freight technology into the supply chain process will no longer be a nice to have, but critical to operating a successful business. Incorporating new freight technology trends—such as in predictive analytics, IoT and machine learning—provide a host of shipper benefits including providing more sophisticated data to make better business decisions and ultimately create a healthier bottom line. As today's freight technology only continues to advance, it will become more important than ever that companies embrace the latest trends to not only receive a competitive edge, but to be better poised to navigate unexpected challenges in the future.