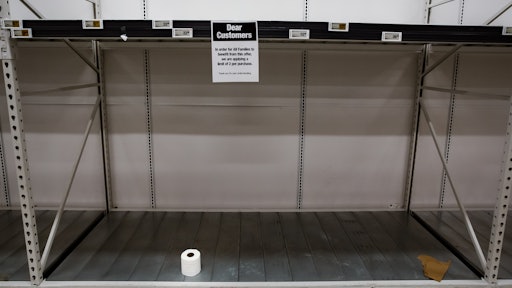 AdobeStock_332030552
Now more than ever, supply chain agility and efficiency are key to business survival. However, data from QIMA's 2021 Q1 Barometer Report paints a picture of an increasingly challenging landscape rife with rising diversification pressures, continuously shifting consumer habits and an alarming spike in compliance and quality risks.
Since the onset of the pandemic, businesses, especially those with global sourcing and manufacturing footprints, have contended with ongoing lockdowns, travel restrictions, stay-at-home orders, mass virtualization and volatile consumer demand. And, as uncertainty and disruption continue to dominate global trade, sourcing and manufacturing are likely to remain at the mercy of the pandemic. One year in, the following are key pandemic-induced trends that will continue to influence supply chain decision-making in the long term.
Demand-side shocks are consistently more disruptive than supply-side shutdowns
Data on inspection and audit demand throughout 2020 reflects the magnitude at which the Coronavirus disease (COVID-19) lockdowns and quarantines have disrupted global trade. Notably, the data illustrates that demand-side shocks have posed more disturbances and troubles compared to shutdowns in supply-oriented regions.
In the first half of half of 2020, many western businesses were able to circumvent factory shutdowns throughout Asia by pivoting their sourcing and manufacturing to regions that were less affected and operating at higher capacity. Global inspection and audit demand consequently slipped a marginal -4.5% year-over-year in the period of January through February 2020.
On the other hand, when lockdowns in buyers' home regions invariably triggered volatility in consumption, demand for inspections and audits sharply collapsed by -31% YoY in the period of April and May 2020. This is a pattern that repeated itself in late 2020, with lockdowns being reinstated in parts of the U.S. and in Europe.
China surprised the world with its swift bounce-back, thanks to U.S. buyers
During the first half of 2020, it appeared that China, ground zero for the virus, would ultimately be the hardest-hit economy. However, after logging a disastrous first quarter stunted by manufacturing standstills and demand shocks, sourcing in China followed a slow yet steady trajectory towards recovery through the rest of 2020.
By the end of the second quarter, demand for inspections and audits in China bucked the trend against a global slowdown, with volumes returning to 2019 levels. From there, sourcing volumes continued to grow throughout the second half of the year, only stalling in December after lockdowns were reinstated in multiple countries in the west.
To wrap up a year unlike any other, 2020 saw inspection and audit volumes in China contract overall by just -2.8% YoY compared to 2019. Amid a year of unprecedented business disruption around the globe, this figure notably represents a smaller drop in sourcing volumes compared to the larger -3.3% YoY drop observed in 2019 vs. 2018, a period when businesses found themselves caught in the crossfire of the U.S.-China trade war.
Renewed interest from U.S.-based buyers is at least partially responsible for China's resilience and rebound, with 2020 being kicked off by the signing of 'Phase 1' of the trade deal between the United States and China. With trade tensions gradually easing to a degree, American businesses were already much less anxious to leave China. Then, with factory shutdowns eventually spreading to other parts of the globe and China being among the first to return to work, China was back on the sourcing hot list for many businesses.
As a result, inspection and audit order demand in China from North American brands remained above 2019 levels throughout the second half of 2020, with demand for inspections and audits falling a total of -3.0% YoY, a much smaller decline when compared to the steep -15% YoY plunge recorded in 2019 vs. 2018.
Supplier diversification continues to accelerate
Even though China fared better than originally anticipated, the pandemic simultaneously boosted the long-term trend of businesses working with suppliers in China's regional competition. For example, demand for inspections and audits across Southeast Asia rose +19% YoY in 2020, clocking in at twice the 2019 vs. 2018 YoY growth rate. As a whole, this region recorded double-digit expansion in inspection and audit demand starting from July, bolstered by massive orders for personal protective equipment (PPE) and by rising demand from buyers looking for alternatives to China both in the short and long term.
While Southeast Asia strikingly climbed the ranks with more than two-fold volume growth, the recovery in South Asia was markedly less rapid with just a +2.6% YoY uptick in volumes in 2020. This modest expansion represented a mere fraction of the double-digit YoY growth the region recorded in 2019 vs. 2018. In particular, manufacturers had a hard time recoiling from the collapse of April and May, which was made particularly catastrophic by the combination of domestic lockdowns stunting productivity across the region and lockdowns in the West decimating consumer demand.
Lockdown lifestyle changes have triggered new patterns in consumer demand
Unrelenting quarantine measures combined with the extraordinary number of people working remotely have profoundly shifted consumer behaviors and, in turn, redirected global trade patterns. For example, demand for inspections in textile, apparel and footwear dropped -11% YoY. As consumers spend far more time at home, they are apparently not as eager to replenish wardrobes with the latest fashion trends.
On the flipside, mass remote working and home schooling created new waves of demand for communication equipment and various home entertainment products. Unsurprisingly, inspection and audit demand for products in electronics, homewares and toys among U.S.-based retailers is growing leaps and bounds, with the aforementioned sectors closing out the year with double-digit growth of +44% YoY, +28% YoY and +46.5% YoY, respectively.
To protect compliance and quality, businesses must heed caution ahead
Against the turbulent headwinds of the pandemic, workers around the world face rising poverty, and mass job losses estimated to be around four times that seen during the 2008-2009 global financial crisis, according to a report released in January by the UN International Labour Organization.
Adding salt to the wound, the interlocked supply and demand challenges triggered by the COVID-19 pandemic have exposed businesses to more human rights risks in their supply chains. Issues range from increased vulnerability to modern slavery and child labor to rising labor violations in factories and less scrutiny on non-virus-related safety measures, especially as health and safety resources are stretched thin.
Ethical audit data collected by QIMA at reopened factories, as well as in the course of remote audits, paints a particularly alarming picture for businesses that source products or parts from third-party factories, with the share of factories ranked "red" for critical non-compliances increasing by more than 100% in the second half of 2020 compared to the first half of year. In China, where sourcing recovery has been faster than expected as previously discussed, 14% of factories audited received a failing grade due to critical violations in the areas of working hours and wages.
Labor violations include additional sanitation duties now being imposed on workers as unpaid overtime, as well as workers being pushed to work excessive hours to meet tight deadlines for orders on high-demand goods, such as PPE and cleaning products.
In response to limited physical access to factories and the escalating ethical risks, more businesses are choosing to implement digital solutions for compliance and quality control. Digital solutions favored by businesses include remote audits, worker voice solutions and integrated quality control and compliance platforms, which enable businesses to fully map their sourcing network and achieve better multi-tier visibility within their supply chains.