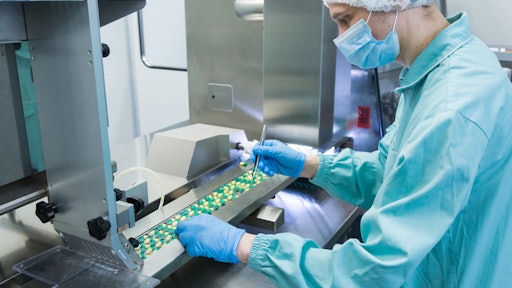 Adobe
Over the past decade, most countries have started to implement stricter regulations and programs governing their pharmaceutical supply chain. Brazil's Health Regulatory Agency (ANVISA), Russia's National Track and Trace Digital System (Chestny ZNAK) and the European Union's Falsified Medicines Directive (FMD) are examples of laws that aim to protect consumers by using track and trace technology to prevent the introduction and circulation of counterfeit drugs and ensure the purity of the pharmaceutical supply chain.
In the United States, the pharma supply chain is regulated by the 2013 Drug Supply Chain Security Act (DSCSA). Being rolled out in two phases, the law is fundamentally changing how pharma products are identified and tracked in the supply chain.
The next major DSCSA compliance deadline will affect dispensers — independent pharmacies or pharmacies in a hospital, clinic, grocery store or anywhere else. Here's an outline of the requirements and how dispensers can prepare.
What is the DSCSA and what prompted it?
In September 2012, an outbreak of fungal meningitis caused by contaminated steroid injections killed 64 people and sickened almost 800 others. An investigation found that the drugs came from a compound pharmacy that made drugs for patients whose medical needs couldn't be met by commercially available medications. Authorities found that the pharmacy was violating its license by mass producing drugs instead of focusing on individual patients.
In the aftermath of the investigation, the U.S. Food and Drug Administration (FDA) urged Congress to strengthen standards for non-traditional compounding. The result was the Drug Quality and Security Act (DQSA). An amendment to the 1983 Federal Food, Drug, and Cosmetic Act, the new legislation addressed negligent compound manufacturing practices and the patchwork of state laws to secure the drug supply chain. Its overarching goal was to prevent the introduction and distribution of counterfeit, stolen, contaminated, or otherwise harmful drugs in the United States.
Title II of the DQSA is called the Drug Supply Chain Security Act (DSCSA). It outlines the steps to electronically trace and identify drugs as they're distributed through the country, with every stakeholder tracking products at the individual package level.
Every U.S. pharmaceutical supply chain stakeholder must comply with the DSCSA, including manufacturers, wholesalers and dispensers. As it would be impossible to roll out all the requirements for an interoperable system at one time and expect the industry to adopt them right away, implementation of the DSCSA was designed to occur over a 10-year period. Phase 1, traceability, runs from 2015 to 2020; Phase 2, characterized as a fully functional electronic interoperable track and trace system, is set for 2023.
The next significant milestone for dispenser compliance is Nov. 27, 2020, when they'll have to have processes in place to authenticate and verify all the medicines they buy before selling them to consumers.
Phase I requirements
From November 2018 onward, pharma companies were required to label every product they made with a serial number, lot number, expiration date, GS1 barcode and a 2D Data Matrix code. The aim of this mandatory serialization was to identify, target, and remove counterfeit, stolen, or harmful drugs from circulation, thereby enhancing safety and security.
To comply with the DSCSA in Phase I, companies have had to implement systems to electronically capture, store and exchange "product tracing information" about every drug they buy. They must track every change in ownership and also be able to report licensure and other information to FDA annually. This product tracing information is often referred to as "T3" information. Most stakeholders had to start collecting T3 information on Jan. 1, 2015; for dispensers, the start date was July 1, 2016.
T3 information must contain three elements:
Transaction information (TI), which includes the product name, the strength and dosage form and the National Drug Code. It also reports the container size and number of containers, lot number, transaction date, shipment date and the name and address of the businesses from which and to which ownership is being transferred.
2. The transaction history (TH) is a paper or electronic statement with the TI for every prior transaction. It traces the products all the way back to the manufacturer.
3. In the paper or electronic transaction statement (TS), the business transferring ownership of a product declares that it has complied with the DSCSA.
Dispensers and compliance
Pharmacies are essential for medical treatment because they are where patients pick up their medication. They are also a key part of the pharmaceutical supply chain and are affected by regulations within it. Medical care as we know it wouldn't be possible without dispensers.
Along with the rest of the pharmaceutical supply chain, dispensers have to adapt to comply with the DSCSA. Below are other key Phase I regulations for dispensers.
Confirm trading partners are licensed or registered. Beginning Jan. 1, 2015, dispensers could deal with only authorized trading partners. The FDA provides a searchable database to check the registration of manufacturers and repackagers and the licensing of wholesale distributors and third-party logistics firms.
Receive, store and provide product tracing documentation. Just like manufacturers and wholesale distributors, dispensers have the same responsibility to collect and provide product tracing documentation from every trading partner. The regulations require drugs to be traced on every stage of the pharmaceutical supply chain.
Investigate and properly handle suspect and illegitimate drugs. This includes drugs that may be counterfeit, diverted, stolen, intentionally adulterated, or unfit for distribution. Dispensers must quarantine and investigate suspect drugs to determine if they are fake. If they are determined to be fake, dispensers should work with the manufacturer and take specific action to ensure the drugs do not reach patients.
The upcoming deadline
By Nov. 27, dispensers must be able to authenticate and verify all the medicines they buy before they sell them to consumers. There are two key requirements to be compliant:
Dispensers may buy and sell only products encoded with product identifiers (PIs). A PI has a lot number, an expiration date and the product's standardized numerical identifier (SNI), which includes the National Drug

Code

and a unique alphanumeric serial number.
Dispensers must verify every product at the package level, including the standardized numerical identifier (SNI).
Time is of the essence for dispensers to be ready for these requirements. To expedite the process, dispensers should choose a solution provider that can demonstrate a track record of DSCSA compliance success. And because there's not a one-size-fits-all solution for dispensers — which range from large hospitals and chains to neighborhood pharmacies — the provider must also be able to scale the solution to your exact needs.
The good news is that there's still time to prepare. If you start now, you will be compliant and secure your business and the wellbeing of your customers and patients.