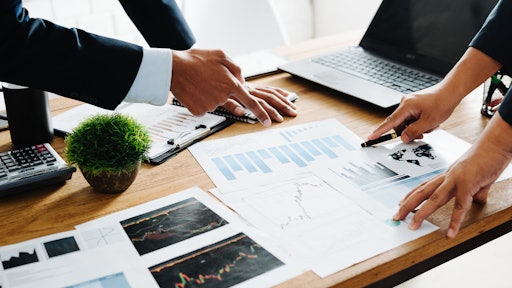 Getty Images
As the Coronavirus disease (COVID-19) swept across the world, businesses looked on, powerless, as external forces disrupted their supply chains. The pandemic has exposed real weaknesses in the modern supply chain, so much so that many are looking at what to do next.
Logistics operations have been impacted from every angle with supply, demand, and labor all hit simultaneously. The unexpected explosion in ecommerce deliveries is also presenting supply chain leaders with new opportunities, competitors, and many challenges.
Businesses have struggled, with over 75% experiencing transportation issues within their supply chains, according to a recent Fortune article.
The industry has also experienced:
· Export powerhouses that traditionally required huge daily freight volumes closing their doors in an instant, and canceling shipments immediately.
· Large retailers around the world turning off their lights, causing consumer demand to slow down to a trickle.
· Passenger cargo space evaporating, as airlines grounded entire fleets of aircraft, forcing prices to skyrocket.
· Logistics workers isolated from processing centers, as lockdowns kicked in across the globe.
· Governments forming task forces with logistics providers to expedite deliveries of life-saving medical equipment.
· Cargo ships sitting idle at ports for weeks, while new quarantine clearance processes occur.
· Manufacturers scrambling for ways to decentralize their operations and build supply chain resilience.
As we continue to feel the ripple effects of the disruption, leaders are starting to get their companies safely back to business.
Here are five tips to help companies safely navigate the coming months:
Tip 1: Make safety No. 1 priority
Safety isn't just a one-time event anymore because everywhere is high risk right now.
As we transition back into daily operations, it's time for every business to implement a genuine safety culture.
When we use safety as our barometer, we create trust and understanding.
It's part of a business' responsibility to ensure that its workers and customers are safe, to reduce the spread of the virus and to continue to provide a safe experience at all levels of the supply chain.
Here's how:
● Follow government guidance. Implement guidelines on hygiene, distancing and cleanliness standards for facility and assets.
● Hygiene. Ensure that hand sanitizers are widely available, personal protective equipment (PPE) is available for staff like face masks and gloves for handlers, and there are temperature checks for staff.
● Distancing. For facilities like warehouses, restrict the number of staff in certain areas, space out staff who work in close proximity. For transportation, think about implementing policies like contactless delivery to ensure that distancing is expected and respected.
● Cleanliness. Increase sanitization and frequency of cleaning public areas. Warehouses like Amazon are starting to pilot disinfectant fogging programs and vehicle fleet owners are starting to account for additional cleaning time between shift/crew turnover.
Tip 2: Scale workforce accordingly
This is because your workforce is the most vulnerable at this time during COVID-19.
If just one of your staff ends up contracting COVID-19, this can shut down entire facilities and disrupt supply chains for weeks, like the outbreaks at the meat processing plants.
As supply chains start up again, disruptions from a few months ago can still affect businesses today.
Businesses may require fewer drivers today, but in a few months' time, they may need to scale up their fleet, even if more closures happen as a result of a second or third wave.
Map labor needs based on trends. See what your competitors are doing and adjust accordingly. For example, e-commerce shipping times may need to be tightened up due to the explosion of ecommerce and to remain competitive.
Adjust the workforce to meet promises and expectations. For example, hire more people to help with logistics.
Tip 3: Empower responsibility among your people
By empowering teams to act appropriately, report issues and find solutions, you make every person in your supply chain accountable for managing COVID-19 risk.
Assign responsibility for actions. When everyone is responsible, each person has the visibility to build a safety culture from the ground up. That means everyone can be involved in assessing situations, and taking action to make the workplace a safer place to be.
Share protocols widely. When all staff know the protocols, they will feel trusted and accountable, and more likely to spot problems before they arise. Digital checklists that are made public can help staff know the status of every point in the supply chain.
Tip 4: Pinpoint weaknesses in the supply chain and plan for business continuity
Expect supply chains to be affected throughout the pandemic. If there is a second and third wave, it will force closures again.
This means business continuity plans need to be put in place to prepare for disruptions.
Don't rely on one manufacturer or supplier. If possible, look at how you can decentralize operations so that you are not relying on one supplier for your goods.
Automate processes where possible. Look into how you can automate labor processes with machines, Internet of Things and automation processes to reduce dependability on people who are susceptible to sickness or burnout. Like many businesses, make the shift toward robotic technology to manage risk.
Also use a Business Continuity Plan to map out weaknesses and to put in place contingency plans.
Tip 5: Turn guidelines into processes
Confused by all the different guidelines? There are so many best practices out there, it can be overwhelming for business leaders.
Use checklists. Turning best practice into company processes or procedures using checklists can make reopening painless.
They can be used for hygiene, social distancing, cleaning, risk assessments, business continuity planning, temperature checks and more.
Make safety your edge. Business owners can use checklist reports as certifications to let customers and stakeholders know that standards are being met. Safety can be turned into a competitive advantage, by helping your organization stay ahead of the market.
Get safely back to a fully-functioning supply chain
Despite the uncertainty of COVID-19, supply chain businesses can prepare for reopening and whatever that may entail.
By making safety a priority, scaling workforce, empowering teams with checklists and processes, business continuity can be ensured.