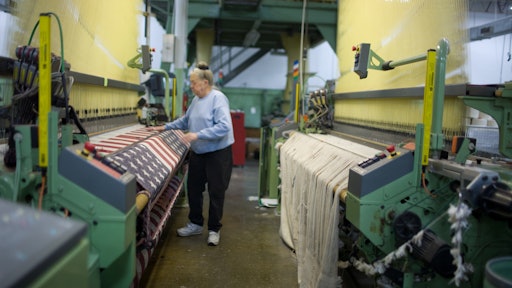 Supply & Demand Chain Executive's new series, Made in America—the first of which you are about to read here—explores the resurgence in American manufacturing and its impact on the supply chain. Each print issue will profile a U.S. company that is successfully swimming against the tide of moving manufacturing and production overseas. If you have any ideas or sources for a good Made in America story, let us know via email here!
Minnesota is known for winter temperatures that would make a polar bear shiver, so it's no surprise that 150 years ago a manufacturer of woolen blankets set up shop in Faribault, Minn.
Today in a society that moves faster than information travels down the cyber highway, Faribault Woolen Mill slows the pace by continuing to deliver on its rich history of making cozy woolen blankets for customers to curl up with on a cold winter's day. Comfort goes beyond the blankets, however, as the mill brings growth and strength to the local economy and to American manufacturing. The Lake Country manufacturer represents the only integrated woolen mill in the United States at a time when it's common for blanket manufacturers to favor synthetic fibers over natural ones and ship manufacturing overseas in a quest for cheaper labor.
It's safe to say being made in the USA is rooted in the woolen mills' DNA.
A Brand with Heritage
The company's longevity wasn't always a given. Though the mill thrived through two world wars and the Great Depression, it almost didn't survive the Great Recession. As manufacturing moved offshore and drove down prices, and $19.95 fleece blankets manufactured in China took over the market, the mills' business crashed and burned, and in 2009 the textile manufacturer closed its doors. But in 2011, Paul and Chuck Mooty resurrected the firm from the ashes, right before a deal closed to sell all of the mill's equipment to a Pakistani company.
Financial analysis found that reentering the heritage woolen business would deliver a sufficient return, but reviving the mill itself through a facility update and new looms was the easy part. The difficulty lay in the branding. Bruce Bildsten, chief marketing officer and co-owner, states that over time "Faribault had become the cheap blanket in the closet."
Changing this perception required the company to tap into the heritage American goods marketplace. "The time was right because there was a renewed emphasis on Made in America ... There was a hunger for products like ours, especially products with good design and high quality," he says. "But we are not a heritage brand, we are a brand with heritage. There are plenty of made up heritage brands. We are the real deal."
Excellent quality and attention to artistry were essential, he explains, because "people are not going to buy a product just because it's quaint." Faribault Woolen Mills sifted through its design archives for vintage patterns to resurrection, such as its three-stripe revival blanket, and renewed its focus on using natural fibers, mostly wool sourced in the United States with only its fine Merino wools coming from Australia and New Zealand.
Though the blankets come with a heftier price tag than less expensive fleece throws, Bildsten points out people buy them because they're made to last. Woolen blankets bend and stretch, making them more resilient than their fleece counterparts. "These products are an investment, one that is going to last for generations," he says. Faribault promotes this fact through its Memory Mill, where people receive a silver metal card with a unique serial number on it and go online to register a memory for those who will inherit the blanket in the future.
Bildsten states the company does not advertise its brand but rather lets the brand speak for itself. Social media outlets such as Facebook, Instagram and Pinterest provide places for customers and retailers to tell the story for them. "We don't do traditional advertising—we don't need to," he says. "It's better to have our customers and Martha Stewart calling us their favorite American brand than to place an ad telling consumers about our products."
Made in America Manufacturing
Faribault plans to keep its manufacturing stateside in the historic brick building nestled next to the Cannon River since 1892. Keeping manufacturing onshore offers some clear advantages.
It allows the mill to tap into the skilled labor force that kept the mill going for many years. The manufacturer lured workers, who were laid off in 2009, back to the Faribault fold through competitive pay and excellent benefits. Today these fifth-generation craftspeople use century-old machinery to turn raw wool into blankets, throws, scarves and accessories. Bildsten says rehiring a trained workforce enabled the mill to "make great product from Day 1."
The skilled labor force is just one many reasons it made good sense to keep manufacturing in the states. "It's so much more efficient to have manufacturing right here—you can control so much more," Bildsten says. Being based in the United States allows for faster turnaround times, especially important for the co-labeled products the company produces for Ralph Lauren and Duluth Pack, and custom blankets made for the U.S. Navy.
"It might be more expensive to do it this way, but we can better ensure the quality of our products," Bildsten says. "We increasingly hear how frustrating it is and the long lead times there can be when manufacturing moves offshore. Here we can turnaround product much faster; we don't have all that time in a container ship."
The mills' rebirth showcases the renewed promise found in producing products in America. When the mill closed it had 30 employees, today it has 110. Its profits are also healthy. Bildsten reports they are seeing "healthy measured growth year over year." He adds, "Our goal is not to explode. We are focused on controlled growth, rather than going crazy."