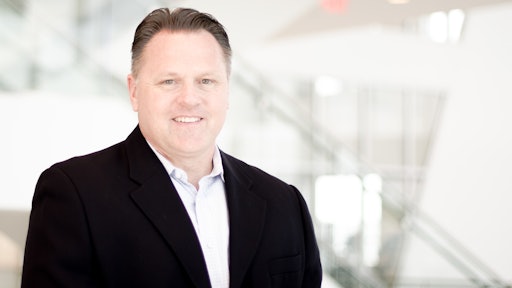 Asset tracking is an age-old solution, providing comfort to companies moving products from point to point. With technology today, third-party logistics providers (3PLs) and others are able to not only track assets, but also check the condition of their goods in transit.
At Crane World Logistics, a multi-national 3PL, we're using AT&T Cargo View with FlightSafe at our Dallas warehouse. Crane Worldwide transports and stores high-value assets, such as electronics, accessories, apparel and more. The technology lets us track and trace goods through the entire supply chain process, and real-time about product conditions is visible to our clients by placing special sensors on shipments.
Experience tells us that visibility to the supply chain is often more valuable to clients than the product itself. For example, a manufacturer shipping smartphones for a new product launch can check and monitor the exact location of the smartphones during shipment. Information like that is key to a client's ability to make vital decisions, especially with demand planning and sales forecasting. Using AT&T Cargo View, that manufacturer can also monitor the condition of its product throughout its journey.
It's not easy to manage and monitor our customers' supply chain processes. Transparency and security are essential for our customers. Crane Worldwide works to provide a sense of comfort and peace of mind, and Internet of Things (IoT) technologies enable us to tackle these tasks more efficiently than ever before.
Tracking technology and the wealth of data it produces is transforming our business and giving our clients a competitive advantage. Our clients are able to optimize their supply chain processes using historical data from past shipments to improve control over operations. For example, our retail clients can schedule refills based on data about a current shipment's location in the supply chain.
But to ensure our clients' complete confidence, Crane Worldwide needs technology to do more than merely track a shipment's location. Technology can now check temperature, pressure, light exposure, humidity and vibration. This ensures the cargo is in top condition when it arrives at its final destination. We can determine if our shipment of smartphones arrived without damage from excessive exposure to sunlight or humidity. Technology can even tell if the smartphones endured a bumpy or smooth ride on their way.
In a recent survey on cargo, 88 percent of shipping companies said they want greater insight and visibility, and improved damage, loss and theft prevention1. Organizations want their products delivered without the risk of spoilage, tampering or, in worst-case scenarios, hijacking.
With new tracking technology, Crane Worldwide can maintain awareness of the condition and location of cargo worldwide in the ground and in the air. Data is fed directly from the sensors placed on cargo to a monitoring and tracking application, equipped with a customizable and comprehensive dashboard, which allows us to provide our customers with the same visibility we have. The application also pushes near real-time information to Crane Worldwide and our clients.
Theft is a long-time challenge in supply chain risk management. But modern technologies are giving companies more control. Custom geo-fences can be used to map the route of a shipment, and protect against theft by alerting logistics providers and their customers when cargo is delayed, tampered with or wanders outside its predetermined route.
Logistics companies like Crane Worldwide long-needed visibility in a supply chain. In the past, an escort would be used to accompany high-value shipments. The escorts reported if the vehicle left its designated route or had a long delay or if there were other unexpected issues. While effective, relying on an escort could be costly and, at times, inefficient. Technology enables us to access data on a load at any given point in time without incurring the costs of hiring an escort.
In today's mobile society, customers want instant information and that's what Crane Worldwide is now able to provide to our customers. Cargo is precious and highly valuable. Whether freight is moving across the country or the globe, knowing its location and environment adds value to our customers' businesses and provides them with much-needed peace of mind.
For years, companies have been tracking assets. Logistics companies must meet the evolving demands of their customers and deliver the best service possible. Now, IoT technologies introduced companies like Crane Worldwide to a whole different world of control.
1Eye For Transport, "Real-time monitoring of supply chain data. From bar-codes to GPS and M2M – The why, where" (February 2014)