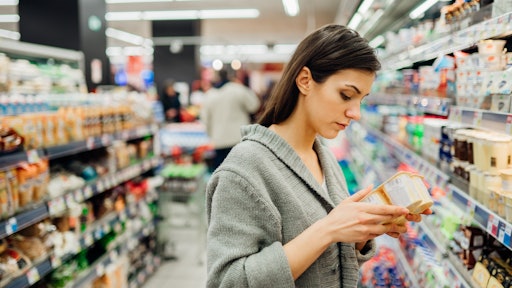 eldarnurkovic - stock.adobe.com
For grocers, 2022 was the year of the store brand. Sales of private label products continued their steady climb throughout the year, averaging 11.3% growth, nearly twice what national brands saw, according to a new report from the Private Label Manufacturers Association. Private label brands accounted for a record $228.6 billion in sales in the United States last year.
Some of the reasons for that growth are obvious, but others may be less so. Because of lower costs and perceptions of better value, store brand sales have traditionally increased during periods of economic hardship, and last year's inflation surge undoubtedly changed shopping habits. But researchers note that while cost savings are the primary factor driving this consumer shift, they aren't the only factor. As shoppers have become increasingly concerned about where and how their products were made, they're also turning to private label goods because they see them as more sustainable.
It turns out shoppers really are paying attention to what's on a label. In a new study, researchers from McKinsey and NielsenIQ found that products that make environmental, social and governance (ESG) claims experienced faster growth than products without them. This growth was especially pronounced in food and personal-care items, and interestingly, it was the highest for private label products. In 88% of product categories, private label items making ESG claims achieved disproportionate sales increases. Consumers' preference for products making ESG claims was consistent across nearly all demographic groups, not just higher-income households.
The continued growth of private label hinges on brands and retailers' ability to deliver on these expectations of sustainability. In response to clear consumer demand for ethical products, companies are increasingly prioritizing sustainable procurement, the practice of evaluating the environmental and social impact of their purchases and partnerships. New regulations, too, are spurring brands and retailers to more closely scrutinize their supplier base by holding them more directly accountable for the social and environmental footprint of their suppliers.
Enacted in January, Germany's new Supply Chain Due Diligence Act (LkSG) requires companies to monitor their supply chain for both human rights and environmental abuses. A proposed European Union due diligence law would take on an even wider scope, obligating companies to monitor suppliers for both environmental and labor standards and ensure they're adhering to the decarbonization path outlined by the Paris Climate Accords.
The United States is similarly cracking down on ethical abuses in the supply chain. The Uyghur Forced Labor Prevention Act (UFLPA), enacted last year, empowers U.S. Customs and Border Patrol to seize any imported merchandise goods suspected of coming about in whole or in part from forced labor services. Customs has outlined several imports of particular concern, including tomatoes from the Xinjiang region of China. That means any item even suspected of using these tomatoes could be subject to a Withhold Release Order (WRO).
Documentation is key
To avoid potential shipment detainments and prove no forced labor was used at any stage of production, brands and retailers must now have complete documentation of their suppliers, from raw materials to finished goods, and they need to be able to document the full chain of custody of materials, including where they were shipped from and where they were made.
A multi-enterprise platform enables that kind of traceability. These platforms create a window into an enterprise's entire supplier base, from vendors to factories to raw material providers, and create the paper trail that brands and retailers need to demonstrate to both consumers and governments alike that their products are sourced responsibly.
A multi-enterprise platform enables sustainable procurement in other ways, as well. It also saves retailers and brands time by automating the onboarding process for vendors and factories and ensuring that all new suppliers have read and consented to the company's terms. This way from the very earliest stages of working with a supplier, there's total transparency about ESG standards and expectations.
This software also enforces a company's social and environmental standards by preventing merchandisers from booking orders with non-compliant suppliers and preventing shipping departments from booking shipments with these vendors. Successfully committing to sustainable procurement requires these kinds of safeguards. For too long, brands and retailers have been unable to verify the provenance of their products. Digitalization is the most failproof way for them to enforce higher procurement standards.