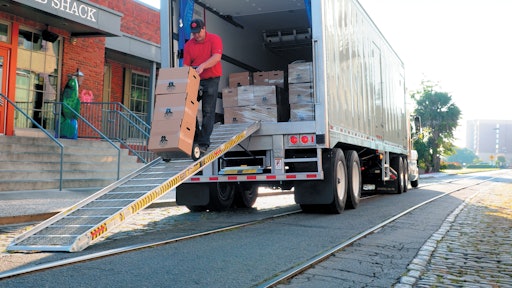 Editors Note: The following article is brought to you by PLM Trailer Leasing in partnership with the Supply Chain Network.
Though the saying goes, "It takes a village to raise a child," in the refrigerated transport world it might more aptly be said, "It takes a village to build a refrigerated trailer." There is no single manufacturer of a refrigerated trailer; rather there are multiple manufacturers that create the components that go into these trailers and finally a trailer manufacturer that pulls all the pieces together.
Crafting a refrigerated trailer this way is a lot like assembling a vexing jigsaw puzzle—all the unique pieces must fit together seamlessly to achieve a cohesive and cost-effective overall design. Not only that, but the pieces must assemble in a way that meets the Food and Drug Administration's Food Safety Modernization Act (FSMA), which has been hailed as the most sweeping reform of U.S. food safety laws in more than 70 years.
With this law, design and application of trailers has taken on a whole new dimension. Because food shippers now must specify in writing the sanitary requirements for transport vehicles and temperature control systems, equipment design is going to play a huge role in meeting those requirements to keep food safe during transport. Everything on the refrigerated trailer has been impacted, from the insulation in its walls to the metals used in its construction to its door design.
PLM's Don Durm, vice president of customer solutions, shed light on these coming changes two years ago when he warned the readers of Refrigerated Transporter to get ready because with the new regulations, refrigerated trailer specifications would need a lot more attention.
He said, "We need to be asking: 'What is the best refrigerated trailer that can be built?' We will need to look at a wider range of materials. We still see some wood used in refrigerated trailers, and that has to stop."
FSMA also puts the onus on shippers to set trailer cleaning requirements, and as a result they may implement cleaning procedures similar to those used in food processing. This too will require fleets to make some changes and design refrigerated trailers that are both easy to clean and made of materials that can withstand cleaning chemicals.
Durm continues, adding that, "Interior damage must be repaired quickly to prevent harmful microbials from being absorbed and growing in the insulation. Another issue is that when water gets into the insulation, a trailer can easily gain 1,000 to 2,500 pounds, which causes more weight for the power unit to pull, thus impacting the fuel economy. Additionally, the impact to the trailer results in less thermal efficiency and makes the refrigeration unit work harder to maintain temperature."
These changes are impacting what companies are asking for when they design a trailer. PLM's Tim Anderson, product manager of refrigeration, points out that, "We now have to consider if we are designing and specifying components in a trailer that meet all of the FSMA requirements. Previously, a customer may have requested a specification of 2 ½-inch thick insulation in a trailer hauling frozen products at minus 10 degrees (Fahrenheit). That's not going to work anymore."
The Devil is in the Details
PLM specializes in providing fleet solutions for refrigerated trailers for a variety of applications. These include: single-temp refrigerated trailers for haulers moving commodities that require one set temperature; multi-temperature trailers that can be divided into three separate temperature-controlled compartments; applications where companies are delivering products that must be kept at different temperatures; and environmentally friendly, zero-emission, single-temp refrigerated trailers for applications that must meet the requirements of the California Air Resources Board (CARB).
But, to accurately determine trailer design, customers must fully understand their application and what's required by law. Things that change the design of a trailer include what type of commodities will be hauled, the regions of the country they will be hauled in, how they will be loaded and unloaded, and more.
PLM assists customers in analyzing their needs to make an accurate assessment of the application and design decisions.
The process begins by developing a customer profile before any equipment is ordered. The interviews get very specific in order to properly specify each part of the refrigerated trailer. For instance, hauling produce will require a very different specification than a refrigerated trailer that's primarily hauling ice cream or other frozen goods. Other items to consider include the amount of insulation added to the unit's walls, ceiling, floors and doors. Temperature is another variable. Even a moderate summer temperature of 87 degrees (Fahrenheit) ambient can radiate highway asphalt temperatures to more than 142 degrees. All told, where you operate your equipment ultimately impacts the application and design of your refrigerated trailer.
Another consideration is the size of the refrigeration unit itself, which includes its capacity and its BTU (British thermal unit) output.
Before FSMA, Anderson explains that customers sometimes got away with buying the cheapest unit they could find.
"Now they can't do that," he says. "They have to consider what will be needed to protect their product(s). They may need a refrigeration unit with a higher level of insulation and one that's got a 60,000 BTU capacity at zero degrees, versus a unit that had only 45,000 BTUs five years ago."
Fortunately, he says, refrigeration manufacturers are way ahead of customers in this regard and have the right-sized products ready and waiting.
"Every time manufacturers come out with a new model, they've upped their BTU game," says Anderson. "They're tweaking this or that, and finding more capacity here and there. The units we have today are twice the capacity of the units produced 20 years ago."
Today's transport refrigeration units are "smart trailers" with advanced microprocessor temperature sensors that talk to each other. The electrical flow control valves check temperatures automatically and adjust accordingly 100 times per second to provide a much finer control and allow the units to maintain a more stable temperature.
All of these sample issues listed and many more are critical to consider in assessing the customer's application and the design of the refrigeration unit and trailer.
Keep It Clean
The FDA's FSMA rules arose from a series of incidents where contaminated food was sold and eaten by consumers who became very ill or even died afterward. The causes of these tragic occurrences were traced back to contamination and adulteration of the food products in the supply chain. Under FSMA, shippers must now specify in writing the sanitary requirements for vehicles carrying perishable food. While maintaining the correct temperature of the food has always been priority, the FDA has not previously mandated that the trailer must be kept clean.
As such, Anderson says, trailer specifications may need alterations to simplify cleaning. For instance, floor designs, gutter configurations, the location of the condenser and more should be considered in the design.