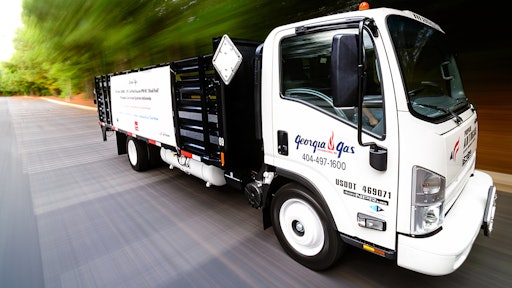 Food and beverage fleets continue to adopt fuel-saving solutions to support their own and their customers' sustainability initiatives. These measures consist of alternative fuels, more efficient engines, electronically controlled transmissions, aerodynamics, idle reduction systems, tire inflation monitoring, temperature tracking, driver performance monitoring and increasingly, onboard computer management.
The North American Council for Freight Efficiency, a nonprofit organization, studied 14 major fleets last year and quantified adoption levels for 68 transportation efficiency technologies. The study found the fleets adopted 30 to 54 percent of the available technologies.
The switch to alternative fuels is one of the most capital intensive choices facing transportation companies, given the varying available infrastructures, tax credits and incentives, and the need to train drivers and technicians. The declining price of diesel in the past year has slowed investment in alternative fuels, but most observers expect investment will rebound along with the price of diesel.
Sustainability takes center stage
Schwan's Home Service Inc., a manufacturer and distributor of frozen food serving 47 states, has utilized propane fuel vehicles since the 1974 oil embargo and has expanded its efficiency initiatives ever since. While the impetus for switching to propane fuel, also known as liquefied natural gas, was economic, the company now views sustainability as an equally important goal, says Tim Koeppl, senior fleet director for the company.
Schwan has approximately 3,000 propane vehicles out of a 4,200-vehicle fleet. The company has propane fueling stations at the majority of its depots.
The switch to propane has been economically and environmentally advantageous, Koeppl says. At this writing, the spot price for propane was around 45 to 49 cents per gallon.
Schwan also invests in idle shutdown systems to improve fuel efficiency. The company has worked with its supplier partners in recent years to develop lighter weight boxes to further improve fuel savings.
Like many other fleet operators, onboard computers have proven to be among the most helpful tools in improving fuel efficiency. Koeppl says that certain Isuzu engines are equipped with mileage and idle tracking devices. The company can monitor braking and idling, thanks to the capabilities of the onboard computer system.
Ginsberg's Foods, a foodservice distributor, has been using hybrid diesel fuel/electric systems on its reefer units for three years. The systems are electronically controlled and allow the reefer unit to shut off when the trailer reaches the desired temperature, says Larry Bigando, transportation manager. The engine has a self-charging system. "Everybody is trying to become a greener company," he says.
Like Schwan's Home Service Inc., Ginsberg's Foods has found route management software improvements critical for improving sustainability along with operating efficiency. The company recently deployed the Appian dispatching solution from TMW Systems, a developer of enterprise management software. The cloud-based Appian solution saves the dispatcher a lot of manual steps.
The solution also includes mapping and other upgrades that the routing software did not provide. "It allows you to do a lot of 'what if' scenarios to reduce mileage and costs," Bigando says. "We looked at a lot of the programs and checked out the mapping solutions, user friendliness and costs and decided that the Appian dispatching system from TMW was the best fit for our business."
Andrew Cullen, senior vice president of fuels and facility services at Penske Truck Leasing, says that by participating in the U.S. Environmental Protection Agency's SmartWay program, Penske has been able to help customers develop their own sustainability strategy. By leasing vehicles to customers, Penske can monitor customers' emissions and monitor improvement.
Onboard Computers Make a Difference
According to Cullen, the newest fuel-saving technology is outbound vehicle monitoring. Thanks to onboard computer monitoring, fleets can gauge fuel use for every vehicle and every driver in real time. "There's a lot of value to being able to tell where your drivers are from an efficiency standpoint," Cullen says.
Penske is also introducing more alternative fuels to its fleet, Cullen says. Out of approximately 233,900 vehicles in the fleet, about 600 are using alternative fuel. Of that 600, most are using compressed natural gas (CNG) or liquid natural gas (LNG), while some are electric.
As the alternative fuel infrastructure expands, customers have to consider which option makes the most sense, Cullen says. This will depend on the available infrastructure as well as the necessary investment and the cost of the fuels. He was one of several observers to note that the decline in diesel fuel prices in the last year as restrained some of the investment in alternative fuels.
Penske has a website to direct customers to natural gas filling stations. The app indicates whether or not the station has the necessary equipment to accommodate tractors and a trailers.
"It [the lower diesel price] makes it tougher and tougher to make the return on investment make sense," he says.
Penske continues to invest in maintenance, fueling facilities and training for alternative fuels.
Ryder System Inc. has deployed nearly 1,000 natural gas powered vehicles into its North American lease and rental fleet in the last five years, says Scott Perry, vice president of supply management and global product management at the company.
"In doing so, we have developed maintenance capabilities in nearly 20 markets, specifically through investments in our maintenance infrastructure to make our shops compliant for natural gas as a commercial vehicle fuel through upgrades to our electrical and ventilation systems and by installing methane detection systems," Perry says.
Ryder has trained more than 5,000 maintenance and operations personnel in the service requirements of natural gas vehicles. The company has also developed two natural gas fuel stations in California that use renewable natural gas.
Not all fleet operators are ready to invest in alternative fuels.
Carrier A. Duie Pyle Inc. has investigated alternative fuels twice in the last three years and has not opted to invest yet, says Randy Swart, chief operating officer. "Our trucks don't return to the same sites every day," he says. Swart expects the company may choose to invest in alternative fuels at some point.
As the company builds more service facilities, new facilities will have the capability of servicing natural gas, Swart says. He notes that it is more economical to install this capability in a new shop than to retrofit an existing one. "We want to be prepared if we decide to participate," he says.
Swart says the company has invested in other sustainable ventures as well, such as having wind skirts on the trailers. Electronic monitoring of vehicle speed has been another improvement.
Later this year, A. Duie Pyle will deploy a lighter weight truck for urban deliveries.
Brian Tabel, executive director of marketing at Isuzu Commercial Truck of America Inc., believes natural gas will grow significantly as the infrastructure expands. "The potential for what is beneath us is pretty substantial," he says.
Tabel says some people are concerned about the safety of the natural gas tanks, but the reality is that these tanks are much safer that petroleum fuel tanks.
Tabel also thinks diesel engines will be getting more compact on account of federal emissions regulations. He says these engines will save fuel, but they will not come without a financial cost. "There's going to be a movement to smaller displacement engines," he says.
Intermodal offers an option
Intermodal continues to gain favor among shippers largely on account of the improved sustainability compared to over the road, notes Jim Filter, senior vice president and general manager of intermodal at Schneider, a transportation and logistics provider. Filter points to two key sustainability advantages to intermodal: 1) the less fuel required (a train can move 1 ton of freight 473 miles using 1 gallon of fuel, and 2) the more freight traveling by rail, the less there is on the roads, relieving congestion and reducing fuel consumption and emissions.
Schneider provides customers with a carbon footprint report that quantifies savings in carbon dioxide emissions from using intermodal. "We do have customers that ask us about CO2 emissions," Filter says.
The rail lines are also investing in sustainability, Filter says. BNSF Railway has made its engines 7.7 percent more efficient with new engines. CSX Transportation Inc. improved fuel efficiency by 1 percent in 2013 over the previous year.
For more than 25 years, Schneider has had a policy of spec'ing the most fuel-efficient models available and even works with the manufacturers to develop and test new products. In 2012, the company replaced one-third of its fleet with the newest EPA-compliant engines in the most significant equipment investment in Schneider history.
The company also has been an EPA SmartWay Partner from the start of the program 12 years ago.
Transportation managers have found that the longtime goal of improving operating efficiencies largely supports the newer challenge to improve sustainability. To meet these goals, companies are finding a variety of solutions that include alternative fuels, fuel-saving technologies, more dynamic engine management systems and increasingly, onboard computers that monitor vehicle and driver performance in real time.
Sainsbury's Takes Delivery of World's First Carrier Transicold Natural Refrigerant Trailer Unit
Sainsbury's, the United Kingdom-based supermarket chain, has become the first customer in the world to take delivery of Carrier Transicold's prototype natural refrigerant trailer unit–a new generation of transport refrigeration system for trailers which operates exclusively with carbon dioxide (CO2) refrigerant, which has a global warming potential (GWP) of just one. Carrier Transicold, which operates in the United Kingdom as Carrier Transicold UK, is a part of UTC Climate, Controls & Security, a unit of United Technologies Corporation.
The delivery marks the first of three units to join the Sainsbury's fleet this year as part of a three-year technology field trial. It builds on the success of a 2013 pilot, which saw the supermarket operate a modified road version of Carrier Transicold's NaturaLINE refrigeration system for ocean containers – making it the first naturally refrigerated trailer operating anywhere in the world.
The new prototype system uses advanced technology from the NaturaLINE refrigeration system, assembled inside a traditional Carrier Vector unit chassis and powered by the same patented E-Drive all-electric technology as Carrier Transicold's existing Vector range. It stands out for its use of the natural refrigerant CO2, also known as R744, in a closed-loop system.
"Delivering the first dedicated natural refrigerant trailer prototype into service marks a huge milestone in the development of over-the-road refrigeration using CO2," says David Appel, president, Carrier Transicold & Refrigeration Systems. "Our ultimate vision is to see temperature-controlled units running on natural refrigerant in mainstream production. Today, with the support of one of our largest European customers, we are one step closer."
CO2 is a safe and non-ozone depleting gas with a global warming potential of one, making it the baseline against which all other refrigerants are measured. The GWP of CO2 is also lower than other natural refrigerants, such as propane and ammonia.
"We're thrilled to be working closely with Carrier Transicold as they spearhead this innovation," adds Gary King, operations support manager, Sainsbury's. "The beauty of Carrier Transicold's prototype trailer unit is it delivers a massive reduction in F-Gases by using natural refrigerant. This will directly help us achieve our ambitious environmental and sustainability goals, whilst delivering a seismic leap forward in terms of sustainability within the cold chain."
Sainsbury's has taken a leading position in testing the new Carrier Transicold innovation in a real-life trial, with the trailers being used for everyday store deliveries. Since the first NaturaLINE trial commenced in 2013, interest in natural refrigerant systems for road transport has been elevated.
C.H. Robinson Research Establishes Model for Reducing LTL Carbon Emissions
C.H. Robinson, a provider of multimodal transportation services and third-party logistics, has developed a model for estimating carbon emissions from less-than-truckload (LTL) shipments. Each truck combines a mix of freight from different shippers, with varying origins and destinations.
Without visibility to the details of the shipments, it is difficult to determine accurate carbon emissions, C.H. Robinson notes in a recent white paper.
Graduate students at the MIT Center for Transportation and Logistics (MIT CTL) examined the issue using LTL shipment data from TMC, a C.H. Robinson division and a national LTL carrier.
The company notes there is no widely accepted, accurate template for calculating emissions for individual LTL shipments.
The resulting thesis, "Estimating Carbon Emissions from LTL Shipments," indicates current calculation models can be highly inaccurate. While the findings reveal no "magic bullet" for calculating LTL carbon emissions, they establish the groundwork for future research.
The research led to two new methods of calculating LTL carbon emissions. The detailed model, largely of interest to the LTL carrier community, requires dimensional data about the freight that shippers often do not gather, as well as information about a carrier's network infrastructure (terminals, lanes). Instructions for using the detailed model are available at the MIT CTL website: http://ctl.mit.edu.
The simplified model provides baseline estimates considering network averages. The model considers regional averages and does not require specific information about lanes and terminal infrastructure. This model still utilizes coefficients and regression models that were developed for the detailed approach.
Existing tools tend to underestimate the emissions associated with LTL shipments, especially for short distances and light freight; the methods rely on over the road distances, rather than actual LTL distances.
In addition, the methods fail to factor in pickup and delivery operations that account for as much as 28 percent to 31 percent of total emissions in the models.
Established initiatives such as the GHG Protocol and SmartWay provide general guidance on how to estimate the carbon emissions generated by freight transportation. They do not address the complexities of LTL, particularly the need to assign emissions to individual shipments. As a result, these measurement methods are not precise enough when applied to LTL shipments.
Topics for further investigation include how to more accurately incorporate the dynamics of pickup and delivery operations, and how to take into account shipment class and density data when estimating carbon emissions.
Last mile carbon efficiency is expected to become more important as e-commerce increases.
Government mandates for carbon emissions are likely in the future. By gaining more accurate information on the carbon footprint in transportation, the industry can establish a more accurate view of sustainability performance.