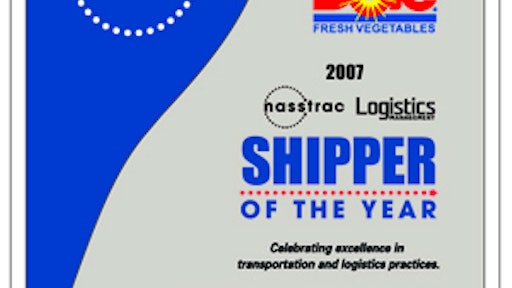 By Brian Everett
Safely transporting fresh vegetables from origin to marketplace on-time and farm-fresh is a tall order for any logistician. NASSTRAC, an organization the provides education, advocacy and networking for professionals in all areas of transportation, recently named Dole Fresh Vegetables as 2007 NASSTRAC Shipper of the Year for its swift and decisive action in doing just that — all while dealing with an ongoing risk of crisis.
Last year, Robert Engle, vice president of supply chain for Dole Fresh Vegetables, Inc., found himself at the center of a health scare capturing national headlines. His response was to examine core competencies and control collateral damage, which ultimately earned Engle and Dole the award: "When the E. coli outbreak linked to California spinach was first discovered last year, we had to act quickly to make sure our house was in order. That event was a major wakeup call for all produce shippers. Even when your company is not involved, it's something that taints the whole industry."
Following last year's outbreak, Dole began looking at both inbound and outbound shipping operations for vulnerabilities and soft spots. Like other produce shippers, the Monterey, Calif.-based company was concerned about shipments that would arrive warm or product that might not hold up as well as desired. Engle examined the chain of custody and did extensive interviews with everyone in the network to ultimately identify potential failsafe strategies. Meanwhile, a new set of guidelines and regulations passed down by state and federal regulatory agencies was forcing produce shippers to make their supply chains more transparent. In addition, a consortium of stores, including Vons, Ralph's and Albertsons grocery chains, wanted growers to work with federal regulators, academia and industry research scientists to update and standardize food safety requirements.
NASSTRAC, which has been recognizing cutting-edge transportation and supply chain-oriented strategies, was impressed with how Dole created a fully automated track-and-trace process that could be integrated into its cold chain management. Although no such system yet existed, Dole partnered with an RFID applications manufacturer and systems integrator and together the two companies developed an RFID/GPS track-and-traceability program utilizing cell-phone technology starting at the harvest field and running throughout the supply chain. The key to this involved tagging products as they left the field and scanning them as they entered and exited various points along the supply chain. This journey included stops through cooling centers, warehouses and sorting plants. The pilot plan was not cheap — more than $2 million — and will cost several million more to get other plants on the system. Today Dole tracks time and quantities and is adding temperature to the mix. This allows Dole to understand how the product moved throughout the system and alerts them to any possible time and temperature abuse. Creating a successful supply chain can be achieved by creating full visibility, as Dole has done, by leveraging technology.
NASSTRAC congratulates Dole Fresh Vegetables on receiving the 2007 Shipper of the Year award. For more information on this award-winning case study and others, visit www.NASSTRAC.org.
About the Author: Brian Everett is executive director of NASSTRAC (the National Shipper's Strategic Transportation Council), which provides education, advocacy, connections and solutions to transportation, logistics and supply chain management professionals who manage freight across all modes.