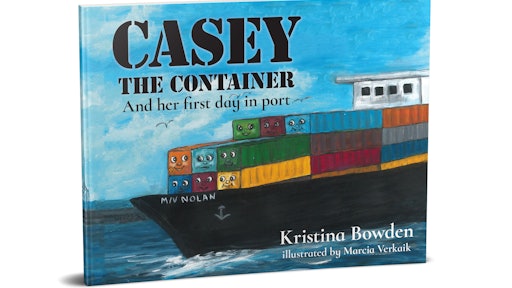 Karen Miller @wishingyouhappiness
Browsing the children's book section, you will find endless stories about trains, planes and automobiles. There are also hundreds of options exploring construction, outer space, and fire and rescue. But when Kristina Bowden's son Noah asked her if they could read a story about the ocean port near their home in Southern California, her exhaustive search came up short.
"I did what any parent in today's age would do; I Amazoned it, and there was nothing," recalls Bowden.
She then began visiting bookstores and asking managers to search their master databases, with the same results—children's books about ports just don't exist.
"I saw an opportunity to fill this knowledge gap," says Bowden. "My mom always encouraged me to find a way to share with the world what happens at the port. This idea always resonated with me, but I never thought it would present itself in the form of a children's rhyming book."
Bowden grew up surrounded by West Coast ports, and from an early age, they made a big impact on her. Today, she works to keep port workers safe as the president of West Coast Resource Services, a consulting firm specializing in occupational safety for terminal operators and stevedores.
That knowledge, coupled with a passion for education, inspired her to write the first children's book specifically addressing the ocean port industry.
"I felt really lucky that I had an early introduction into the port, but not everyone gets that," she explains. "I wanted to bring a very basic but accurate level of knowledge regarding port operations and the supply chain, but I also wanted to bring awareness to kids that there is a lot of opportunity for them to be a part of it."
Bowden adds that today so many children are pushed into four-year universities, but she is a big supporter and believer in trade schools. "There are other opportunities out there for really good jobs that don't always mean you have to go to college. And this [book] creates some awareness about that," she notes.
Casey the Container is a rhyming book that follows a new shipping container named Casey along her journey on her first day in port.
Bowden was inspired by some of her son's favorite books, which often are rhyming or repetitive. She used that idea to brainstorm verses of rhyme to build a theme around.
"I would carry pen and paper everywhere, and there were legal pads all over the house. I would have pages and pages of rhymes," she says.
Eventually, a story formed that maintained the integrity and specific industry vernacular.
"I didn't want to make it generic and lose those words," she notes.
Bowden also included a glossary in the back of the book that includes eight pictures and descriptions to help both parents and children identify the correct terms for the equipment within the story and the industry.
"It was really important to me to write the book operationally correct...but I also wanted to reinforce the idea of work family," Bowden adds. "Whether you're in management or work on the docks, within the longshoreman community, we all do this job, and we all have to work together."