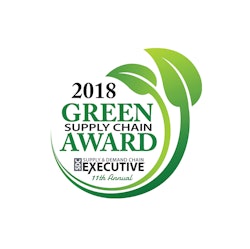 Collins Dictionary has named "single-use" the word of the year for 2018, and no one is more familiar with the term than the supply chain professionals. This year's recipients of Supply & Demand Chain Executive's Green Supply Chain Award have made it their goal to eliminate the term from their vocabulary, focusing on ways to reuse or recycle items in their supply chain. Each company proves its commitment to sustainability by creating solutions that not only improve the environment, but also its bottom line. Those that made notable additions in the last year are listed below.
3Gtms
3Gtms' transportation management solution (TMS) uses proprietary routing algorithms to help customers increase the efficiency of their routes in terms of miles driven and emissions expelled. The company's technology responds in real time to dynamic routing factors, ensuring that customers are maximizing the efficiencies of their routes no matter what changes may occur. As customers implement 3Gtms's TMS, they're reporting fewer miles driven and optimization of routes and truckloads by consolidating more orders and delivering them in the most cost-effective manner.
ALOM
ALOM and one of its biggest customers faced a critical supply chain challenge last year as demand for the customer's product exceeded ALOM's inventory and fulfillment capacity. The obstacle gave ALOM engineers the opportunity to develop an inventory management and order routing/fulfillment solution that would optimize and reduce transportation and freight load. The company met its objectives of increased fulfillment capacity and improved transportation sustainability by automating order routing/management and near sourcing. By executing the two strategies, ALOM achieved order processing and delivery volumes for its customers as well as met its sustainability goals of paperless order management and significantly reduced its transportation carbon footprint.
AutoStore System
For AutoStore System, the warehouse is designed with its employees in mind. Aisles and lighting are all current on environmental settings, and the company condenses space by removing wasted areas around inventory. Meanwhile, its robots use energy-efficient motors and run on rechargeable batteries. Regenerative energy returns power to the robots' batteries each time it lowers a bin or reduces speed. Additionally, the AutoStore controller creates a green solution by assigning the robots tasks with the shortest route to save time and energy. The company's clients have seen electricity savings as great as 75 percent and gained new control over their recycling and waste management.
BGIS Global Integrated Solutions
Environmental stewardship is a cornerstone of BGIS' global operation philosophy. Its integrated management system is encompassed by the leading services it provides. Through its sustainability commitments, BGIS enables innovation across its corporate and clients' real-estate portfolios by developing and implementing industry-leading real estate and facility management solutions. In addition, the company's sustainable procurement policy provides guidance to all personnel toward integrating environmental and social decisions to promote a eco-friendlier way of doing business. At BGIS, a key corporate value is to achieve sustainable operating practices and promote the efficient use of resources.
BillerudKorsnas
BillerudKorsnas aims to help its customers reach their green supply chain goals by offering sustainable paper and board material packaging. When one of its customers needed a sustainable packaging solution for one of its products, BillerudKrosnas replaced the original materials with fluting that offered greater durability but was nearly 35 percent lighter in weight. Offering lighter packaging solutions reduces airfreight costs for its customers, creating significant savings and less CO2 production.
B-Stock
B-Stock was built on the idea that technology and analytics could revolutionize how organizations manage excess inventory. With a focus on the reverse supply chain, B-Stock is able to facilitate new ways to reuse or recycle unwanted products. By partnering with the company, its clients have access to a global base of vendors that are dedicated to recycling and repurposing salvage products for their own business needs. B-Stock's transparent B2B marketplace platform connects sellers directly to buyers, so customers know exactly who is purchasing their product and what their intended purpose is. By using a B2B liquidation marketplace, over 180 million items have sold for reuse, resale or recycling through a total of 338,748 auctions.
Cass Information Systems Inc.
Cass Information Systems provides sustainable solutions through the utilization of technology to obtain cost and processing efficiencies for its customers. The solutions meet its customers' green supply chain goals by accelerating the amount of electronic interchange between customer, its freight carriers and Cass, resulting in a significant reduction in paper transactions without sacrificing control or accuracy. Currently, more than 99 percent of Cass payments and remittance advices to carriers are electronic. The company provides further positive environmental impact for its customers by centralizing business intelligence to help manage the supply chain.
The Raymond Corporation
Sustainability is a core part of The Raymond Corporation. The company has recently updated its supply chain to become more sustainable by upgrading software controllers to automated logic and light controls programs to zone and control factory and office fixtures based on utilization. It also uses water reclamation from the powder coat paint system for utility water requirements and has installed supplemental active solar lighting throughout its location that dims electric lights when sunlight is capture and much more. To further its sustainability goals, its iWAREHOUSE forklift telematics solution allows Raymond and its customers to measure fleet and operator performance for greener results. The solution creates data to help identify ways to optimize their fleets, decreasing energy usage and lowering their carbon footprint and kilowatt usage in the process. The Raymond Corporation saw a 56-percent reduction in landfill contribution since 2010. The company also recycles 97.6 percent of its byproducts.
Schaefer Systems International Inc.
SSI Schaefer works with various clients in multiple industries manufacturing reusable containers, totes, pallets and bulk bins used in everyday storage, assembly and transport. The sustainable program is geared toward automotive OEMs that need to meet or exceed automotive sustainability goals. To help its clients become more sustainable, Schaefer implements recycling programs at their facilities.
Transportation Insight
Transportation Insight is a one-stop shop for its clients. The company's solutions combine analysis, intellectual capital and a hallmark co-managed logistics approach to help customers achieve green supply chain results. By using optimal mode and carrier selection, comprehensive data management and logistics reporting, and predictive supply chain analytics, Transportation Insight is able to streamline its supply chain networks through "what if" scenario simulations based on historical data to reduce energy costs, vehicle miles, fuel consumption and air pollution emissions. Additionally, the company employs supply chain analytics based on lean methodology that extend across the supply chain to perform assessments that determine where to cut waste. Transportation Insight's supply chain analytics team identifies key performance indicators to continuously improve areas. The company's clients have maximized the efficiency of their networks and sustainability efforts in ways that make their overall supply chain greener.