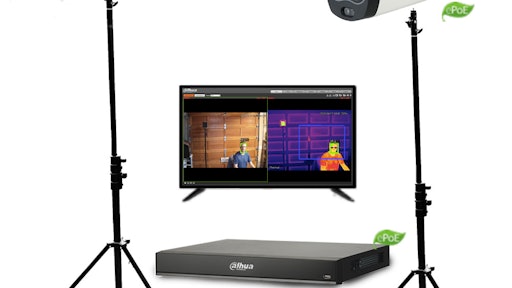 Dahua Technology USA

Raymond Handling Solutions partnered with Dahua Technology USA to bring a wide array of "touch-free" symptom detection devices to the marketplace, including solutions to check skin temperature, monitor mask usage and prevent overcapacity of indoor spaces by foot traffic.
Among Dahua's systems now available are Wi-Fi-enabled thermal imaging, face covering detection, and digital signage hardware, all designed to support social distancing, perform on-the-fly temperature checks and maintain the safe movement of employees.
"Since the inception of Raymond Handling Solutions, safety on the production floor, warehouse, loading docks, and within the fleets of our clients has been as important a priority as delivering value, quality, and outstanding customer service," says James Wilcox, Raymond Handling Solutions President. "In our capacity as a partner to thousands of enterprises in the highly resilient California industrial base, we're proud to play our part in keeping businesses open, supply chains flowing freely, and stakeholders safe. Our material handling consultants are now trained to implement practical and affordable COVID-19 suppression solutions to empower the managers of facilities of any size to remain vigilant and keep their employees safe."
To monitor entry points of a facility, Dahua's Thermal Temperature Monitoring station provides "on the fly" skin temperature data-gathering with a Thermal Hybrid Network Camera, Human Temperament Measurement Blackbody to ensure calibration, and an optional Full (HD) High Definition Monitor. Skin temperature can be captured from up to 15 feet away and in just 0.2 seconds with accuracy of roughly half-a-degree Fahrenheit.
For spot checking and to provide personnel with an inexpensive mobile solution, Dahua offers a Handheld Thermal Temperature Monitoring Device, which houses a 3.5mm camera powered by a lithium-ion battery. Artificial intelligence (AI) software calibrates temperature to just under one-degree accuracy. Results which exceed user-defined thresholds trigger an alarm. Discreet temperature monitoring of personnel or visitors without operator involvement can be accomplished with the Dahua Thermal Temperature Station, a small-footprint device slightly larger than a smartphone which is designed to be mounted at entrances where interpersonal surveillance is impractical.
"Since coronavirus was first identified as a public health threat last spring, the bar has incrementally been raised by OSHA (Occupational Safety and Health Administration) to encourage employers to enhance safety and correct hazards," Wilcox commented. "With the goal of preventing avoidable contagion and to protect lives, we are delighted to be in a position to help employers identify risk factors before they can trigger outbreaks and the potential of a facility shutdown."