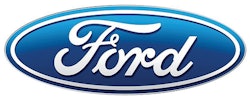 Dearborn, MI March 20, 2002 Ford Motor Co. and a General Electric unit specializing in industrial automation systems are partnering to develop a new manufacturing solution featuring automated production scheduling, routing and tracking, as well as supply chain management features.
GE Fanuc Automation, a Charlottesville, Va.-based affiliate of GE Industrial Systems, will assess, design, implement and support the new e-manufacturing solution at Ford production facilities around the globe, according to a statement from the GE unit.
GE Fanuc said its solution, which combines off-the-shelf CIMPLICITY manufacturing software with new application-specific functionality, will enable Ford to provide flexibility in executing production schedules from enterprise resource planning (ERP) systems, monitoring production flow through the manufacturing facility and making automated routing decisions.
For example, all jobs for a specific order can be routed to the most capable machines or resources. By enabling Ford to better manage work-in-process inventory levels, the system will improve resource management and flow for lower production costs, GE Fanuc asserts.
Additionally, the new collaborative manufacturing solution will offer Ford and its suppliers real-time views into the production process, enabling just-in-time delivery of parts and reducing costs for Ford, its suppliers, and its customers, according to the solution provider.
The system will help users identify production jobs by location and specific type and will dynamically collect data and make it available to upstream and downstream operations in real time. Within Ford, the GE Fanuc system will be designed to interface with 10 to 12 existing plant and enterprise systems.
GE Fanuc Automation North America is a joint venture between GE and FANUC, Ltd. of Japan.
Companies in this article