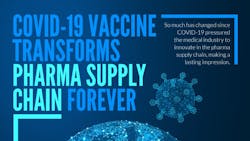 The intricacies of the pharmaceutical supply chain may not have been in the mainstream news a few years ago, but recent events, such as COVID-19 and the subsequent vaccine roll out, have kicked this subject to front page news.
Events have highlighted the supply chain's strong resiliency, but also uncovered possible weaknesses in the industry. The pandemic and the intricacies of transporting the temperature–sensitive vaccine could have lasting impacts on the future of the supply chain, specifically the pharmaceutical sector. 
We, Supply & Demand Chain Executive, have pulled together a Key Supply Chain Report that highlights the critical information you need to know about how the pandemic, vaccine and other technology trends are leaving lasting impressions on the pharma supply chain.
DOWNLOAD THIS FREE WHITE PAPER
"It is no longer a load of apples or ice cream that has to be carefully temperature controlled; now an incredibly important shipment of vaccine could be endangered if the cooling systems in the trailer fail or the temperature rises without appropriate intervention," says Chris Orban, VP of data science, Trimble Transportation.
This essential report covers how the pharmaceutical supply chain globalized, how and what technologies were created to support the sector's demands, what major threats companies need to watch out for and how the COVID-19 pandemic will have everlasting impacts on the supply chain.
Download this FREE white paper to discover how the pandemic, the COVID-19 vaccine and other technology trends are changing the pharma supply chain forever.