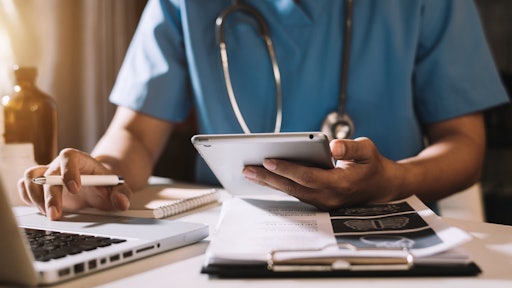 mrmohock/stock.adobe.com
The COVID-19 pandemic disrupted many industries, but few were as strained and upended as healthcare. A recent survey by HealthTrust Performance GroupSM showed that over the last two years, an overwhelming 84% of respondents, who are healthcare professionals, reported that their world has been significantly disrupted. The unprecedented demands placed on the healthcare system illuminated the importance of mission critical, but often overlooked, functions such as supply chain.
Moreover, 90% of survey respondents now view the world and the global supply chain with a different perspective following the pandemic. For supply chain professionals who have been toiling for decades in back offices and loading docks, this new attention and appreciation is a welcome silver lining amid the crisis as it can be utilized to strengthen healthcare providers' resiliency and empower them to provide the best possible uninterrupted care to patients.
Supply chain advances to the forefront
At a high-level, COVID has increased awareness of supply chains both within and beyond the healthcare industry. Personal Protective Equipment (PPE) became a household phrase and shortages, ranging from gloves to saline, have made national news. Discussions around healthcare supply chain disruptions have become commonplace. Fueling this dialogue has been supply scarcities impeding consumer purchases (e.g. chip shortages affecting the automotive and tech industries) and medical product shortages impacting the way healthcare is delivered. These events have made supply chain disruption both ubiquitous and expected; and we've all grown to navigate subsequent delays as a part of our daily lives.
In-hand with this widespread societal dialogue has grown an increased focus on supply chain awareness from business leaders and executives. Supply chain factors are no longer an afterthought, but rather a primary consideration. Through this heightened attention the past few years have also fostered new conversations about risk, including how to mitigate risk for healthcare supply chains while also opening the door to broader, candid conversations about risks overall. This has, as a result, helped bolster disaster preparedness planning across industries, fueling quicker decisions and resource identification that will put us all in a better position for future events.
While this increased attention and discussion has been pivotal for healthcare, the benefits do not stop there. Since it is a top-of-mind consideration during the decision-making process, stronger and more resilient supply chain solutions can be achieved.
Achieving a clinically integrated supply chain
Also key to long-term supply chain resiliency is the importance of clinical integration. Clinically integrated supply chains were discussed well before COVID, but for many organizations, the pandemic jolted them into action. At its core, a clinically integrated supply chain is achieved through interdisciplinary partnerships and coordination to enhance patient-focused outcomes. Continuing to foster and grow this collaboration between manufacturers, distributors, and the provider (e.g. supply chain, clinical, and operational stakeholders) is more important than ever. Expanding focus on supply chain across groups will ensure that all are pulling towards the same goal of providing the best possible patient care. And while we have discussed how communication and transparency have improved, they must continue to be at the forefront.
For example, healthcare manufacturers are starting to involve their chief procurement officers more notably in contract decisions to assess their ability to deliver on commitments and customer needs. These decisions were previously left to sales or other similar client management teams. However, through this emerging collaboration, manufacturers are now considering the "bigger picture" in addition to pushing for their sales targets. Furthermore, because of this shifting contracting process, healthcare businesses are now empowered to make more informed supplier and product choices that support quality outcomes while also reducing waste and lowering overall costs. This shift benefits all, forming stronger relationships and providing better care to patients.
In addition to working towards the same goal, clinical integration also has clear operational benefits. As an example, consider that a supplier is looking to reduce the number of stock keeping units (SKU) in a category in order to improve production, inventory efficacy and costs. From a provider's perspective, as long as clinical considerations are taken into account, standardization can improve provider operations by necessitating fewer purchase orders, streamlining inventory management and improving clinical workflows.
Changes still to come
While we have discussed some of the progress that has been made for healthcare supply chains over the past few years, there are still necessary advancements not yet in place. Specifically, in order to repair global supply-and-demand headaches at-scale, we must continue to rethink the way healthcare supply chains work. This will take form through tactics like bolstering domestic manufacturing capabilities and/or near-shoring; reconsidering inventory strategies (e.g. just-in-time, days on hand, distribution methods); and thoroughly evaluating supplier resiliency and supply chain risks with heightened transparency into a supplier's complete supply chain.
At the domestic level, the U.S. must consider long-term commitments and volume-driven strategies (not just grants or cash infusions). Moreover, when it comes to domestic production, we all have a duty to ask ourselves tough questions to understand what is realistically viable to produce domestically. These questions include:
Can the supply chain be resilient from raw material to finished goods?
Can it be cost-effective?
Will it be high-quality?
Can it be environmentally sustainable?
Making strategic and honest choices about which opportunities make sense will be critical to optimizing homegrown products and services. For example, items like procedural face masks can be highly automated and require a relatively low cost-of-capital—therefore making them a viable product for domestic production. While on the other hand, items like nitrile exam gloves certainly could be mass produced in the U.S., however, the cost profile would be significantly higher than alternatives and the production of the raw material (nitrile butadiene) itself is quite complex.
Altogether, and in conjunction with the progress already made, these additional steps will solidify the strength of global supply chains and help avoid future delays, shortages and disruptions. Ultimately, it's up to the current generation of supply chain leaders to transform the hard-won lessons of the pandemic into meaningful and lasting changes that will leave our systems more efficient and resilient.