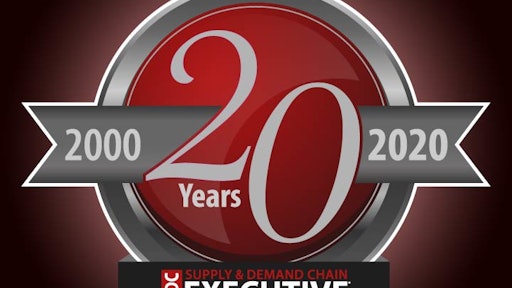 Supply & Demand Chain Executive (SDCE) marks its 20-year Anniversary this year.
And, boy do we have the content, coverage, news and information to celebrate!
When SDCE was founded in August 2000, it was called iSource Business, a supply chain-focused publication owned by Vulcan Publications.
Then, in 2002, it was acquired by Cygnus Business Media, and underwent the name change to Supply & Demand Chain Executive in 2003.
The year 2016 saw two new editorial offerings added to SDCE's in-print component—Made in America, which explores the resurgence in U.S. manufacturing and its impact on the supply chain, and Work Hard, Play Hard, which features the after-hours lifestyle of globe-trotting supply chain executives who seek adventure, entertainment, eating, exploring and extreme sports.
Then, in 2018, Boyne Capital acquired AC Business Media, which included the SDCE brand.
Today, SDCE, Fort Atkinson, Wis., publishes four times a year to 26,000 C-suite executives in the supply chain and logistics industry, deploys a twice-weekly e-newsletter and is home to three annual awards, including Pros to Know, which recognizes outstanding executives whose accomplishments offer a roadmap for other leaders looking to leverage supply chain for competitive advantage; SDCE 100, which spotlights successful and innovative projects that deliver bottom-line value to small, medium and large enterprises across the range of supply chain functions; and the Green Supply Chain Awards, which recognizes companies making sustainability a core part of their supply chain strategy.
Here's a rundown of the 20-year anniversary coverage in store for the remainder of the year.
·      Pros to Know "Where Are They Now?" Here, we revisit previous Pros to Know winners to re-interview and learn what they've been up to since last receiving this award, as well as discuss how the industry has changed, what they've learned and advice for incoming supply chain professionals.
·       E-Commerce's Impact on the Supply Chain. Discuss the impact e-commerce has had on the supply chain in the last 20 years in e-commerce/retail, pharmaceuticals, automotive and more.
·       The Next 20 Years in Supply Chain. Check out this forecast of the future with regards to "phygital" landscape trends, retail brick-and-mortar vs. online and back again. Find out what some of the top IoT, robotics and big data companies are doing to automate for the future. And, find market research stats and studies that outline where the industry is headed over the next 20 years.
·       Your Career Over 20-Year Timeframe. Learn from other readers on how their jobs have changed in the last 20 years.
·       This Day in History. From the first package shipment to the industry's first software solution, follow this guideline through time.
·      Professional Development podcast series. SDCE editors will interview students, professors and veterans of the supply chain industry to discuss how the supply chain industry has changed in terms of recruiting, training and more.
Also, check out our newly revamped podcast channel, L.I.N.K., and keep an eye out for videos, podcast interviews, contributed expert columns and more.
And, be sure to follow us on Facebook at https://www.facebook.com/sdcexec to tune in to Facebook Live discussions every other Wednesday at 11 a.m. CST to learn more about trends and technologies impacting the supply chain and logistics industry.
Want to be a part of SDCE's 20-Year Anniversary? Please don't hesitate to reach out.