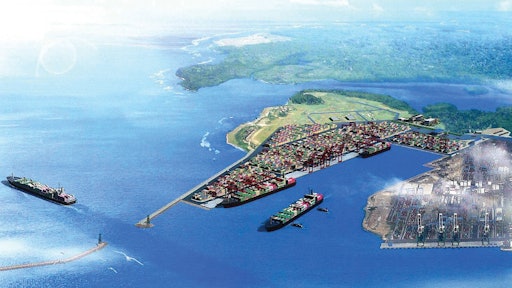 Set for completion in 2014, there's no doubt that the $5.2 billion Panama Canal expansion will drive economic growth not only on a national level and for its surrounding areas but to U.S. East and West coast ports as well. The project is already helping to initiate national developments, including formed partnership earlier this year between financial and professional services firm Jones Lang LaSalle and XY Group, a China-based rail system manufacturer, who is targeting the construction and financing of private sector intermodal projects for its North America market entry. Most recently, the Panama Maritime Authority (AMP) granted permits to a private development group (Jones Lang LaSalle as acting development advisor to the project) for the construction and operation of a new container terminal to be built at the Atlantic entrance of the Panama Canal.
"There are no losing parties in all of this," confirmed John Carver, Head of Chicago-based Jones Lang LaSalle's Ports Airports and Global Infrastructure (PAGI) group. "The Panama Canal expansion provides an opportunity for the East and the Gulf Coast ports to capture new market share because of the increased volume that is expected to be coming through the canal as a result of the new locks that will openin 2014."
The expansion will allow greater traffic flow through the canal and accommodate the next generation of "Super Post-Panamax" vessels, named because they exceed the size limitations of the existing canal system. Prior to the expansion, vessels passing through the canal reached a size of roughly 4,500 TEUs.
"There's an opportunity for all U.S. ports to benefit from the expansion," Carver added. "While the larger ports gear up to accommodate the larger vessels that will be traveling through the canal, the smaller ports have an opportunity to capture some of the secondary business—the other maritime elements such as smaller container vessels and break-bulk vessels and equipment and bulk carriers and similar things of that nature that the larger ports will not be as focused on."
With an estimated construction value exceeding $600 million, the Panama Colón Container Port (PCCP) is expected to become one of the largest private maritime infrastructure projects in Panama and the first terminal to be built on freehold land.
Set to break ground in the summer of 2012, the four-berth terminal will be capable of handling container vessels up to 18,000 TEUs (20-foot equivalent units) and is designed to handle two million TEUs in initial throughput with future expansion capability thereafter. PCCP will complete in conjunction with the opening of the Panama Canal's "Third Set of Locks" expansion project in late 2014.
"The average ship size is getting larger and that is why the Panama Canal is being expanded and why you are seeing these ports expanding to accommodate," said Carver."Right now, there is roughly $57 billion in new ship orders within the worldwide container fleet. 50 percent of those vessel orders are for ships larger than 10,000 TEUs and 80 percent of the vessel orders are ships larger than 8,000 TEUs. The shippers—the Target's and Walmart's and Home Depot's—all seek to put their cargo on the larger vessels for economy of scale."
National market opportunities
The Panama Canal expansion is a reaction towards a trend in the industry towards slow-steaming larger ships as a means to cost-savings, said Carver.
"The whole purpose of the larger ships is to make it more economical to transport goods by container," he said. "The reality is that you're going to see a more efficient and economical transport of goods from Asia to the U.S. and vice versa as a result of the larger vessels that the Canal is helping to facilitate."
And while in Florida's case the Canal expansion is expected to drive an increase in East and West trade, it also positions the port of Fort Pierce and other U.S. East coast and West coast ports for an increase in imports and exports of goods in smaller container shipments and specific cargo categories.
"In Florida, there's a lot of energy primarily towards North/South trade with Brazil and other emerging Latin American nations," said Carver. "There are ports here that are positioning themselves for the reopening of Cuba. So, you're starting to see some kind of positioning in the Florida ports for more Latin America and Caribbean trade. The larger vessels stimulate more trade through the Suez Canal and that's a big factor for the ports that are further up the East coast as they are positioned for that traffic."
As a result, the East coast is set for such discretionary cargo as furniture and tools (such as hammers and screws) that doesn't necessarily become obsolete as quickly and can travel the less-costly and more efficient route from such countries as Asia to the U.S.
The West coast will continue to be dominated by high-valued goods and will remain strong as it relates to speed-to-market cargo—such as electronics and apparel—and similar items that have to be on store shelves relatively quickly, according to Carver.
"On the export side, there is more of a trend towards containerizing cargo," Carver added. "There is more energy now towards finding ways of filling up containers with grain, lumber, wood and other products that are being exported out of the U.S. to try and create more of a balance between inbound imports and outbound exports of containers."
Transshipment terminal impacts
As a result of the PCCP, Super Post-Panamax and other vessels will be able to transit via the new locks and transfer cargo at the new PCCP terminal to and from smaller container ships capable of serving the existing ports of call.
"The project in Panama is a vital part of the overall system because these 10,000 TEU ships that are going to be coming through the canal are not going to be able to land at every port in the U.S. or in the Caribbean," said Carver. "They're going to need to offload cargo on the Atlantic side so that the smaller vessels can pick that cargo up and take those containers where they need to go. It's part of the overall system and the government of Panama is relying upon the private capital to come in and build that infrastructure—and that is what we are responding to."
In addition to creating opportunities for smaller U.S. ports, other opportunities—including those in warehousing, logistics and processing—also exist as a result of the expansion.
"There are certain logistics functions that will increase with these larger vessels and the demand to get cargo out of the ocean container and into the land and road containers," said Carver. "You'll see more transloading at near-port locations. On the inland side, you'll see larger scale, rail-served inland ports developing to be able to provide economies of scale on the land side to connect better to the inland population centers to really combine the import and export traffic into more centralized locations," he concluded.
Jones Lang LaSalle's Project Development Services group will soon begin to administer the bid tender process for the initial dredging and related marine construction elements. Additionally, it expects PCCP to announce its selected operator later this year.