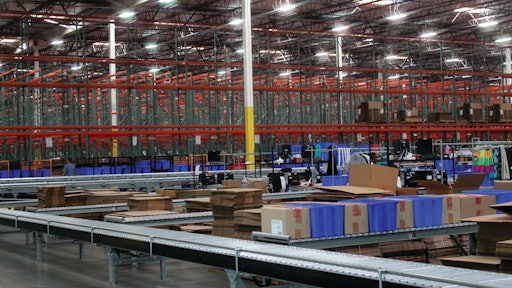 Converse has been one of the storied names in athletic footwear since its founding in 1908. Its Chuck Taylor All-Stars model, which debuted in 1921, has become iconic. But, as often happens, times change and innovative competition brings change.
For Converse, it was a long road from leader to bankruptcy to successful multi-brand, multi-channel player. The road became rocky in the 1970s when competitors like Puma, Adidas, Nike and Reebok came on the scene. The company lost its long-time status as official shoe of the National Basketball Association. Loss of market share and other business issues forced Converse to file for bankruptcy in 2001; it was then bought by an investment group.
That's when the turnaround began. In two and a half years, the new owners led Converse from its position at No. 16 to seventh place. Then, in 2004, Nike bought the company for $305 million. But first, changes were necessary.
The most pressing need was replacing the 400,000 square foot distribution center in Charlotte, N.C., that serviced Converse's production facilities in Asia. The center's warehouse management system (WMS) used a pick-to-cart system that took five-to-seven days to process an order.
"The company was in a situation that needed a turnaround," said Lloyd Wallsten, Vice President of Distribution for Converse, who joined the firm in 2001. "We needed to reduce cost, increase product and relocate from North Carolina to Ontario, California. We wanted a distribution center that could grow for the next five years, with a good design that allowed change as growth happened."
Converse approached Wynright Inc., an Elk Grove Village, Ill.-based provider of intelligent material handling systems. Solutions provided by the company's 200 engineers include leading-edge conveyor and sortation systems, voice- and light-directed order fulfillment equipment, PLC controls and robotics and mezzanines and structures.
"Converse came to us with an idea in mind," said Bob Liebe, President of the Chino-Calif. division of Wynright. "They came to us to do a greenfield facility [where there is no need to remodel or demolish an existing structure]; we fine-tuned it and made it scalable. The backbone in the system is designed to work at least 10 years and we're working to get it to 15. But the important part is that the backbone is scalable."
The need for scalability proved to be prescient when, a few years after its 2002 acquisition of Costa Mesa, Calif.-based surfboard manufacturer and surf-related clothing maker, Hurley Inc., Nike asked Converse to start distributing the products.
"They asked us to take on Hurley e-commerce," Wallsten explained. "They had a 3PL handling it previously but bringing it in-house brought in benefits of lower cost and service time. There were three different evolutions: footwear, apparel and retail. When we took on Hurley it really changed the dynamics. We brought in Wynright again to help us develop a material handling system and design a five-year plan."
The company installed a WMS designed by Manhattan for footwear and apparel multi-brands.
The system was built to accommodate Converse's value-added services, Wynright's Liebe added.
"It requires a lot of ticketing. On the wholesale side, Converse and Hurley customers are large retailers like Nordstrom and Macy's. Each has different requirements for price ticketing and outer carton labeling. We found a way to automate it."
Today, Converse has two distribution centers that total almost one million square feet to provide storage capacity and handle distribution of two brands to wholesale, retail and ecommerce customers. Today, that cumbersome five-to-seven day order turnaround has been reduced to just two.