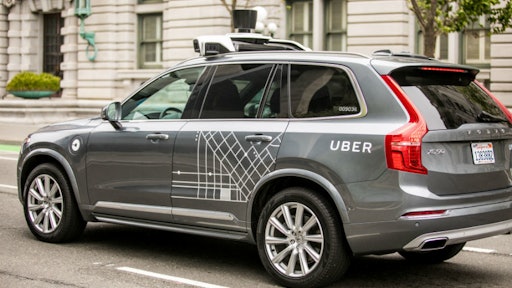 The self-driving Uber that killed a pedestrian in March was able to register the victim with its sensors six seconds before impact, but its software did not engage the car's brakes to prevent the collision, NPR reports.
According to NPR the vehicle registered the pedestrian as an unknown object, a vehicle and then as a bicycle with varying expectations of future travel path. The car did not immediately identify the woman as a human pedestrian.
The National Transportation Safety Board reported that 1.3 seconds before impact, the car's self-driving system "determined that an emergency braking maneuver was needed to mitigate a collision." The driver intervened less than a second before the crash and only began to brake after the impact.
The software intentionally didn't engage the brakes on its own due to its design. Although the vehicle, a modified 2017 Volvo XC90, comes with an automatic braking system, Uber's software disables this function and others when its in use.
The agency said, "According to Uber, emergency braking maneuvers are no enabled while the vehicle is under computer control, to reduce the potential for erratic vehicle behavior. The vehicle operator is relied on to intervene and take action. The system is not designed to alert the operator.
According to the agency, all aspects of the self-driving system were operating as they should at the time of the crash. There were no faults or diagnostic messages.
Investigators are still working on determining the cause of the fatal collision. It intends to issue a safety recommendation to help prevent similar crashes.