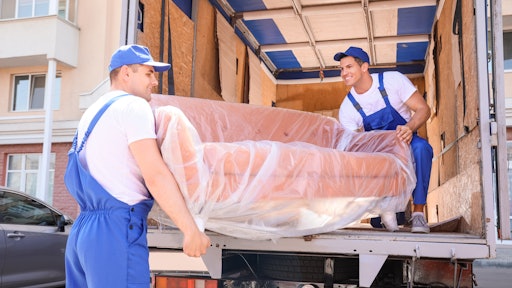 Pixel-Shot/stock.adobe.com
A new survey from DispatchTrack shows that while consumers are more forgiving in regards to last-mile deliveries due to the supply chain crisis, even with big and bulky items, but a lack of communication borders unforgiveable. Those surveyed explained that they were fine with deliveries being rescheduling, but missing a delivery time window without communication is problematic. More than 61% said that they would not order from that retailer again if a delivery time is missed. But that doesn't mean that deliveries should come early. Since big and bulky deliveries typically require someone to be home and prepared, one in three consumers said that early delivery was inconvenient.
"When it comes to big and bulky purchases, last mile delivery is a monumental challenge for brands and customer retention today," says Satish Natarajan, DispatchTrack co-founder and CEO. "I do think consumers are giving brands some slack because they know the supply chain is in crisis and delays happen. However, the data strongly signals that consumers aren't as forgiving when it comes to communication, including order tracking. Retail customers want to know where their order is and when it's being delivered – and they want it delivered on time, which isn't early. Brands that can deliver on that promise are much better positioned to retain customers and win market share."
Per PR Newswire:
Two-thirds considered "on-time" the best aspect of a positive delivery experience and yet, the study found nearly half (44%) of deliveries weren't delivered on time.
Poor communication and the inability to track order status were also problematic and ranked as top frustrations along with shipping costs and the condition of the purchased item upon delivery. Half of the consumers surveyed blamed their negative delivery experience on lack of communication with the retailer or delivery company. Nine out of ten consumers indicated they want the ability to track the delivery status of big and bulky orders, yet one in three were unable to do so.
Nearly three-quarters (71%) indicated they would consider it more strongly if retailers made it easy to understand the environmental impact of various delivery options.
The online survey was conducted via SurveyMonkey on March 1st - 2nd, 2022 among a national sample of 1,606 American adults aged 18 and older.