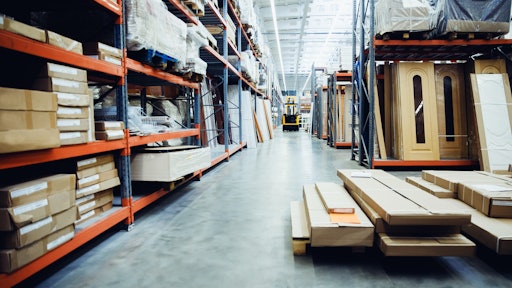 Parilov/stock.adobe.com
Construction professionals require a fast and reliable delivery solution more than ever before. This is especially important when there's an increasing demand in projects, with the Construction Backlog Indicator rising to 8.5 months in June. Whether it's contractors, equipment manufacturers or other pros in the construction industry, there's tremendous pressure to get things done as quickly and efficiently as possible.
However, the construction industry has recently learned that disruptions can present difficult situations that significantly slow things down and impact businesses. Inventory and material shortages caused by supply chain bottlenecks are creating serious challenges in the middle of a pandemic, especially when it comes to the commercial space.
In fact, according to the U.S. Chamber of Commerce, 71% of commercial construction contractors face at least one material shortage. Additionally, contractors are often seeing that warehouses within a 50-mile radius don't have the items they need in stock.
So how can commercial construction pros overcome the supply chain chokeholds that COVID-19 and supply shortages have brought about?
Make speed a priority
Whether it's a home build or a HVAC replacement, there are often penalties if contractors don't fulfill their jobs on time. At the same time, there can even be bonuses for completing the job ahead of schedule. This reflects just how important the cost of capital is in the commercial industry, with labor and building materials being the biggest contributors to the timeliness of a project.
While businesses may not have control over parts of the supply chain, such as the amount of available material or material pricing, they do have more control over the last mile. That means contractors bear an increased responsibility to have resources ready to be brought to the job site when and where they're needed. For instance, instead of waiting on a routed truck delivery that arrives only once a day at the job site, commercial businesses can schedule deliveries from the warehouse at exact dates and times, ensuring the job gets done on time.
To accomplish this goal, businesses need to implement a strategic delivery program with visibility into what's in stock nearby and clear communication about how to deliver materials with speed and efficiency. For example, a leading heating and air conditioning manufacturer uses a delivery portal to enable dealers and their technicians to schedule deliveries from the warehouse to each job site. By removing any friction from the delivery experience to the job site, the manufacturer can become more confident about when they can complete their tasks and ensure there are no costly hold-ups in the process. This benefits the company by increasing overall dealer year-over-year spend and maximizing volume to its top customers with faster delivery times.
Fulfill contractual obligations
In the retail world, drivers need to meet a certain window for delivery to reach consumers' expectations. This is often done with a timed, scheduled delivery window that the customer selects.
On the other hand, the commercial space faces much higher stakes than simply delivering a sofa to a home. Construction businesses are typically running against a demanding timeline with multiple stakeholders as well as managing large and expensive systems and materials. This means there's a tremendous amount of money at stake if something goes wrong at the last mile. Because of this, the characteristics of the delivery experience are different when approaching this audience.
Last-mile delivery providers can assist contractors by providing what's needed with proven speed, efficiency and communication. For example, a leading paint company is utilizing these providers to unlock on-demand flexibility and increase the turnaround time by partnering with a reliable network of delivery professionals. Contractors can also build relationships with those in the delivery field to ensure that they have a dependable supply chain for their market or project.
Boost productivity
It's no secret that construction businesses take on subcontractors to complete work. But often, construction pros will have these technicians run to and from the job site to the warehouse to pick up the equipment needed to get the job done. This process takes each technician away from their main role, wasting valuable time.
That's why subcontractors should be used for their best intended purposes, especially at a time when labor is scarce. Instead of these industry workers getting treated as a flexible workforce, they can now specialize in what they've been contracted out to do.
Let's say someone is good at installing showers. That person should keep installing showers. If someone is great at painting, then they should keep painting. The same goes for installers, assemblers, builders and so on. Businesses need to be able to maximize what labor they have and optimize what's available.
So, who will do the delivery then? A point-to-point delivery solution can give businesses a network of trusted, capable people to solve their last-minute supply needs. Construction pros need access to a delivery portal that allows them to schedule deliveries from the warehouse to each job site, including the delivery of big, heavy and high value items.
There are many other inherent benefits to using a point-to-point delivery solution for commercial deliveries, including:
Avoiding the burden and cost of owning delivery vehicles and onboarding delivery professionals, along with liability, insurance, scheduling and customer support
Lowering the amount of carbon and human footprint by leveraging the resources in the marketplace most efficiently
Requiring less time correcting the timeline as a result of supply chain shortages
Getting access to real-time tracking and customer support
Focus on the core mission
It's been a challenging year for the construction industry, which is why pros should boost productivity in the supply chain by increasing the productivity and efficiency of commercial deliveries. With speed a top priority, businesses should implement a trusted point-to-point solution that provides a high level of delivery service. This trend will only grow stronger as businesses realize the key to surviving in today's environment is to stay focused on the core mission and outsource to other providers as needed. Only then will construction pros be able to keep up with supply chain delays, ensure contractual obligations are fulfilled, provide better service and ultimately, increase overall revenue.