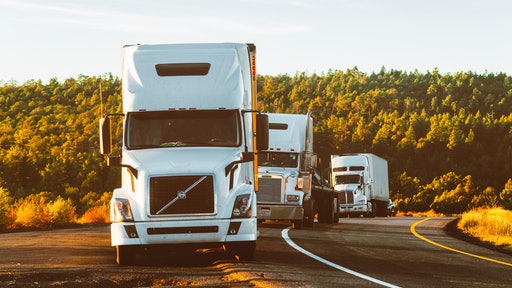 Pexels
Over the past two years, global supply chain pressures—from the e-commerce boom, worker shortages and geopolitical conflict to the pricing squeeze, carrier capacity crunch and rising customer expectations of a digital experience with more data—have pushed forwarders and brokers to their limits, forcing them to change and refine their strategies, tactics and use of technology in order to survive. As the world inches toward a post-pandemic "normal," the forwarder and broker community is continuing to adapt, tailoring its practices, processes and technology adoption to better manage future supply chain complexities in its path.
Shifting industry landscape
The recent Seventh Annual Broker & Forwarder Benchmark Survey from Descartes found that pricing pressure remained the primary industry challenge (55% of respondents). However, a shortage of carrier capacity (52%) and the shift to digitization and customer self-service (39%)—new industry issues arising in the 2022 survey—were cited as the second and fourth biggest challenges, respectively, destined to have the greatest impact on the industry over the next five years.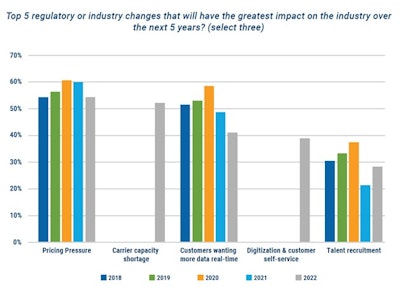 In conjunction with industry challenges shaping the freight management landscape, the impact of the pandemic-driven e-commerce boom has been felt across the forwarding and brokerage community over the past couple years. In fact, 66% of respondents reported an increase in the use of real-time shipment tracking and automated business processes by B2B and B2C e-commerce customers, a 163% increase from the 2021 benchmark.
Notably, Top Performers (i.e., companies with the best financial performance) were 72% more impacted by this digital shift toward automation than Bottom Performers, or those with the poorest financial performance (62% vs. 36%, respectively). The online shopping surge also drove an increase in direct-to-customer shipping services, impacting many industry players (57%) and up slightly from last year's survey (53%).
Despite the return to in-person shopping as the pandemic wanes, e-commerce sales remain strong. With forecasts indicating that the e-commerce segment will make up close to a quarter of total global retail sales by 2025, forwarders and brokers must continue to adapt their systems, technology and tools to manage increased shipment volumes and capture their share of the expanding B2B and B2C e-commerce market.
Preparing for change
With the emergence of new regulations and sanctions, burgeoning e-commerce growth and talent recruitment struggles, how can forwarders and brokers address the challenges, stay competitive and thrive in today's rapidly changing marketplace? The survey revealed the large majority (77%) are "investing in technology" to prepare for the macroeconomic, regulatory and industry changes ahead.
Technology investment has been the top and dominant overall strategy for each of the seven years of the benchmark survey, increasing 10% from the 2021 results, with Top Performers (85%) even more focused on a tech investment strategy than organizations with the poorest financial performance. On the e-commerce front, 43% of forwarders and brokers are investing in e-commerce technology in an attempt to capture a greater share of the B2B and B2C e-commerce market.
With the digital transformation of the industry underway, IT spending is on the rise in 2022. Nearly 42% of respondents—16% more than 2021 and the most in the seven-year history of the benchmark—will be increasing their IT spend by 5% or more. Plus, nearly twice as many Small Volume respondents than last year's benchmark (43% vs. 22%) indicated they will increase their IT spend by over 5% over the next two years.
Fueling growth
Streamlining and accelerating forwarding and brokerage processes with automated solutions enables companies to drive growth, despite changes and disruptions in the marketplace. Accordingly, forwarders and brokers are relying more and more on technology investment, with 39% of respondents considering technology "fundamental" to their growth strategy.
Interestingly, Top Performers (56%) were twice as likely as Bottom Performers (28%) to view technology as fundamental to their growth strategy. Large Volume respondents were also more likely than Small Volume respondents to consider technology fundamental to growth (48% vs. 29%, respectively); with a tight labor market, Large Volume forwarders and brokers need to rely more heavily on technology to scale their operations to drive continued growth.
Technology tips the scales
Adoption of technology solutions to drive operational and cost efficiencies is helping forwarders and brokers worldwide respond quickly and effectively to the needs of their customers without sacrificing margins. Case in point: 61% of respondents cited "automating processes" as their most important tactic to improve margins—a 14% increase from the 2021 benchmark.
Automating processes by implementing technology solutions helps companies differentiate themselves in the marketplace. In fact, when asked to identify their competitors' greatest advantage, 51% of respondents—up 11% from 2021—cited their competitors' ability to offer a digital customer self-service experience for rating, booking and tracking.
Similarly, many forwarders and brokers offer value-add trade services (e.g., HTS classification, duty analysis, denied party screening) that typically require an automated solution. Nearly 34% of respondents say their competitors are beating them by offering value-added services, such as conducting duty analysis to predict the impact of new tariffs or potential changes. Notably, top performing broker and forwarder organizations (51%) are the most likely to provide duty analysis for customers.
Looking ahead
With all the challenges facing forwarders and brokers, investment in technology is smoothing the path to growth, helping companies operate more profitably, compete more effectively and cultivate lasting relationships with customers. Indeed, forward-thinking organizations are digitally transforming in-house and agent operations to streamline and optimize multimodal shipment lifecycle management, customs compliance, accounting and customer relationship management.
Forwarders and brokers are turning to automated, integrated tools—for example, real-time shipment visibility, rate optimization engines, powerful analytics and reporting, customer visibility portals to automate shipment milestone communications, automated quoting, denied party screening, warehouse and purchase order (PO) management—to differentiate their services, strengthen customer retention, and boost performance.
In 2022, automating operational and customer-facing processes to improve top and bottom line performance is the competitive advantage companies need to survive moving forward. Indeed, brokers and forwarders around the world, moving both high and low volumes of shipments, are prioritizing technology to manage industry and regulatory challenges and drive growth and profitability in an uncertain climate