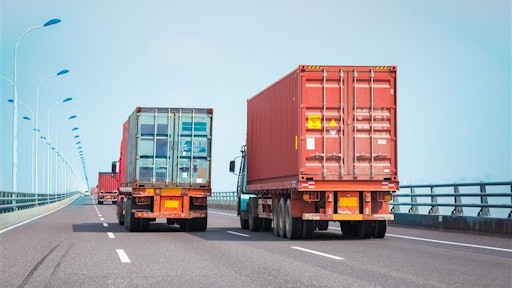 chungking/stock.adobe.com.jpg
Significant rise in the focus of retailers and manufacturers on their core competencies, especially where they have relatively less expertise has heightened the demand for third-party logistics services in several ways. Rapid globalization, in the last few years, has helped in formulating a wide-reaching network of manufacturing activities. And, to maintain it competently and proficiently, the demand for third-party logistics (3PL)services has escalated even more. Most importantly, the development of the e-commerce industry and rise in reverse logistics operations have also been beneficial for the market growth.
According to Allied Market Research, the global 3PL market is expected to grow at a considerable CAGR from 2020 to 2027. A number of surveys have been conducted and it's revealed that the majority of e-commerce retailers are quite small in size and they can hardly manage to pay for their in-house logistic services. And, this is the reason why services such as consolidation solutions, supply chain management, and others are farmed out to third-party logistics companies. Nevertheless, the story of major e-commerce retailers such as Flipkart and Amazon is certainly different, since they definitely have their own logistics set-up.
In the meantime, huge shift in consumer expectations are showcasing a number of challenges to the 3PL ventures in terms of improving efficiency, bringing down the parcel delivery time, incorporating the latest technologies, and so on. Significant transformation is cropping up in the last-mile delivery option, especially with more & more organizations looking at advanced solutions such as drone deliveries, pickup points, delivery through autonomous vehicles, crowdsourced delivery, and others. Emergence of high-end technology is reforming the entire supply chain and reclaiming the parcel industry. Technology has now truly come out as an ideal facilitator in enhancing efficiency and sticking out to consumer expectations.
In the last few years, there's been a huge demand for shipping cost reduction along with greater emphasis toward on-time delivery management and dealing with core business, which in turn has fostered the idea of third-party logistics solutions in several ways. The key players in the industry are also taking on new strategies to put up with the highly competitive environment.
The transporters, at the same time, are greatly supporting what 3PL has to offer, letting them heighten the supply chain, reduce costs, craft more value, and line up expectations as a key to attaining feats for both parties. Third-party logistics services tend to integrate exclusive technology, cost reduction, and industry expertise, which are the major reasons why outsourcing services have taken a considerable leap lately. And, this outsourcing of services sharply points out that the demand for 3PLs would augment even more in the near future.
Simultaneously, mobile technology is almost transfiguring the idea of third-party logistics. Many 3PL ventures have already started taking recourse to mobile apps and devices to perk up agility. Expedients snugged with RFID chips can not only convey their location, but they also come with the very potential to clamp data about themselves so as to get identified and tracked instantaneously. With the mobile apps set up on their devices, consumers can mandate, process, and keep tabs on freight shipments at any time.
However, there is still miles to go before FMCG companies can completely probe and facilitate the huge potential that an effective third-party logistics service provider can put forward to the brand. From restructuring procurement to glistening out the supply chain networks across the urban as well as rural regions, 3PL companies are also emerging as protuberant participants in the success of the FMCG brands, all around the world.
Here, it's worth stating that the outbreak of the pandemic gave way to severe short-term challenges, especially in terms of supply chain operations, mainly during the initial phase. This, in turn, made countries such as Canada and the United States curb the volume of logistics services, thereby impacting the global third-party logistics services negatively. A number of small-size and medium-size enterprise owners happened to grapple with huge financial difficulties due to the restricted transportation or movement of goods almost all over the world. Nevertheless, slowdown of lockdown restrictions, coupled with greater emphasis toward the quick restoration of food industry-related supply chain activities has helped the market to recoup soon.