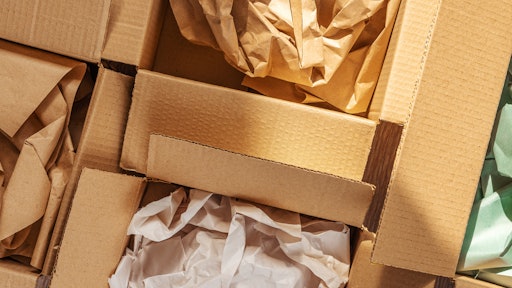 OlegKovalevich/stock.adobe.com
Sustainability is one of the biggest challenges facing the packaging design industry today. With the legal obligations mounting, a prediction by Gartner estimates that 9 out of 10 organizations will fail to meet their 2025 sustainable packaging goals, therefore reducing the carbon footprint of the supply chain remains a top priority.
Harnessing the power of data
John Blake, Gartner's senior director analyst, uses the analogy of a paper map to navigate a long car journey pre sat-nav to explain the importance of data. Back then, you were limited to the information available when the map was created. Now you can simply enter your destination into a phone at the start of your journey to get real-time feedback on traffic, stay informed of any unanticipated disruptions and even get suggestions for alternative routes.
The power of data gives us real-time information so we can make informed and impactful decisions. We need to make this same technological leap in the packaging industry and approach our sustainability initiatives as we would a long road trip— pick the destination, map the journey and our processes using data and use the latest tools and technologies to make informed decisions about design and development.
Measuring your packaging supply chain carbon footprint
To become more sustainable, forcibly challenge the status quo and peel back the layers of our current processes like an onion. It won't be an easy process and there will be tears.
We need to ask some tough questions like "Is everything locally and ethically sourced?", "Is it easy to recycle?", "Is it reusable?", "Is it efficient?", "Does it have a low carbon footprint?", "Does it contain recycled or sustainable materials?", "Does it have a low energy or water content?", "Is it volumetrically efficient?", "Can we push this even further?", etc. We also need to ensure that the new packaging still fulfils its main functions— to preserve and protect the product.
In order to reduce your carbon footprint, you first need to be able to measure it and once you measure it, you need to be able to manage it. A data-driven approach will enable you to digitally transform your processes. It will allow you to be smarter and empower you to make more informed decisions.
A packaging assessment tool or a lifecycle light tool can help to measure your carbon footprint. It must be robust, have a solid, validated data source and use the latest scientific methodology.
A comparison tool can measure the impact of any changes you make and examine the potential impact of "what if" scenarios. Assess changes across 4 key areas— embedded carbon, water usage, transportation and energy. The system needs to be easy to use and understand by everyone in your organization.
How good design can reduce the environmental impact
and cost of your packaging
The design process is key when it comes to making packaging more sustainable. We need to consider the entire packaging lifecycle, from the raw materials to the manufacturing process to its distribution to how it's used to the disposal of it. The earlier in the process the designers can get involved in the sustainability effort, the greater the impact they can make.
The Double Diamond design model, as an example, defines and describes the steps to take in the design process, to understand the issue and its causes, and address them, rather than just focusing on symptoms.
We now have a better understanding of what sustainability is, how to measure it and what its objectives are, as well as a greater awareness of alternative systems and materials. Access to better data, tools and software and the ability to measure the impact of our design decisions is the key to success.
XDS Brand's creative director, Jarek Podoba, says "advocate for a less, but better approach when designing for sustainability." Examples of this come from designing the packaging to be recycled or reused, associating premium quality with sustainability as a selling point for high-end products or thinking outside the box for new solutions.
It's important to remember that making packaging recyclable and reusable is pointless unless people do actually recycle and reuse it, so the customer is the key.
Sustainability is becoming more important
Consumers are increasingly factoring sustainability and the environmental impact of food into their purchase decisions.
Strong Roots, a global plant-based frozen food company, is a great example of applying this movement. Founder, Sam Dennigan, Strong Roots, says "We introduced Carbon Footprint labels, which show the amount of carbon used in the supply chain for each product and educate consumers on their own carbon consumption, helping them to make more informed decisions." Focused not just on profitability, but on people and planet, their "Declaration of Interdependence" considers the environmental impact of every business decision they make.
When it comes to reducing your packaging portfolio's carbon footprint, data is king and access to real-time data will allow you to make informed decisions at every stage of the process. Finding the right packaging assessment tool will enable you to measure your carbon footprint, identify areas for improvement and predict the impact of potential changes. Design has a crucial role to play and the earlier you can involve the design team in your sustainability journey, the better. Customers are becoming more sustainability-conscious and are actively seeking out products with a lower carbon footprint. It is our job to educate them and meet their demands.