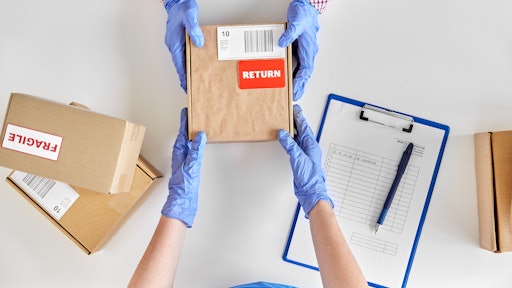 Syda Productions/stock.adobe.com
E-commerce has expanded in use over the last two years, despite the supply chain disarray. These strong sales with double-digit increases year over year have also created record-breaking returns. According to NRF, the total returns in 2020 were $28 billion in merchandise.
Whether it's a consumer returning a shirt or a manufacturer returning a component, the item must be received, reviewed, and dispositioned in the most efficient way possible. The cost and complexity of inspecting items, along with the logistics of getting them back on the shelf, can often outweighs the value of the item. Some companies may tell inform a consumer wanting to exchange the item to simply keep the original purchase (called a "beyond economical return"), or the company can decide to save time and money by simply throwing the returned item in the garbage.
But what, is the actual cost of the return? And when does the cost become too high or the environmental impact too much? These are questions companies have to factor in as consumers focus on the sustainability of their favorite products and the companies that manufacture them. According to Kearney, around 78% of consumers said companies could be doing more to help them make decisions that improve environmental outcomes.
But the choice shouldn't have to be either sustainability or profitability, as an end-to-end returns management system can improve costs and create a measurable sustainability program for e-retailers to better understand a product's potential lifecycle.
A returns management system (RMS) offers a robust policy and rules engine that reinforce your policies, claims rules, vendor entitlements and approval hierarchies. An RMS' disposition capabilities can perform everything from re-packaging, recycling and scrapping to liquidating immediately upon receipt. Based on the company's sustainability needs and cost parameters, it gets the item back to stock for resale, back to the vendor, recycled, or disposed of more quickly.
Central to this infrastructure is a returns management system (RMS) that integrates with other supply chain software to manage the entire returns process from end to end. A returns management system is a quick-to-implement and high-ROI solution for sellers wanting to improve returns processes that include:
Return to vendor
Return to stock (resale)
Liquidation or clearance
Recycling
Donating
Salvaging
Waste disposal
Using an RMS allows companies to maximize recovery, boost net sales with improved return-to-stock, and enables recycling and donation programs. Companies can configure workflows to fit their way of doing business and their priorities, including recycling, creating strict parameters for disposals by standardizing the work across teams and locations, ensuring the returned products are processed consistently. Here are two ways:
Return-to-Vendor (RTV)
A return-to-vendor (RTV) module is part of a robust RMS. It makes it easy to consolidate many products from the same vendor and ship them back together. Organizations can set rules for consolidation – such as by type or size, or age – to save on freight costs. And, of course, more efficient shipping means fewer transportation emissions.
Return on Behalf of (RoBo)
Return on Behalf of (RoBo) capabilities allows organizations to designate multiple entities as an authorized return point. Rather than ship items back to the company, customers can stay local and return items to a trusted partner. With a comprehensive RMS, the partner works in the same system with the same data pertinent to the company's activities.
Data from an RMS can provide valuable insight into critical aspects, including product quality, shopper preference, return rates, as well as specific sustainability metrics. etc. For example, organizations can streamline critical processes to improve the time to complete warranty repairs and claims, increasing customer satisfaction and boosting repeat sales, word-of-mouth advertising, and online reviews. With the ability to integrate with other supply chain software, RMS can provide reports on the costs of receiving, handling, repairing, replacing, and shipping an item. And the built-in automation tools direct employees on how to manage returns based on the business' objectives and sustainability goals.
When creating a holistic sustainability returns program, companies need to factor in both economic and environmental. Leveraging an end-to-end returns management system throughout their reverse supply chain and supporting their sustainability claims with data and reports all managed from a centralized location can assist with coordinating with partners to ensure efficiency and sustainability priorities are followed.