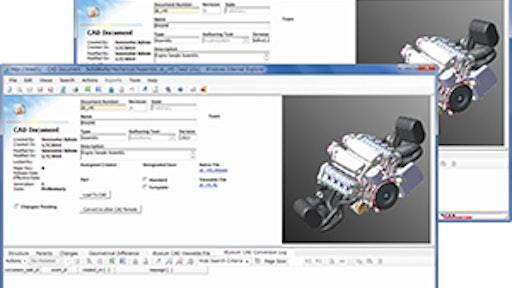 Andover, Mass. and Munich, Germany—Feb. 14, 2014—Aras, a provider of enterprise product lifecycle management (PLM) software, announced the availability of an advanced multi-computer-aided design (CAD) data translation and interchange solution called MultiCAD Gateway for Aras Innovator. Delivered by Aras partner Elysium, a provider of 3D translation and optimization technology, the MultiCAD Gateway solution automates the conversion of CAD data to other native CAD formats, including NX, Creo, SolidWorks and others, providing companies that run Aras with embedded functionality for CAD model interchange, translation, validation, geometry comparison, data optimization and more.
MultiCAD Gateway for Aras Innovator is for product development environments that use different 3D CAD systems, and need to collaborate on the same part or assembly without remodeling. These capabilities are especially important for globally distributed enterprises and supply chain partners designing complex products using multiple high-end 3D CAD systems, as well as outsourced engineering organizations that have design authority.
MultiCAD Gateway for Aras Innovator includes:
Automated, quality CAD file conversion.
Incremental translation of updated or modified information within a model.
Comparison and validation of geometry and assembly structure.
Bi-directional property mapping for 3D data.
Auto-generated 3D preview.
Compatibility with

Aras

CAD connectors for saving and loading models.
Companies in this article