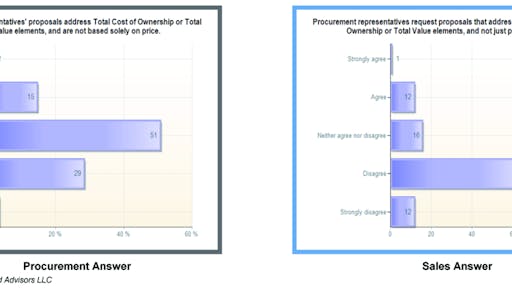 Understand how Procurement and Sales perceive each other
Assess your team's approach: tactical or strategic?
Walk across the hall and get to know your counterparts in Sales
Both Procurement and Sales organizations recognize the value of being strategic in the practice of their respective professions, and yet they continue to dwell on tactics in a way that puts price ahead of total cost and that prevents the two sides from engaging with each other for mutual benefit, a new survey report from consulting firm Greybeard Advisors finds.
In its "Procurement and Sales Survey," Greybeard explored the knowledge, experience and perceptions of executives from both functions through an online survey. Supply & Demand Chain Executive provided survey support for the project, as did Sales & Marketing Management magazine and the Procurement and Sales councils of the Manufacturers Alliance/MAPI. In all, 161 Procurement professionals and 106 Sales professionals shared their views through the survey.
The survey results revealed that both sides view the other as knowledgeable of market and company requirements. This seeming mutual respect, however, was not reflected elsewhere in the survey. For example, nine in ten (92 percent) of the Sales executives were skeptical of Procurement's willingness to share company requirements, business plans, processes, and product usage, including information regarding current forecasts/trends.
Conversely, the study also found that Sales views Procurement as being receptive to recommendations that have a positive impact on working capital and/or cash flow, but Procurement doesn't view Sales as capable of delivering these types of proposals.
Legacy of Misconceptions
Greybeard generally focuses its consulting services on strategic sourcing, procurement transformation and supply chain management. Jim Baehr, a senior advisor with Greybeard, says that he and his colleagues frequently get questions from their clients' procurement staff about what makes salespeople tick. "Procurement professionals will often ask us what the salespeople are thinking, what drives them, why do they do certain things that they do, what kind of tricks are they using," says Baehr, who spent the early part of his career in sales before moving into procurement and supply management.
But the consultant adds that the idea for the survey actually came about after a meeting that Greybeard had with the sales side of a Pittsburgh-based company that wanted to learn more about strategic sourcing. The salespeople described their perspective on strategic sourcing, which came down to "three bids and a cloud of dust" or worse. "We said, 'Whoa, that's not really how Procurement views strategic sourcing,'" Baehr says. "We went through lots of discussion, but the conversation kept looping back to 'what kind of tricks does Procurement use and how can we offset those tricks?'"
That session sparked the idea to survey both sides of the equation, Procurement and Sales, to find out how the two parties truly view each other, and to see whether there was room for common ground – or at least a common language – between the two. The results of the survey may well have been influenced by the tenor of the economic times, given that Procurement's marching orders for the duration and aftermath of the Great Recession was frequently to go back and beat up the sales guys for additional savings. But even accepting the impact of recession on current procurement and sales strategies, the overall picture that emerges from the survey results suggests that both sides have a ways to go to become truly strategic in their respective approaches.
TKO for TCO?
The survey findings suggest, for example, that total cost of ownership (TCO) or total value (TV) is taking a backseat to price-only decisions. Greybeard attributes this, in part, to the impact of the recession, which forced many companies into a defensive crouch and put a premium on delivering cost savings to the bottom line in the near term. However, the survey results reflect the age-old mistrust between Procurement and Sales.
"The results show Procurement isn't persuaded that Sales proposals are as attentive to TCO/TV as they should be," the report finds."More than half of the responses (51 percent) point to a neutral 'Sometimes.' 33 percent (Seldom and Never) show that it doesn't happen enough." On the other side of the fence, "Sales asserts that Procurement isn't interested in TCO, with a significant 77 percent (Disagree and Strongly Disagree) declaring that Procurement is more interested in price than TCO and/or Total Value." (See Illustration 1.)
Those findings should set off alarm signals with senior procurement executives who must now start thinking about how to start supporting their companies in an expanding, rather than shrinking, economy, says Baehr. "The reality of being in a procurement organization is that price is an element, especially in times of duress," he says. "But procurement executives need to recognize that as we move into a healthier economy, they need to start doing things differently, and they need to start thinking much more strategically."
The disconnect between Procurement and Sales extends to perceptions about the appropriate first point of contact when selling into a company. Procurement professionals are mostly neutral (46 percent) in their view of whether Sales professionals make Procurement the first point of contact for a sales call, with 29 percent believing that Sales frequently or always first calls on Procurement, 53 percent saying that sometimes happens, and 24 percent believing that it seldom or never happens.
In sharp contrast, 62 percent of Sales professionals do not accept Procurement as the "first point of contact." Another 21 percent are neutral (answering "sometimes") and only 17 percent agree that Procurement should be the point of entry into an organization. These numbers suggest that while Procurement believes that Sales respects Procurement as the "first point," the Sales numbers prove otherwise, pointing toward a belief that there are better places to start the selling process with a potential customer.
The Search for "Silver Bullets"
Greybeard provides a great deal of detail on the perceptions of the two sides, but the consultants caution that while the report could serve to foster a degree of mutual understanding, that may not be enough to change the way the functions actually operate. "Both Procurement and Sales recognize the value of being strategic in the practice of their respective professions; however, given the opportunity to 'peek around the curtain' the interest that seems to be at the forefront is to learn more about the 'secret ways' of both professions," Greybeard writes, adding, "No matter how many times Sales or Procurement professionals are told that there are no 'silver bullets' they tend not to accept the answer."
What should senior executives do, based on the study's findings? Greybeard advises that Procurement and Sales leadership should look into assessing their respective teams' level of tactical versus strategic behavior. If the scale tips toward the tactical, executives should consider whether making a shift toward more strategic sales or procurement approaches would benefit the company, and then, if action is warranted, create a roadmap for short-term and long-term transformation.
Jim Baehr notes that one additional step that Procurement executives should consider is engaging with the Sales team within their own companies. "We don't see a whole lot of that happening when we're doing assessments or training," Baehr says. "We encourage Procurement people to introduce themselves and then win some credibility with their Sales people, going so far as to stretch their resources and make some of their better procurement professionals available to go out on a sales call or to engage on a cross-functional approach with the sales team to help them better understand the mindset of procurement."
Where organizations already are taking a cross-functional approach that brings together Sales and Procurement, Baehr says that these companies are far more likely to have a strategic, holistic, total cost of ownership approach to selling and buying, because senior management understands strategy and understands the benefit of sharing across functions. But for the moment, Greybeard finds those companies to still be in the minority. "It's something that you would think should be taken for granted now, but that's not the case," Baehr concludes.
The full report on the survey can be found at http://www.greybeardadvisors.com/resources/white_papers/