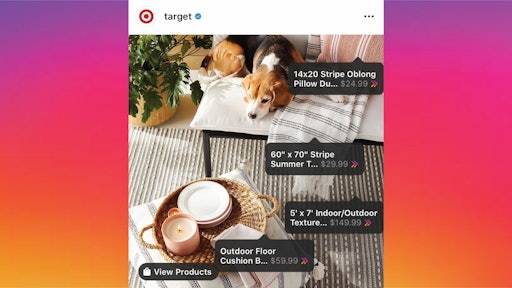 Target Corp.
Target Corp. is said to be the first mass retailer to make its products available through Instagram Checkout, according to its blog post.
"More and more guests are searching for digital shopping options, and we're continuing to invest in experiences that allow them to get what they need from Target whenever, wherever and however they want," says Dawn Block, senior vice president, digital. "We know our guests are already using Instagram, so we're making it even easier for them to find and buy the quality, affordable products they expect from Target."
"We want to make it easy for people to instantly shop every product they discover on Instagram," says Instagram's chief operating officer Justin Osofsky. "That's why we collaborated with Target to set up a virtual store that makes discovery to purchase seamless right in the app with Instagram Checkout."
How it works is, guests can purchase products displayed in Target's Instagram posts directly from Instagram. Each shoppable post is marked with a shopping bag icon in the corner. From there, guests can tap on a product, modify and check out—all without leaving Instagram.