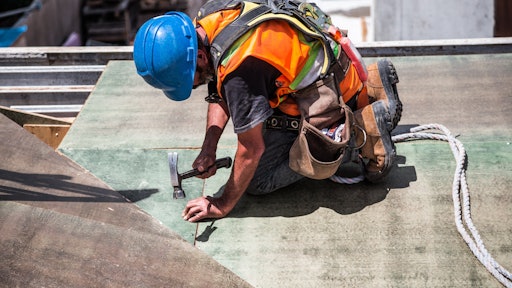 Pexels
Blockchain is starting to take the construction industry by storm, promising a way to better execute strategic projects. The technology is mostly on the contract side on the industry for now, but analysts are expecting that it will help streamline construction project management.
A recent article in the Harvard Business Review, highlights some ways blockchain is being used in construction today.
For example, Amsterdam-based HerenBouw is using a blockchain-enabled project management system on a commercial real estate development project. The goal is to make the building development life cycle more efficient. The system is helping HerenBouw ensure timely communication, unambiguous communication and fewer mistakes.
Another area blockchain could benefit contractors is handover to an owner when a building is complete. Minneapolis-based Gardner Builders teamed with Briq to develop a "digital twin" of a new office. The digital twin included a room-by-room inventory of every asset. The blockchain-encoded specifications in the digital twin are granular, including items such as paint colors, LED bulbs, door hardware and maintenance related things like manuals, warranties and service life. Any improvements or refurbishments made to the building can be documented. Essentially, this creates a "living ledger" for the current and any future owners.
So why is blockchain a good option to streamline construction project management? Project management objectives are typically pretty clear. Using blockchain in the process provides better transparency and a more agile approach compared to classic project management techniques.
How can blockchain be incorporated into project management? The authors of the Harvard Business Review article offer a few suggestions:
A way to track subcontractors' deliverables and identify reliable subcontractors for projects
Smart contracts
Blockchain-enabled applications that aggregate data into a shared project management dashboard
A way to record all building inputs and assets (like in the Gardner Builders example above)
Blockchain-enabled apps to track materials, testing and results against building codes and standards
All of these ideas are still cutting edge for the construction industry, and it will take some contractors willing to experiment to bring these ideas and processes to the forefront of the industry. That, of course, means there will be trial and error, and likely some failure. But if you're looking at new, technology-based ways to improve your project management or have your business stand out from the competition, finding ways to incorporate and benefit from blockchain might be your next course of action.