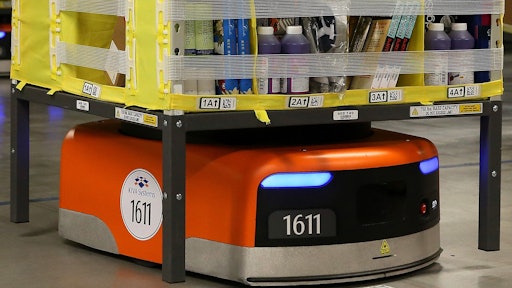 Big name brands like Gap and Walmart are turning to robots this holiday season to help maintain production.
According to the Wall Street Journal, Gap is expected to use automated arms and artificial intelligence to sort clothing orders, while Walmart is currently testing robots that roam store aisles to check inventory and tell employees where to find goods. Other logistics providers are sending mobile step-stools mounted with shelves through fulfillment centers to help pull online orders.
Companies have been ramping up automation as the labor shortage continues to grow. Most of the technology that will be used during the holiday season is already being implemented in distribution operations.
The peak season won't be the end of robotics and other automation technology implementation. Around 21.5 percent of warehouses are testing pilot programs for commercial service robots, while 16.5 percent already are using them, the Journal reports.
The holiday season and the growth of e-commerce highlights the current shortage in warehouse workers. Online fulfillment centers require two to three times as many workers than traditional spaces, and as online shopping continues to become the norm, companies will continue to compete for talent, the Wall Street Journal reports.
Meanwhile, XPO has announced that it is deploying 5,000 autonomous mobile units to help workers fulfill up to 48 orders at a time. The robots will reportedly double the speed at which orders are processed and help the company better maintain inventory.
Automation like the SORT robot, designed by Kindred, uses artificial intelligence to decide which object would be the best to pick, effectively shortening the amount of time to pick an order. Implementing automation within their operations has caused companies like Gap to not hire as many human workers during their busy seasons. Robotics have given companies the most efficient way to get products out their door and in the consumer's hands.
To read the full original article, please click here.