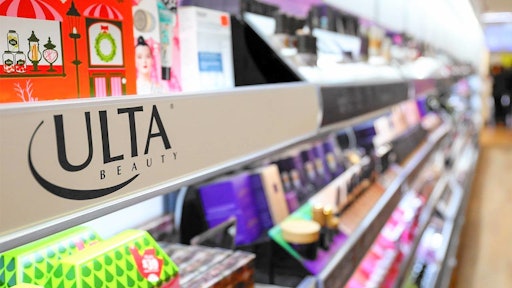 Beauty businesses are continuing to see increase competition as more and more people get invested in the culture. For Ulta, the company has offered rewards programs and sales events, but one thing has become clear: the company needs to optimize their supply chain in order to avoid out of stocks.
The beauty store is still posting positive comparable sales growth, Supply Chain Dive reports, however, growth has slowed from 8.8 percent to 6.5 percent over the last three quarters.
While maintaining online sales, Ulta is aiming for customers to buy online and pick up in store. Supply Chain Dive reports that the company has implemented an omnichannel order management system and has a new omnichannel distribution center that serves 100 stores and 20 percent of the company's e-commerce orders. For customers that opt out of picking up their item in stores, Ulta aims to ship their products in three days or less.
While investors were disappointed in third-quarter projects, all could be redeemed in Q4 when Kylie Jenner's make up line makes its brick and mortar debut at Ulta stores this holiday season.