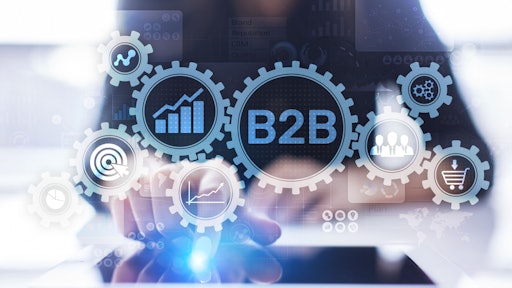 WrightStudio/stock.adobe.com
On the surface, Business-to-Business (B2B) commerce may seem boring compared to its flashier B2C counterpart, what with its utilitarian catalogs, spec sheets and dry sales meetings. Taking a closer look, however, reveals the intricate processes, workflows and technology that enable such powerful features as customized pricing tiers, custom catalogs, multi-org hierarchies and contract-based purchasing thresholds. It's fair to say that while it is complex, B2B commerce is definitely exciting.
B2B merchants can build trusted and lasting relationships with customers, manage large orders for complex products, resolve challenging logistical problems, and navigate countless other complexities that make life interesting for everyone involved. Additionally, the stakes are high since B2B sellers are a key component of the success of their customers' businesses.
Of course, that complexity also brings challenges, especially when it comes to selling online. A common refrain I have heard from B2B merchants without a digital channel is that moving their operations online would be next to impossible because their businesses are 'just too complicated" to digitize their operations.
As a seasoned practitioner of B2B digital commerce and champion of digital transformation, I think that statement is merely an excuse. If billion-dollar enterprises can successfully transition their analog sales operations to digital whereby customers are confidently placing low-touch online orders for $100K+ hardware configurations, then there should be no reason why a smaller company cannot enable a digital sales channel.
Here are four key points every B2B seller should bear in mind as they consider whether digital commerce tools are right for their needs:
Customers are demanding self-service tools
Over the past 10 years, "digitally native" individuals have become an increasingly larger part of the global workforce. B2B buying behavior has steadily shifted from wanting high-touch sales rep interaction through the purchasing journey to preferring the use of online tools to get the job done. In fact, a 2022 study by the Harvard Business Review found that 54% of Millennial B2B buyers prefer to purchase solutions without sales rep involvement. The 'consideration' phase of the buying journey is an excellent opportunity for a seller to start building trust by providing accurate, relevant and valuable information that enables buyers to find solutions to business challenges.
Fortunately, advances in automation and digital configurator tools now enable businesses of all sizes to deliver the streamlined digital experience that their buyers are increasingly expecting. Today's B2B eCommerce platforms offer the tools needed to instantly produce quotes and accept even the most complex orders, giving your customers the support and guidance they need in the format that they prefer. Self-service tools extend to post order support as customers now expect to be able to check and track order status online.
Your salespeople are more important than ever
Automated ecommerce tools don't make your sales teams obsolete; in fact, it's just the opposite. Digital tools alleviate a sales rep's busy work, so they are freed up to spend time getting to know target customers' businesses and to develop solutions that not only bring exceptional value to the customers, but often result in more lucrative order sizes. And then there is the rich data provided by an eCommerce solution, which sales reps can leverage to become trusted advisors by making their customers' businesses more successful.
For more low-touch customers, sales reps provide value later in the buying journey. For example, a customer who self-serves to research products may reach out for support as they get closer to finalizing the order. That's when your sales team steps in — perhaps using digital tools such as online chat and video consultations — to provide specialized information and support, close the deal, and even unlock new upsell opportunities.
Digital transformation is a journey
Digital transformation can be a daunting initiative for any company. The good news is that it's an exciting journey, not a destination, so you can approach transformation at the pace that is right for your business. This is an opportunity to deep dive into the complexities of your business to identify opportunities —- not only for improvement but for transformation of your people, processes, technology, channels, and business models —- to make your business thrive and grow.
Once you have mapped out your transformation plan and objectives, look for ways to leverage B2B commerce tools to not only solve problems, but to create business opportunities. That's especially true for legacy B2B companies that encounter challenges in building out digital functions to manage and enhance areas such as sales enablement, product content, customer experience, localization and payment protection, among many others. With a robust, native B2B solution, you can quickly and easily enable a digital commerce channel that will also be a key tool in your digital transformation toolkit. Such a platform must be able to support your current operations while facilitating growth and resilience for your business.
Digital transformation is a big opportunity
Leading a digital transformation initiative is not easy. A true leader sees challenges as opportunities to disrupt the status quo and they constantly strive to improve all areas of their business. This includes having empathy and connecting with employees who may fear change. Develop a trusted relationship with staff, vendors, partners, and customers through transparency and communication prior to and throughout the transformational journey. People want to feel valued, and they are the most important asset in your company. Help them grow and learn new skills, develop a digital mindset, and empower them to make data- driven decisions. Find ways to automate rote tasks to transform their careers and allow them to actualize their collective potential.
Leverage technology to simplify, streamline and optimize your business processes, making your business more resilient and agile to delight your customers and weather any challenges that come your way. Encourage your employees to partner with digital tools rather than fear them, and it will allow your company to scale, gain more market share, and even penetrate new markets.
Make the right choice
As you can see, B2B commerce may be complicated, but that's what makes it exciting. Luckily there are a number of technology platforms that can make the transformational journey smoother and more profitable for your company. The most important action to take is the first step. Digital commerce is table stakes and when done well, is a key differentiator for B2B businesses. It is a window through which your customers see and engage with your products and services to improve their own jobs and the success of their businesses.