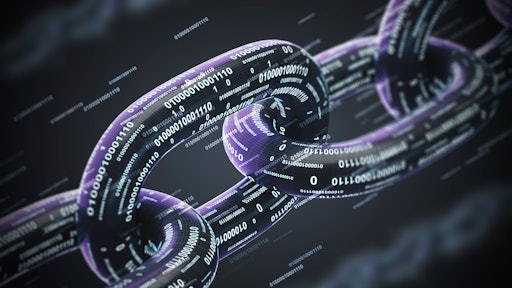 Adobe Stock
The time for digital transformation in the logistics industry is now. As technology rapidly advances while becoming more accessible and affordable, companies must prioritize investments in innovation and digital transformation to stay ahead. Interconnected technologies such as advanced analytics utilizing machine learning (ML) and artificial intelligence (AI), autonomous material handling equipment, vision-enabled augmented reality and robotics provide a significant return on investment with digital enablement, automated processing, and enhanced transparency to drive efficiencies across customers' supply chains.
Today, innovation is playing an even more crucial role in the supply chain as companies work to recover from the Coronavirus disease (COVID-19) pandemic. Volatility in supply and demand across industries has elevated the need for companies to ensure they have flexible, agile, resilient and high-performing supply chains – achieved through innovative and advanced technologies. As technology evolves and we witness shifts in customer needs and industry trends, digital transformation will remain a focal point for logistics companies as they set goals for future success.
The following three steps will ensure companies are well on their way toward achieving digital transformation in their supply chains:
1. Start with a strong data foundation
A pitfall many companies succumb to on their digital transformation journey is immediately jumping into implementing advanced technologies without understanding their operation's data maturity level. Digital transformation cannot be successful without having a robust, well-defined data strategy, including data accuracy, governance, ownership and proper controls.
A solid data foundation starts with identifying the single source of truth for particular data sets before applying tools like predictive and prescriptive analytics. Without a holistic view of data's quality and accuracy, a company's digital transformation strategy will struggle to succeed and the use of AI, ML, advanced analytics and interconnected Internet of Things (IoT) applications will be exceedingly difficult and could yield false results.
There is a myriad of data governance frameworks available for companies to use and customize. Choosing the right framework can be a time-consuming task, but understanding what systems are critical, what data is available, and the data sources and integrations is imperative as companies identify the framework that aligns with their specific needs.
2. Take advantage of advanced analytics
As data's benefits have become undeniably proven and recognized, predictive and prescriptive analytics have seen a massive uptick in demand. Additionally, solutions utilizing ML and AI have shared the spotlight due to the uncertainties and lack of visibility across global supply chains impacted by COVID-19. Shippers require end-to-end visibility not only to effectively respond to disruptions in real-time but to gain insights into what is likely to occur weeks, months, and further into the future.
Advanced analytics can enable intelligent response now and deliver proactive solutions to prepare for what may happen, mitigating risk and ensuring consistency of customer service.
Implementing solutions backed with advanced AI and ML technologies can take current events, along with various public and internal data, both structured and unstructured, and develop predictive scenarios to forecast future disruptions and prescribe the correct informed action. By utilizing advanced analytics companies can quickly and strategically infuse their operation with the solutions necessary to minimize disruption, ensure predictability and make step changes in their performance.
3. Move to the cloud
If the solutions implemented are not interconnected, easily accessible, and highly available throughout an organization, the effort may outweigh the benefits. Cloud adoption benefits include improved efficiency, scalability, business continuity, cybersecurity and business agility. The push to move to the cloud in recent years has made current supply-chain challenges less disruptive for those who have adopted the strategy.
Cloud-based technology allows for a widely distributed network that is not dependent on specific geographical locations or certain people, which is crucial given the shift to remote working and the need for resiliency amidst the crisis. Increasing mobility is a key component, but the acceleration of collaboration is an often-overlooked benefit of the cloud. A solid cloud strategy improves interconnectivity between supply chain partners, enhancing visibility and agility.
Innovation waits for no one
Logistics providers, shippers and other supply chain players need to get on the fast track to avoid being left behind. Digital transformation and innovation may seem like trendy buzzwords, but truth is, if companies don't prioritize these initiatives, they are doing themselves and their customers a disservice. As the technology available to the supply chain continues to rapidly advance, starting with these three foundational building blocks is the essential first step to a successful digital future.