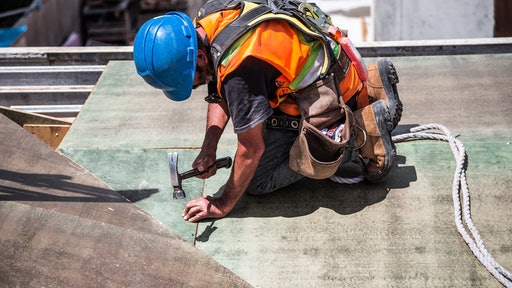 Pexels
The Coronavirus disease (COVID-19) has presented supply chain challenges across many industries, and the construction industry didn't come out completely unscathed. Dodge Data & Analytics notes that the commercial and multifamily construction sector posted a 22% drop through the first half of 2020. Warehouse construction saw a slight gain in projects.
However, in the heavy civil construction sector, Dodge Data reports a "relatively optimistic two-year outlook." In the first issue of The Civil Quarterly report, the research shows that this particular sector of the market is learning to adopt the use of digital technologies to adhere to social distancing regulations. These digital technologies are completely transforming construction businesses' operations, and over half of the heavy civil contractors who responded to the survey have a high level of confidence in new business opportunities over the next 12 months.
In the wake of the pandemic, heavy civil contractors and other construction businesses are finding that many firms can maintain business continuity at a significant level because of the digital transformation of their operations. Those in the heavy civil industry report that the additional use of advanced tools, such as e-ticketing solutions, are helping firms continue to do business and improve safety, which is imperative in the age of COVID-19.
Let's take a look at some of the tools and technologies that construction players use to help maintain business levels during and after the pandemic.
E-ticketing. Chasing paper down is an age-old industry challenge that, quite frankly, should have been resolved before the Coronavirus sped up digitizing the data on paper tickets. Removing paper from business processes improves productivity, eliminates errors and speeds workflows. E-ticketing helps make jobsites safer as paper tickets no longer have to be passed from person to person. E-tickets are a real-time, digital representation of materials' load information throughout the procure-to-pay or order-to-cash lifecycle of the business process or project workflow. The E-ticket stays in sync with the load's journey, capturing order information, batch results, delivery status updates, electronic proof of delivery, inspection/test results and job cost/cost codes through invoice and payment processes. E-ticketing provides real-time information to all participants in the entire construction supply chain. Because of e-ticketing, businesses and their trading partners have greater visibility to what is going on within the project lifecycle.
Other contactless tools. Having the ability collect workers' activities or send quotes to customers electronically will reduce paperwork and personal contact, keeping workers safer with higher efficiencies. Tools that provide pricing and quotes, track bids and manage sales activities allow salespeople to speed communications to customers and prospects. Giving customers real-time visibility into their deliveries enhances customer satisfaction and reduces the need for customers to call and ask where their order is.
Internet of Things (IoT). The IoT can sync all equipment and monitor activity at the jobsite in real time. Construction firms are using IoT to better track assets by attaching or embedding sensors into expensive equipment or tools. Because IoT sensors can deliver information to inventory systems, the use of IoT can keep inventory levels consistent, so businesses never run out of materials. Personnel doesn't have to go to the jobsite to count stock; instead, they can work from home to validate inventory levels and asset locations.
Digital collaborative platform. A digital collaborative platform supports a many-to-many relationship by connecting all supply chain participants involved in the construction project. Well-run digital networks employ tools, techniques, and best practices to create a collaborative space. All necessary parties involved in a construction project are apprised of the status of different parts of the job and can quickly adjust to needed changes without having to handle paperwork or meet face-to-face. With a digital platform, all participants work with one single version of the truth.
New tools are being introduced every day to help construction firms continue to operate during the pandemic:
Disinfecting cubes. To help prevent the spread of COVID-19 at construction sites, disinfecting cubes can be installed. The cubes sanitize workers before they reach the jobsite by spraying personnel with a disinfectant.
Computer vision. Applications exist that will send an alert to workers if they get too close and don't maintain the required six-foot distance between one another. Some firms are putting sensors into hard hats to improve social distancing.
Advanced-scale ticketing software. Drivers can check in, load and ticket trucks carrying aggregate materials and cement without interruption. Auto-identification technologies and cameras monitor trucks throughout the site or in-transit to different locations. Drivers don't have to leave their trucks because they can check in electronically or at driver kiosks.
Virtual reality (VR). Project plans and jobsites can be visualized with virtual reality tools. Having a 3D digital representation of the project enables a "walk through" the jobsite without really being there.
Because of COVID-19, many businesses have been disrupted and have come to understand that working at the standard mode of operations is no longer feasible. Keeping workers safe at the job site has always been a top priority, but because of the virus, it's even more imperative to deliver peace of mind to workers and their families by implementing processes that ensure their safety. By implementing some of these new technologies, construction firms can continue their business operations – at a safer level.