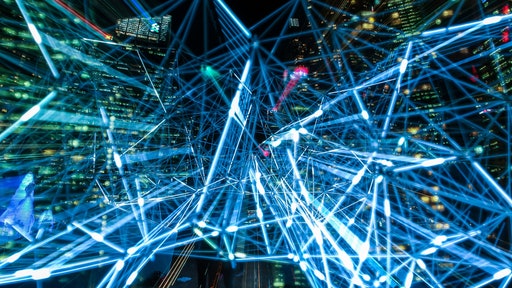 Pexels
Supply chain disruptions caused by the Coronavirus disease (COVID-19) pandemic have encouraged many companies to embrace digital transformation. IFS recently surveyed 3,000 business decision-makers in the manufacturing, utilities, telecom and industrial sectors, and found that the majority of respondents are planning to increase their investments in digital technologies despite economic concerns, fearing that if they do not commit to digitization now, they will not survive the next five years.
When it comes to supply chains, digital transformation often means investing more in automation technologies, especially in our current environment of social distancing and remote work. A recent study of retailers from Blue Yonder and WMG found that low workforce numbers posed a significant challenge for the industry, as 59% of warehouse workers at the surveyed companies were affected by quarantine or illness. The study also reported that 40% of respondents aim to operate fully automated warehouses in the next five years.
While companies are looking to implement smart supply chain capabilities, only 33% of production processes are digitally optimized on average at a manufacturing organization thus far. So as manufacturers aim to scale their digital transformation initiatives, companies should look to smaller scale tech deployments – mobile devices in particular – to support safer and more efficient environments for workers. When it comes to deploying mobile technologies, however, there are a variety of factors ranging from sanitation to connectivity that companies should consider to both align with short-term safety objectives and long-term productivity investment goals.
1. Choose devices that can withstand tough environments and be cleaned properly
Rugged devices, including mobile handhelds and tablets, are designed specifically for tough environments, like warehouse settings. Compared to consumer-grade devices, rugged mobile technology is designed, tested and proven to withstand hard drops, harsh temperatures and exposure to water, among other scenarios mobile workers may find on the job. This means that if a rugged device is dropped on the factory or warehouse floor, exposed to extreme weather or drenched in rain, the device should still operate normally, enabling workers to stay connected on the job.
Because organizations usually purchase mobile devices with the intention of having multiple workers share them, device cleanliness and sanitizing is another crucial consideration for worker safety. Ensuring that any device used can handle frequent cleanings with disinfectants is key. Typically, disinfectant wipes will work best, as applying chemicals directly could have a negative impact on the device's physical appearance, screen or other functionalities.
2. Consider integrations with partners to support safer working conditions
When deploying newer methods for improving worker safety, companies will need to re-examine the underlying systems that power the supply chain, as traditional warehouse management systems may need upgrading. Similarly, ensuring that any hardware deployed meets today's safety standards is crucial. Mobile devices should be compatible with different software features and integrations that support current safety concerns such as temperature checks, the ability to monitor social distancing between employees and facial recognition capabilities. Devices should also have the ability to be mounted to equipment, like forklifts or trucks, for safer and more integrated use.
From a software perspective, companies should consider devices that are future-proofed and equipped to support changing safety needs that are bound to emerge in the years to come. Following Windows CE's end of life, Android has become the top operating system for rugged mobile deployments, promising to deliver real-time information to decision-makers for better business outcomes overall. Given that workers are often accustomed to the Android OS from their use of personal consumer devices, they often adapt to these devices quickly, working confidently and more efficiently. Plus, Android's open-source OS gives users the ability to use millions of apps and access the global app store, enabling them to deploy apps that support their safety and job-specific needs.
3. Connect mobile devices to hands-free technologies to assist workers
One of the primary benefits of mobile devices is the ability to connect them to other technologies to improve worker efficiency, and in today's climate, minimize contact between workers and customers. For instance, companies can manage their workforce by connecting devices to unmanned systems like drones so workers can perform jobs from remote locations. Not only does this strategy minimize the possibility of spreading germs, but it also prevents workers from having to physically access potentially dangerous areas. Instead, drones can help monitor difficult to reach places or help predict potential safety hazards before workers are deployed. On the consumer side, drones can also support last-mile deliveries, ensuring that any package drop-offs are entirely contactless for the recipient.
Equip each worker with a mobile device when possible
COVID-19 is encouraging many companies to reconsider their purchasing habits when it comes to equipment like mobile devices, headsets and mobile printers often shared between workers. Most multi-shift warehouse companies do not purchase equipment on a 1:1 device to worker ratio. Rather, they purchase enough devices to support each shift, which means employees are repeatedly picking up the same devices used by the previous shift.
Thus, companies need to consider whether their existing models adequately protect workers and ultimately, their businesses and customers in light of current health concerns. This can mean purchasing more devices to get closer to a 1:1 ratio or looking for ways to rework operations to reduce human touch through robotic solutions or conveyor systems. If a company does have the ability to purchase more devices, ensuring 1:1 deployment of mobile technology will give employees more flexibility to take advantage of the device wherever the workday takes them.
Offer reliable connectivity to workers
When working on the perimeter of a workspace, or even remotely, Wi-Fi is often strained by weak connections and outdated cables, rather than a centralized connection point. Dedicated networks can ensure workers are able to connect anywhere, which will be even more crucial in the post-pandemic warehouse environment where workers are operating at greater distances from each other – some even remotely.
Devices themselves should support strong LTE speeds, bandwidth and network performance so supply chain professionals can operate in a mobile and untethered manner in today's fast-paced warehouse environments where unlimited access to data is critical. Tablets with dual pass-through antennas offer access to GPS and advanced 4G LTE data simultaneously, preventing workers from having to use converters and connect to unofficial systems. This is especially useful for logistics professionals who need to access data on a shipment while on the road.
Productivity and safety go hand-in-hand
While COVID-19 has emphasized the need for digitized supply chains and automating more warehouse operations, most companies still have significant progress to make in these areas. Gartner recently reported that only 21% of organizations are willing to consider and adopt new technologies for the supply chain. However, by starting small with mobile tech deployments, organizations can better support a safe return to the workplace and promote long-term productivity gains.