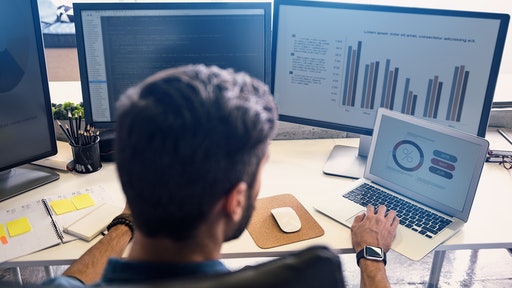 Getty Images
The world, it seems, is starting to or at least preparing to return to a bit of normalcy. And, as businesses reopen in the coming days, weeks and months, they will look and operate differently post-pandemic. One such change will be how supply chain business models will have to pivot, or potentially reinvent themselves completely. One thing is clear—survival of the fittest will revolve around those who embrace digitization, digital business models and data.
Even as businesses open, social distancing will still be in effect – reducing and changing what was normal before the pandemic. That means what businesses stock, how much they stock, what they sell, supply, and support could all be very different than pre-pandemic.
That is why good, accurate data as well as predicative analytics will be even more important. Omnichannel retailers will not only be asking themselves, "what should I purchase?," but "how should I transport it?" An urgent new issue will be whether they stock the product or deliver directly to the consumer?
This is where multi-domain mobile device management (MDM) and product information management (PIM) fit in – helping companies pivot as well as accelerate digitization and digital business models and embrace the new normal in a way that can not only help them adapt, but also create competitive advantage.
The ability to leverage an accurate and complete single source of truth of a company's product and supplier master data is a game changer for re-envisioning supply chain practices. Not only does it offer confidence in relying on accurate and complete information to make decisions on, it also simplifies the process of making changes in one place and then knowing that the information will get propagated or syndicated to the appropriate target, channel and application.
This ability to provide a single view of product data and content across the enterprise can also reduce the complexity, cost and time associated with multiple business initiatives and requirements.
Consider some of the essential strategic areas of ROI for PIM/MDM platforms, as agreed upon by most of the industry's analysts and observers.
· Reduce time to market
· Enable international growth
· Ensure fewer out-of-stocks
· Improve supplier and partner collaboration through vendor portals
· Decrease errors and discrepancies
· Lower integration costs
Interestingly, a Yankee Group study suggests high return on investment just through basic improved processes. In fact, companies surveyed reported an average 25% savings from their PIM solutions across 18 business functions, with an average of 2,500 person-days saved. The key to improved efficiencies begins with the workflow-powered nature of PIM. A few highlights from the survey include:
· 63% of respondents increased sales resulting from an improved relationship with retailers and dealers;
· 59% reported reduced logistical costs through better replenishment planning; and
· 59% said inventory levels reduced through better phasing of promotional, seasonal, or roll-over SKUs.
There is an additional concern. As product lifecycles continue to shrink and product complexity increases at a feverish pace, reducing the time it takes to introduce new products has become a strategic imperative for companies operating in every industry. Businesses can use PIM and MDM to dramatically speed up product introductions across all channels including online, mobile, retail stores, and print catalogs, by drastically improving the time it takes to onboard and set up new products to be introduced to the market.
To improve new product introduction success rates, companies use PIM and MDM to efficiently synchronize, manage, and share product data across the enterprise and the supply chain. The entire process for preparing to sell a product can be orchestrated utilizing the PIM/MDM's enterprise workflow. Bottlenecks and delays in the process can be quickly identified and rectified utilizing advanced dash boarding and reporting capabilities.
PIM and MDM solutions often provide best practice workflows around new product creation, updates, pricing, content management, etc. These workflows can be easily configured to meet a company's specific business requirements, or they can use the tools to create their own, business-specific workflows.
PIM and MDM can also help put more accurate and timely data into the hands of decision makers and consumers – potentially helping identify alternative / substitutable products that can be used instead of the products that have been disrupted. Also, PIM and MDM can potentially help simplify the process of the internal and go-to market activities that occur when an ingredient has become difficult to obtain or has to be substituted.-
Another key benefit of PIM/MDM is the ability to serve as a product insight hub for the business, as well as ensure that products are meeting the needs of consumers, trading partners, and regulatory agencies. As a Forrester Research study states, "For eBusiness professionals, marketers and product owners, product data is far more than just IDs, SKUs, descriptions, digital assets and copy."
It's important that all attributes related to the context of the product be part of the product master data model. Gathering all these attributes from internal and external data sources and assembling them in a contextual manner is enabled by PIM.
Satisfying regulatory compliance is an additional challenge, especially for international supply chains. Regulatory compliance is consistently mentioned in most industry surveys and studies as one of the most compelling business reasons for implementing PIM/MDM. It helps ensure that a company's relevant business rules and procedures for data entry, taxonomy, categorization and other parameters are enforced in order to ensure precision in information around regulated products.
Finally, it's important to note that these benefits aren't the result of simply managing master data or product information. These capabilities are inert unless integrated with business applications that leverage the data, such as the supply chain. With a PIM/MDM platform, companies can deliver this centralized product information effectively through efficient, automated business processes and integrated solution capabilities.
The post-pandemic supply chain may look very different tomorrow, next month and next year. MDM and PIM can help them move into an uncertain and ever-changing future.