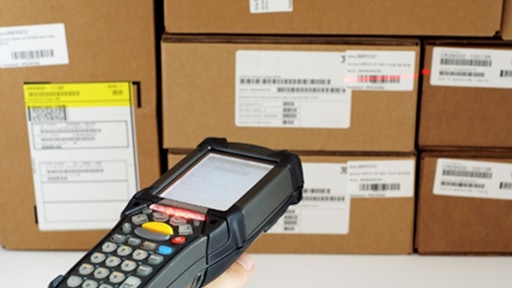 TEKLYNX
The supply chain is the lifeline of all manufacturing, and that's never been more true than during the Coronavirus disease (COVID-19). Companies face new challenges such as lower operational headcount, unpredictable production volumes, new safety requirements and rapidly changing environments in order to keep essential products moving through the supply chain.
One constant is the need for barcodes. Now, more than ever, manufacturers are re-evaluating how their labeling process functions. By eliminating manual steps in the labeling environment, you can address many issues through automation, scalability, efficiency, accuracy and security—benefits that will also position well for the recovery period.
Here's how to keep your supply chain and essential products moving.
Print automation and scalability
Different methods of automation are being implemented throughout the supply chain, including barcode label printing automation. Integration of labeling software and business systems such as enterprise resource planning (ERP), warehouse management systems (WMS), supply chain management (SCM) and more enable streamlined barcode label data population and high-volume label printing to counteract the decreasing operational headcount and eliminate manual touchpoints.
Print automation can be defined as, "a centralized technology that replaces the manual process of triggering a print job within a labeling environment." Ensure that your solution is scalable as well. Perhaps you need solutions for simple labeling processes to respond to temporary requirements, or your business needs to scale up quickly to respond to spikes in demands as a result of COVID-19.
Organizations that need to automate and scale quickly should look for a labeling software solution that allows you to:
Completely automate your label printing process
Print to a greater number of printers
Initiate printing directly from any business system
By integrating your label printing system with an ERP system, such as Oracle and SAP, you can expect to minimize errors, increase print speeds and maximize the ROI of an existing system. Your business system already holds the variable data such as product information, lot numbers, shipping addresses, packing lists, order numbers and more. By systematically sending this data to the right label template at the right time, labeling becomes an efficient and cost-effective process.
Efficiency
The ability to leverage high-resolution artwork on labels and packaging combined with a secure label approval process will position you for labeling success now and into the future.
Label samples
Creating labels from scratch can be time-consuming and overwhelming, so look for solutions with easy-to-use label samples. Whether labeling hazardous chemicals, medical devices or food products, leverage label samples to get a head start on labeling compliance and label design. Many companies are re-focusing their manufacturing to produce products they don't have a great deal of experience with, such as distilleries making hand sanitizer or automotive manufacturers turning to ventilator production. In both cases, there are regulatory and compliance attention that needs to be addressed in labeling. Label samples can help speed the time to get crucial products to the market.
Cutting manual steps out of the process
Look for labeling software features that eliminate manual steps such as adding variable data from various devices such as scanners, scales and keyboards to your labels automatically.
Accuracy
Time and costs are being scrutinized and errors cannot happen. With increased labeling accuracy, you will reduce waste, eliminate returns due to mislabeled product and will gain more efficiencies that will save money and time.
Utilize forms
Using forms in your label printing process can separate print users from the design interface to ensure data is formatted correctly and no unintended edits are made. Forms can help enforce user roles within a team, distinguishing between the label designer and the person who clicks print. The print user doesn't even have to open the label design software in order to print labels.
Print labels directly from the business system
Set up your barcode label printing system to automatically print labels from an integrated business system. The automated print job can be triggered by an action in the business system without the need for human interaction. Having a barcode label printing process fully automated with your business system means less time spent interacting with your label designer.
Print on-demand, leverage on-demand color labeling
On-demand labeling allows designers to create a smart label template that incorporates variable data and images, so you can design and print labels as needed. Printing labels on-demand eliminates inventory of pre-printed label stock and costs associated with label waste due to misprints. Look for printers that work seamlessly with native printer drivers, enabling true WYSIWYG (what you see is what you get) on-demand color label printing.
Browser-based printing
Changing operations may require remote work, work from multiple locations and a need to enable labeling at each location--state to state or even globally.
Enabling browser-based barcode label software and printing means having the ability to print almost everywhere, from anywhere. With COVID-19, this makes it easier to adhere to customer requirements and share approved label files across multiple locations. Your label printing process shifts from managing local, client-sized installations of a designer and a print engine to managing a web page printing-interface from one location and securely deploying it to users around the world. This decreases the time it takes to manage separate or individual barcode label software deployments.
Security
Many of the industries most affected during this pandemic are required to enforce labeling workflows with new suppliers and ensure that the same process is followed every time a label is generated to comply with regulations, internal standards or step-by-step processes. Some of the top industries that find label security and traceability critical to operations are:
Healthcare. In the healthcare industry, companies must comply with the Food and Drug Administration's Code of Federal Regulations (CFR). Title 21 CFR Part 11 requires electronic signatures on label files to ensure the signatures are not copied or otherwise transferred to falsify another electronic record. As FDA regulations change to meet changing needs, it's important to be able to track and respond.
Food and beverage. In the food industry, strict labeling requirements aim to protect consumers, especially where allergies are concerned. Mislabeled food can trigger a recall, and in the event that the source cannot be tracked, you'll experience not only lost revenue, but delay in getting food in the hands of consumers.
Shipping and receiving. In shipping and receiving, traceability is crucial during this time in order to maintain records of label creation, approval and printing and ensure that the right product gets to the right place at the right time.
By implementing label security and traceability software, you can control access to label files by establishing user-based permissions, implement a multi-stage approval process and keep record of changes, comments, revisions and print history for every label in any industry. Label security and traceability can effectively support organizations who are re-tooling their manufacturing and facing new labeling regulatory and compliance standards for the first time.
The supply chain is faced with many obstacles during these challenging times due to COVID-19 – ensuring workers are safe, keeping operations at 100% capacity with potentially fewer people, creating contingency plans that may be changing daily. In an environment that is changing very quickly, consider how labeling solutions can evolve and position you well for the future.