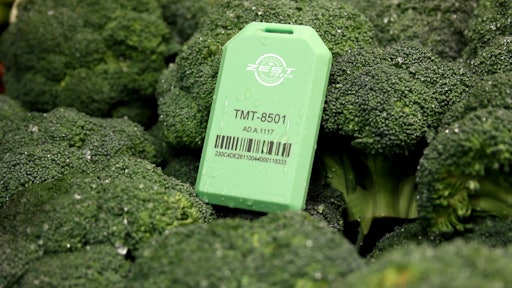 Inventory represents roughly 15 percent of all corporate assets for the average company. If it's managed poorly, the results will flow directly to the bottom line. 
For companies in the food and beverage industry, the assets associated with inventory are not only food products, but the containers that these products are stored and transported in, along with other equipment and facilities used during the course of farm-to-table food processing.
Historically, tracking this inventory has been a manual process, meaning it can be prone to error and often a prohibitive cost to get right.
"About 30 percent of food delivered to retailers is wasted, related to improper handling and processing along the supply chain," explains Kevin Payne, vice president of marketing for Zest Labs, an AgTech company specializing in post-harvest shelf life and freshness management solutions. "As such, products like produce have been tracked and monitored only at the trailer level—if at all—rather than at the product or pallet level—and that's really what we want to monitor and manage: the condition of the product, not the trailer.
"Because of this, companies aren't getting the level of granularity they need to make informed decisions based on the product's condition and history. This is one of the things contributing to the massive food waste problem we're experiencing," he adds.
An example is 2 Sisters Food Group, a poultry supplier to U.K. supermarkets. In October 2017, the company suspended production of chicken after an investigation by The Guardian and other news outlets revealed that food safety records had been altered.
It was alleged that the company had altered "kill dates" in order to artificially stretch the commercial life of the meat and trick customers into buying the product past its use-by date. Pundits advocated the use of supply chain tracking technologies like blockchain so that every transaction involving food would be securely logged and tracked, giving total food supply chain transparency to retailers, transporters and suppliers. However, while blockchain can certainly help with trusted transaction recording and tracking as part of food asset management, the problem is bigger than blockchain. In particular, food retailers also need granular insight into the condition of their food supply chain assets.
"There are some really groundbreaking new technologies for food safety in the cold chain," says Elizabeth Sinclair, manager of verticals at Seagull Scientific, an RFID, barcode and label solutions provider. "An active RFID data logger affixed to a pallet can register temperature and humidity fluctuations, sending out a 'yellow light' warning if a product is approaching dangerous temperatures, so that the manufacturer or transporter can take action to mitigate the situation. If a product is exposed to temperatures for long enough that it would be unsafe to consume, a 'red light' warning is sent so that the product can be pulled from the food supply chain. Losing a load to spoilage is expensive, but losing brand reputation to foodborne illness and recall can put a company out of business," adds Sinclair.
Tracking Plastic Returnables
It isn't just food that suffers from poor asset management in supply chains. Each year, food retailers lose millions of dollars when containers used to store and ship food are misplaced.
"High-value assets like tractor-trailers have always been tracked, often manually and by spreadsheet, to facilitate things like load planning," says Sinclair. "But for low-value items such as plastic returnables like tugs and totes, in many cases there was no mechanism in place to track them. Manufacturers and retailers worked on the honor system, trusting that the assets would be returned to the manufacturer."
Sinclair adds that misplaced or lost plastic returnables can account for millions of lost dollars annually. This is also an area where newer Internet of Things (IoT) technologies can help.
"Before IoT sensors became available, a variety of paper-based systems were used, as well as barcodes," says Zest Labs' Payne. "They each may have their place, but when compared to IoT sensors and devices, they're manual and more prone to error.
"Also, because of this, we weren't able to easily collect data at a granular level. It was either too expensive or too difficult to do. This meant we were getting incomplete, and possibly, inaccurate data. This can lead to poor decision-making," he adds.
For example, if there are 26 pallets of produce in a trailer, and you only sample one (or only the condition of a trailer), Payne says you might make an incorrect decision about the product.
Boosting Asset Management
So how do food retailers get their arms around the problems of asset management and preservation so they can improve their bottom lines?
1) Obtain granular visibility of your food supply chain assets.
"We're seeing a convergence of technologies, including RFID, 2D barcodes, voice, GPS and sensors," says Mike Liard, director of the RFID practice for VDC Research, a Massachusetts-based research firm. "And, we're seeing a broader value proposition associated with asset management besides just where something is located."
IoT sensor technology is also a critical component for improving food supply chain asset management.
"IoT sensors are autonomous, so you don't have to ask someone to manually collect them and input the data from a USB device," says Payne. "This saves labor costs and also makes it far easier to collect the data, and it can also minimize changes to your processes. Secondly, the data is collected without human intervention and is more accurate as there's less opportunity for errors to be made."
2) Don't overlook non-food assets that are part of your supply chain.
Read-only RFID tags, which have leveled off to around 10 cents apiece for some products, are being used to tag and track plastic returnables. When the cost of using these returnable assets is in the millions of dollars, it pays for companies to track and reuse them.
3) Use transactional track and trace technology.
Blockchain is one of the most popular transactional technologies being used to securely track and trace assets through supply chains. The technology records each supply chain transaction into a block of digital data that is uniquely signed or identified, and that becomes a permanent and trackable data record. The sequence of blockchain blocks is chained together so no block can be altered or inserted between two existing blocks.
Companies are already making the move to blockchain. Therefore, it's important to ask vendors about the type of support they offer for the technology.
4) Work with your suppliers.
With the plethora of RFID, sensor, IoT and blockchain technology now commercially available, it is important to make the right choices for implementing them—and to also promote adoption by your supply chain partners.
Not every supplier will adopt the same solutions, but to the degree that they do, you will gain greater end-to-end visibility into what's going right—and what's not—in your food supply chain. More granular visibility of your assets will enable you to take steps to eliminate or reduce waste. You will also be able to identify producers, transporters, distribution centers and warehouses that have higher incidences of waste than you would like to see. By issuing metrics and tracking asset performance, you can sit down with under-performing suppliers, so that together, you can improve food asset management and supply chain performance.
"For the fresh food supply chain, there are numerous points across the supply chain that pose a risk, as time and temperature have a significant impact on the delivered quality and freshness of the product," notes Payne. "Ideally, we want to track product such as fresh produce from the point of harvest to delivery to the grocer because every step along the way provides the opportunity to impact the product. If only certain segments of the supply chain are monitored and managed—such as in transit between the grower and the retail distribution center—we aren't able to determine what, if any, impact on the product occurred before or after that segment."
5) Before you start with IoT,  do your research.  
Payne recommends asking the following questions:
Are the IoT devices reusable?
How long will they last?
Who will have access to the data?
Are they approved food-safe devices?
"It's also important to understand how the data is going to be used and presented," he adds. "It's one thing to collect data—and IoT devices can simplify that process—but it's equally important to define how the information will be used." 
Mary Shacklett is the president of Transworld Data, a technology analytics, market research and consulting firm. Prior to founding the company, she was vice president of product research and software development at Summit Information Systems. She may be reached at mshacklett@twdtransworld.com.