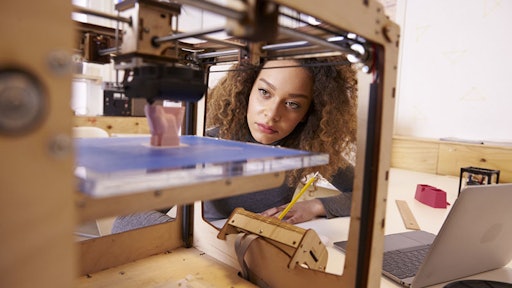 Editor's Note: The following article is brought to you by Emerald Publishing in partnership with the Supply Chain Network.
It's clear that 3D printing is having a significant impact on manufacturing, with big implications for construction and supply chain management. But what happens next, and how will it change things for manufacturers and supply chain managers?
I spoke to Dr. Helen Rogers of the Nuremberg Institute of Technology, Dr. Christos Braziotis of Nottingham University Business School and Dr. Kulwant Pawar of Nottingham University Business School, the editors of a new special issue on 3D printing and supply chain management, to get some answers about what's in store.
Are firms taking advantage of 3D printing today? If not, when will they start to?
Many companies are already reaping the rewards of investment in 3D printing technology, and growth rates continue to be impressive.
According to Wohler's Associates (2016), additive manufacturing currently represents approximately 0.4 percent of global manufacturing. This figure is set to rise to 5 percent by 2050.
As the reliability of 3D printed products improves and the number of used cases increases, mainstream manufacture—rather than one-offs and rapid prototyping—is becoming more common. This is especially true in the medical, aerospace and consumer sectors.
3D printing has been used in a lot for prototypes, but when will we see it being used for "real" consumer products?
3D printing is already being used for real products, not just prototypes. Currently, the leading edge industries are medical, dental, automotive and aeronautical.
Customisation and "prosumerism"—whereby consumers become proactively involved in the design of a product that specifically fits their requirements—is a prominent feature of 3D printing and may become a must-have for business in certain sectors.
It's especially important in products such as footwear, for example, evidenced by companies such as Adidas, which has invested heavily in their speedfactory manufactured Futurecraft running shoes.
What does the future hold for 3D printing? What's the next big thing we can expect to see?
3D printing offers the advantage of reducing complexity in supply chains by shortening the distance between supply chain partners.
Another development is the emergence of networks and 3D printing bureaus, where firms can use the leverage of others to select the services and expertise they want.
We are seeing the emergence of 3D printing as a service with big players such as Siemens, Materialise, HP, GE and Deloitte partnering to provide an end-to-end 3D printing process, including consultancy services.
This might involve, for example, getting assistance on designing a 3D printed parts, selecting materials or manufacturing a design using a particular 3D printing technology, like selective laser sintering (SLS) or fused deposition modelling (FDM).
By doing this, individual companies don't need to invest in equipment such as manufacturing machines and design software.
This is being facilitated by increased use of cloud computing, with designs being shared with supply chain partners in a virtual location.
The continued development of 3D printing technologies and the surrounding infrastructure means that future business models will look different to those that currently exist.
What sort of objects can we expect to see being printed 10 years from now?
This is a difficult question, but we can be fairly sure that three aspects will guide the expansion of 3D printing in future: market demand, technology capability developments (both material and process-related), and legal and safety requirements.
Applications that are currently classed as experimental are likely to become more mainstream, for example, personalised pharmaceutical tablets, customised food (especially useful for those on specialised diets), biomedical implants and human organs, and bone and skin grafts.
Does 3D printing have the potential to revolutionise manufacturing?
3D printing has been around in one form or another for over 30 years and can be traced back to rapid prototyping at institutions like the University of Nottingham.
It's now evolved beyond rapid prototyping to encompass rapid repairs, spare parts on demand and rapid manufacturing on site as needed—in disaster zones and even in space.
As products are only manufactured as they are needed, there are a range of clear business benefits. These benefits include an immediate positive impact on the environment (through less waste in terms of unused inventory), better responsiveness and lower lead times (especially for one of a kind products), less material used in production (through the use of additive rather than subtractive production methods) and lighter weight products through advances in design technology (and fewer parts overall).
Benefits such as these are leading to ever more companies evaluating the adoption of 3D printing as a component of their business and operations strategies.
Who would benefit from reading the new special issue, 3D Printing: Opportunities and Applications for Supply Chain Management, and what can readers expect to learn?
The special issue showcases different aspects of the 3D printing revolution, with three main focus areas.
The first focus area is to better understand the impact 3D printing has and will continue to have on supply chain configurations.
The second focus area is a study of a 3D printing application in the automotive industry.
And the third focus area looks at scenarios that will lead to increased 3D printing adoption in the future.
Together, these papers offer insights for both academics and practitioners.
Read the research: 3D Printing: Opportunities and Applications for Supply Chain Management is published in the International Journal of Physical Distribution & Logistics Management.
With special thanks to Helen Rogers, faculty of business administration, Nuremberg Institute of Technology, Germany; Christos Braziotis, Nottingham University Business School, University of Nottingham, UK; and Kulwant S. Pawar, Nottingham University Business School, University of Nottingham, UK.