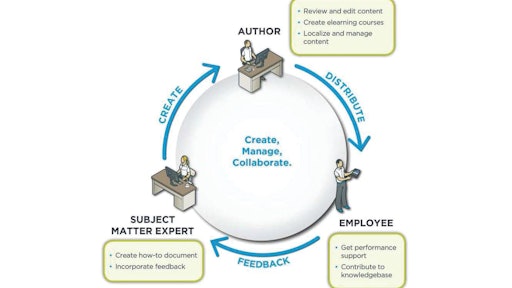 So your employees received some initial training on your enterprise resource planning (ERP) system. While this is a good start, you may be surprised to hear that it isn't enough to fully realize the value of your ERP system.
With all the proven advantages offered by today's ERP systems, supply chain management organizations can expect benefits such as optimized inventory; improved schedule attainment; and greater overall accuracy. But the key to efficiency using an ERP system is a knowledgeable workforce. Without a prepared and equipped employee base, you will not realize the benefits of an ERP system. Yet, modern times call for modern solutions to employee training. Today, employee success begins with your approach to performance support.
Initiate 21st century training for ERP deployment
Just as ERP systems matured, so has the approach to training development, delivery and maintenance. Your organization's authors and subject matter experts no longer need to perform manual, laborious cut-and-paste operations to capture your unique ERP implementation and create training content. The days of hardcopy training binders and flying employees to a central location for expensive and inefficient classroom training is an outdated approach (not to mention costly). And, as you change and evolve, updating training content that is spread over multiple repositories is a prescription for out-of-date and meaningless learning content.
For today's business and workforce, the emphasis shifted from training to performance. It's impossible to teach employees every keystroke and procedure for every task. It is likewise impossible for employees to retain all of what they learned in a training class. As Albert Einstein once said, "I never try to remember something I know I can look up."
An Electronic Performance Support System (EPSS) can boost the value of your ERP system by offering a means to deliver task-based support to employees while they work. While EPSS is not a new concept, it is seeing increased favor and attention because it is ideally suited to the challenges organizations face now: doing more with less; use of mobile devices for support whenever and wherever; a dispersed workforce; and greater focus on ensuring the return on your IT investments.
Expert enablement
Successful deployment of an ERP system requires cooperation and collaboration among your learning organization and your extended implementation team, comprised of core team members and subject matter experts. The key is to bring together your training authors and your implementation team to rapidly and efficiently capture expertise and turn this expertise into learning content.
Modern authoring and performance support systems provide for automatic recording and capture of steps and actions within an ERP system, collaboration (in the form of discussions and feedback) and output of high-quality learning content in a variety of formats.
Harnessing the knowledge of your subject matter experts, making it quick and easy for them to create learning content can save time and ensure accuracy. Bringing together experts, learning professionals and reviewers in one system streamlines the content creation and review process.
Finally, for global organizations, your authors may need to deliver content in multiple languages. To do this, you need functionality in your authoring tool to expedite the translation process and smartly handle localized variants.
Deliver all-around support
Organizations look for more efficient ways to train their employees. The answer is not a curriculum map that prescribes weeks of classroom training for each role in your SCM organization. This is not tenable, nor scalable, and it does not reflect the changing nature of the workforce due to attrition, succession and increased worker mobility in and out of organizations.
While there may remain a need for classroom training—such as during an initial implementation, for high-level business process knowledge or when the value of face-to-face is nonnegotiable—organizations can address many of the learning needs via newer delivery mechanisms.
Such newer delivery mechanisms include e-learning courses (completed either independently or with the aid of a synchronous instructor); and just-in-time performance support content that is available from directly within the ERP system. Courses can deliver the overview and process knowledge. While performance support—in the form of quick references, guided simulations or detailed job aids—can provide the assistance to complete a task properly and efficiently.
Where do your employees need support in the warehouse: from their desktop computer, a smartphone, a tablet or a laptop?
Technology today provides the formats to meet all of these needs, whether via an HTML e-learning course, a PDF work instruction or a printed quick reference.
Ensure performance over time
The need for support does not end when your employees receive a login to the ERP system. For new introductions to the team, when processes change, or when an employee needs support with a seldom-used task, access to up-to-date learning content is key.
Today, there are multiple options to 'push' new or updated critical business information to employees—even from within the application. Alternately, you can provide options to allow employees to subscribe to content specific to their role or location. In this way, support and education truly remain ongoing. Help is available when the employee needs assistance, on their device of choice and in their language.
And when content owners can quickly locate the single-source file and rapidly publish updated content, you can have greater confidence that learning is up-to-date and available to your employees.
A last key piece of ongoing sustainment and long-term ROI of your ERP system is to be able to identify where employees may be struggling. Monitoring hit counts to your learning content—and noting areas where content does not exist and the help desk must intervene—are both ways to identify remediation needs. In these instances, managers can determine knowledge gaps and additional training opportunities.
Face the new ERP era
The success of your SCM ERP implementation depends on your employees' comfort and confidence in the solution. The better equipped the employee, with easy access to help when needed, the more confident that employee is. Performance support that is readily available at the point of need is as vital as the features and capabilities of the ERP solution itself. Tools that provide for smart development, delivery and maintenance of content benefit the entire team. Consider pairing your ERP with an EPSS to achieve and sustain the value of your investment.