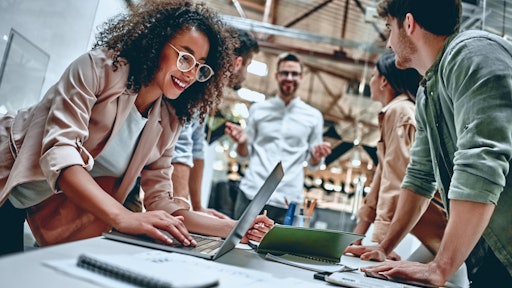 Vasyl
In supply chain management today, it is widely accepted that effective upstream operations drive efficiency further down the supply chain — take, for instance, the degree to which suppliers are beginning to help customers reduce supply chain volatility through strategies such as vendor-managed inventories (VMI) and collaborative planning, forecasting and replenishment (CPFR). Now, imagine taking a step even further upstream in the production process — not just to the supplier of the product's components, but to the supplier of the product's initial concept — the product development team (PDT). IBM's Design for Supply Chain (DfSC) program extends the idea of end-to-end collaboration a step forward by taking a step backward and optimizing production before it even begins. By applying a product lifecycle management mentality as early on as the conceptual design stage, a product can be developed from the ground up to be a truly supply-chain-efficient creation.
Design for Supply Chain is the process of optimizing the fit between supply chain capabilities and product designs. It creates product configurations that address infrastructure limitations and use supply chain capabilities as they evolve throughout the life of the product. In today's supply chain, minimal component costs are still a competitive weapon, but the supply chain that can offer the highest performance at the lowest overall cost is rapidly becoming a far more valuable and sustainable differentiator. DfSC uses a series of supply chain management processes and techniques that increase customer satisfaction, minimize total costs, and maximize the flexibility to address unplanned events. It is the convergence of some of today's most innovative practices in the product design and supply chain processes. It can be the answer to the question, "How do we stay competitive in an increasingly commoditized market?" It is also quite possibly the next big step in product development.
However, this is no small task. With rigorous financial requirements, as well as a plethora of customer demands to bear in mind, PDT's are often already overwhelmed with product design considerations. But, by examining the nine key strategies behind DfSC, and answering the basic what, where, when, why and how of DfSC, we can help educate PDT's, and ourselves, on how to design our products for supply chain efficiency. These strategies help a PDT manage the development and support of complex products and services throughout the entire lifecycle, from product design to product build to post-sale service.
While there are challenges to implementing Design for Supply Chain, there are also evolving business means to support this type of integrated process. One such technology is service-oriented architecture (SOA), in which the many parts that IT infrastructure needs to operate this kind of process can be linked to support all of the interrelated functions involved. Those who deploy DfSC techniques should consider all end-to-end factors within their business that can help or hinder their success. Organizational culture, IT systems and information availability are all things to consider when embarking on this journey to improve not only the way your company designs new products but also to save cost and improve flexibility in your supply chain from end to end.
The Nine Key DfSC Strategies
1. Optimize Levels of Product Integration:
PDTs should determine the optimal level of integration, or parts, that have been pre-assembled at an upstream supplier. This can be a difficult decision because while integrated components can reduce the number of parts that need to be managed in final assembly and allow for a reduction in assembly time (often by limiting the number of physical interconnections on the manufacturing line), this bundling of P/Ns can create additional supply risk in several ways. First, it can make it more difficult to accurately forecast demand for the part because each integrated component presents another demand variable that must be factored into the forecast for the overall part. Second, aggregate lead times may be increased for an integrated component. Take, for instance, a case where there are two components, each with a lead time of one week. With two distinct suppliers, the components can ship on the same day to arrive at manufacturing for assembly within a week. For integration, the first component must ship to the supplier of the second component before facing the standard lead time of one week, resulting in an extended aggregate lead time.
To help with the decision, consider the degrees of commonality, modular design, universal function and postponement that can be imbedded in the integrated part — a common building block used across multiple offerings increases the value of disintegration by allowing postponed features to use a shared supply. While maintaining a competitive part cost is always an important factor, in some cases overall savings be realized even when an individual part's cost is increased.
2. Leverage Industry Standards:
Use industry standard parts unless proprietary parts are justified to create a competitive advantage. A standard part uses the vendor part number with no unique marking or other requirements. Industry standard parts allow suppliers to pool demand across the industry, rather than relying solely on their ability to forecast demand for the unique part. In addition, industry standard parts allow for increased flexibility in sourcing from other suppliers and facilitate the cost-effective disposal of excess inventory when needed. Thus, unless the use of a unique part has a specific value add, industry standard parts should be used whenever possible. The perception of greater control by placing unique qualifications on industry standard components needs to be objectively evaluated.
Similarly, inventories of unique parts for original equipment manufacturer (OEM) customization should also be carefully monitored. PDTs should consider in the design stage what aspects of the product will and will not be available for OEM customization and design so that the product is configured to be line-fit to postpone any OEM personalization as far downstream as possible. Costs are minimized by not having to plan and maintain stocks of unique high-value OEM inventory. Where possible, these OEM-specific inventories should be owned by the OEM.
3. Minimize Premium Freight:
Premium freight and resources to expedite supply can often compose a large portion of supply chain costs. In order to minimize these costs, DfSC techniques should be used to reduce lead times on critical components while maximizing the availability of alternate components in the event of a shortage. Long lead times result in volume fluctuations at the back end. It is important to consider flexibility in suppliers and integrated components. For example, when evaluating integration alternatives assess the trade-off between a lowest-cost approach for accurately planned requirements and the real need for low-cost flexibility to address unplanned events. The product should also be designed for compatibility and commonality with predecessor components or for alternate parts usage with other current products.
Also, the earlier suppliers can be provided with demand forecasts on a P/N level, the greater their capacity to reserve production capabilities to meet demand and avoid the need to expedite. Finally, engineering changes should be evaluated for their overall impact on the supply chain. This is especially important when considering heavier components that will have larger premium costs when expediting. Engineering changes later in the design process also make it more difficult for suppliers to meet demand forecasts.
4. Design for Life Cycle:
Product should be designed to be supply chain friendly to potential component or infrastructure changes through its lifecycle. These include events such as small improvement to product design, cost improvements or commodity/technology/infrastructure advances. PDTs should determine which of the product's components are likely to be changed throughout the product's lifecycle and facilitate eventual change with minimum impact in the supply chain. After deciding on the changes that are likely to occur, PDTs should structure the product so that changes can be implemented with minimum disruption to the supply chain.
Click here to learn more about product lifecycle:
It is also important for product design to proactively transition out old technology while introducing new technology. Extended technology transitions add complexity and can be very expensive when the older technologies become hard to supply. The product design must consider forward and backward compatibility — not just from a customer viewpoint, but also for component parts in the supply chain. Design teams should develop risk mitigation plans for low-volume parts to avoid excess inventories or reduced service levels when the technology is going end-of-life.
5. Configure the selected Supply Chain:
The role of a cross-functional product development team should include selecting and configuring the supply chain, but not creating one. Supply chains need to be established based on the company's strategic network plan, not individual products. Market requirements (i.e., volume, complexity and customization) are key factors in the best choice of supply chain.
There are several important considerations for supply chain selection. First, PDTs should determine if the product best fits the run rate (high volume) or the enterprise (high complexity) model. Second, design should determine what is unique about the product when compared to the attributes of other products using the same supply chain model, and configure the supply chain to address product specific requirements. Third, PDTs should specify the geographic distribution of customers and how cycle time and inventory targets will be achieved. Fourth, design teams should critically decide how many (few) options will be required with the product. The ultimate in postponement is for customers to enable a product to meet their specific needs. Fulfillment of options that go with the product need to be developed to minimize supply chain complexity. The final selection consideration is if and how a product will transition between different supply chains to maximize profitability for the start-of-life, mid-life and end-of-life.
6. Design for Demand & Supply Planning:
Designs that leverage DfSC techniques include commonality, modular design, universal function and postponement "pool demand" requirements. Pooling requirements on a common component reduce variability and improve the ability to accurately forecast demand during lead time. Reducing part count is desirable, but when attach rates are low it may be best to use postponement. Another consideration for demand/supply planning is bundling hardware and services/terms and conditions could be unbundled. Since services and terms and conditions (T&Cs) are not planned, bundling them with hardware creates complexity for planning. Rather than bundling a product with predetermined services, infrastructure systems should enable the addition of the right services to hardware and software to be postponed until the end of the manufacturing process in order to reduce complexity and give customers more flexibility in choosing exactly which services they desire.
7. Minimize Inventory Costs:
The two key inventory costs to consider are carrying costs and obsolescence risk. Carrying costs can be reduced when product has quick build-to-ship times and favors a build-to-order (BTO) as opposed to a build-to-stock (BTS) supply chain model. Also, designing to maximize the velocity of parts through the supply chain will reduce inventory value and reduce cost take-downs while inventory is being held. Obsolescence risk can be minimized using short lead times and easily reconfigurable components. Like carrying costs, designing for high velocity movement will also help with obsolescence risk. Configuring for customization at the end of the assembly line will minimize risk by increasing flexibility. Finally, PDTs should configure product components for reuse into the next product transition in the event that obsolescence does occur.
8. Optimize Order Management:
Product design should consider the facilitation of order management and customer fulfillment. Product design should be adjusted to provide the maximum level of flexibility to the customer with little or no additional internal cost. This can be accomplished by using the DfSC techniques to facilitate postponement and unbundle P/Ns, thereby reducing complexity and increasing flexibility and order management. PDTs should also consider the ease of special order entry and manufacturing. The structure of the bill of material needs to leverage the capabilities of the order management systems and facilitate quick and accurate communication of requirements to manufacturing.
9. Minimize Warranty/Service Costs:
Warranty costs are minimized by a reliable, high quality product with easy to diagnose faults and customer replaceable parts that have a high warranty redemption value. Using the DfSC techniques can increase flexibility in terms of alternative parts usage for service. A common part for warranty use may be beneficial even when common parts for base unit manufacture did not make good business sense. Minimizing the portfolio of parts that need to be stocked for service and warranty decreases expense and improves service levels. This is especially important for those parts that have the highest typical defect rates. Additionally, designs that integrate automated internal diagnostic capabilities may increase component costs but vastly decrease overall costs through the facilitation of easy defect assessment. The use of a serviceability assessment tool (SAT) to provide a service cost estimate that can be a key decision point when gauging increased component costs against service expenses.
The profitability of maintenance contracts can be maximized by product testing that identifies both intrinsic and systemic failure modes, and then configuring the product and the supply chain to cost effectively addresses them.
Conclusion
A highly efficient supply chain that offers the greatest flexibility and customer service at the lowest cost can be a substantial differentiator against growing competition. By using Design for Supply Chain techniques to optimize products in the design phase before manufacturing even begins, or in some cases after it has begun, supply chain disruptions can be avoided and costs of change minimized. The DfSC strategies and concepts outlined above will give any product design team — whether designing for a high-tech server or a high-volume consumer good — the basis for creating products that allow the supply chain to efficiently satisfy customer demands.
Companies in this article