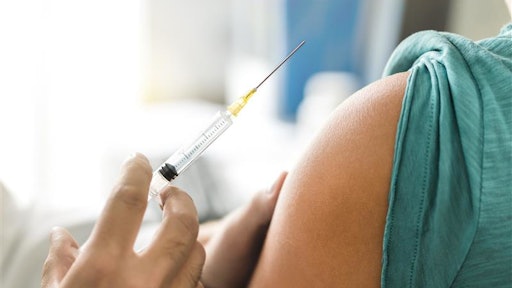 terovesalainen - Adobe Stock

New research from Supplyframe indicates that nearly a third (32%) of supply chain professionals believe it will take six to 12 months for the global supply chain to be back at full capacity following the disruptions due to the pandemic, and a fifth (20%) said it will take 12 months to 2 years. Yet the same research shows that 66% think that if a vaccine is approved for use in the U.S., the necessary medical equipment will be available to produce and distribute that vaccine at scale within one year.
This research is based on a survey of 200 supply chain professionals who work at medical device companies based in North America. Conceptial Inc. conducted the research on behalf of Supplyframe between August and September of 2020. The survey gathered supply chain professionals' sentiment during a year in which global value chains have been profoundly impacted by the pandemic, and businesses in healthcare and manufacturing saw increased risk as a result.
"The supply chain has experienced delays in manufacturing, shortages in supply, and logistics problems due to travel restrictions," said Supplyframe CEO Steve Flagg. "But most supply chain professionals believe the U.S. will have the equipment it needs to create and deliver a COVID-19 vaccine within a year of its approval. However, our research points to the many current and potential challenges the nation faces related to vaccinations, testing and equipment availability. And it highlights the importance of data accuracy and intelligence."
Concerns Loom About Vaccine Development Speed, Inoculation Refusal
As the pandemic drags on, a fair share of survey participants expressed concern about the pace of vaccine development. Nearly a fifth (19%) said they don't think the U.S. will produce a vaccine fast enough, and 16% said vaccine distribution in America is too onerous.
The survey group also noted the potential challenge of getting the public inoculated. Some 14% of the group said that they expect too many Americans to refuse to take the vaccine.
There Is Worry About Supply Shortages Due to Virus Resurgences, Tariffs on China
Many supply chain professionals also expressed concern about a COVID-19 resurgence and its potential impact on medical device production; 15% of survey participants said they expect to see supply shortages in the event of a continued resurgence of the virus. Nearly as many (12%) said there will be a delay in medical device production in the event of a resurgence.
At the same time, 82% of survey respondents said they worry about how tariffs on China will impact personal protective equipment (PPE) and medical devices.
30% said U.S. manufacturing capacity needs to grow
More than a quarter (26%) said such medical gear will be harder to source
20% said they expect that there will be continued product shortages
Some Point to Current or Potential Problems With Testing Supplies Running Low
The biggest supply chain challenge during the ongoing pandemic, according to nearly a quarter (24%) of the survey group, is that testing supplies are or will be running low, limiting testing coverage.
Nearly a fifth (18%) believe the rush to production may lead to recalls. Some 15% said limited components or parts availability will arise from supply shortages, and 12% said there is not enough time to shift production to more resilient locations. Another 12% said they believe that hospitals and businesses will be stockpiling supplies, limiting efficient distribution.
Nearly All Recognize That Inaccurate Data Impedes Effective Forecasting and Strategy
An overwhelming 92% of survey participants emphasized the importance of accurate COVID-19 case data to correctly forecast demand requirements and inform manufacturing efforts. Yet 84% expressed worries about how COVID-19 case data is being collected and reported in the U.S., with 44% indicating they have concerns around inaccuracies from COVID-19 testing.
Of the 84% who voiced concern about how U.S. COVID-19 case data is collected and reported:
25% cited the lack of standardized reporting practices across states
23% suggested there is a potential for inaccuracies resulting from increased testing
21% noted concern about inaccuracies resulting from limited testing availability
15% said that domestic policies will interfere with accurate reporting
Also, more than a quarter (28%) of supply chain professionals said the Coronavirus Aid, Relief, and Economic Security (CARES) Act has not provided enough financial support for medical device production; 22% said it has not improved supply chain information gaps.
When asked what other areas of the CARES Act have shortcomings and need improvement:
15% said the government took too long to get funding to businesses that need it
12% said it has taken too long to encourage domestic manufacturing
11% said it has not promoted accessibility of drugs and devices
10% said it has not improved planning considerations for medical product supply chain capacity during the crisis
Pandemic Could Prompt Supply Chain to Focus More on Reducing Risk, Building Resiliency
But there may be some good news on the supply chain front, as many survey respondents seem to understand the need for improvement in building resiliency.
A fifth (19%) said increasing qualifications of multiple suppliers in the product design phase would enable them to prepare for the next pandemic or natural disaster.
Survey respondents also noted that these measures could increase supply chain resiliency:
redesign supply chains to source locally (16%)
create continuity plans for transportation, communications, supply, and cash flow (16%)
improve qualifications of suppliers and review process (14%)
increase visibility of supplier inventory, capacity, and lead times (13%)
diversify supply chain by adding second sources (12%)
"Procurement is often focused on reacting to supply challenges as they appear," said Flagg. "But medical equipment companies and other manufacturers that rely on semiconductor and electronics component suppliers can instead use data intelligence to get a broader view of what's happening in their supply chains so they can build resilience into these solutions upfront.
"Supplyframe's Design-to-Source Intelligence Platform provides billions of continuous demand, intent, supply, and risk signals within the supply chain," Flagg continued. "This provides engineering and procurement teams with the data intelligence they need to make the most informed decisions throughout the product lifecycle. As a result, manufacturing companies can lower the potential for shortages, increase their profitability, and enhance their longevity, resiliency and success."
Richard Barnett, Supplyframe chief marketing officer, added, "The Supplyframe Design-to-Source Intelligence Platform also enables semiconductor and electronic components suppliers to understand and engage with medical device sourcing professionals as they are making decisions related to new product introduction efforts."